Jamie Kastler, director (THE SKYJACKER'S TALE)
Ishmael Muslim Ali (formerly LaBeet) is the American convicted of murdering eight people on a Rockefeller-owned golf course in the US Virgin Islands. After years of trying to get his conviction overturned, he took matters into his own hands and hijacked an American Airlines plane full of passengers to Cuba on New Years Eve 1984, and got away with it. Until now.
Thanks to releases?such as SERIAL, MAKING OF A MURDERER and the competing OJ Simpson projects, true crime stories are?hotter than ever and THE SKYJACKER'S TALE seeks to carve out its own place in the genre. ?In covering Ali's story, director Jamie Kastler weaves a narrative that is both thrilling and chilling, especially as the third act begins to unfold. ?For a story that literally fell into his lap (seriously–listen to the interview below), Kastler builds a strong film, exploring his subject with courage and maturity.
In Ali, Kastler has a subject with star power, filled with mystery and intrigue… and he is well aware of it.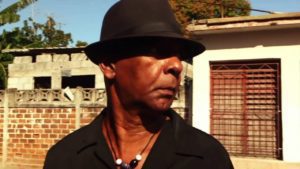 Of course, at the centre of it all is Ali himself who remains both charismatic and dangerous throughout his revelations and perspectives. ?Yes, we're appalled by his actions… but is it possible to feel empathy here? ?When facts are blurry, how can?we?understand the truth? ?Is Ali a vicious monster or a victim? ?Wisely,?Kastler seeks to present a balanced view and allows the audience to make the final verdict on Ali's?guilt.
However, what's most interesting about this project is that, even though it deals with events that took place over 30 years ago, it also contains a sense of being ripped from the news headlines today. ?As the US political climate increases in tension, THE SKYJACKER'S TALE reveals to us that society's problems have been brewing for decades. ?Dealing with issues of racism, police brutality and US-Cuban relations, this film feels current in the most terrifying of ways. ?In a world of brokenness and evil, the discovery of Ali's story feels like uncovering yet another (albeit?fresh and insightful) piece in an unfolding mystery of American racial history and politics.
Truly, THE SKYJACKER'S TALE is one?you need to see to believe.
For our exclusive interview with director Jamie Kastler, click below!