Bold. Complex. Mesmerizing.
And, by far, the best Disney live action yet.
Yes, I am talking about Cruella with Emma Stone and Emma Thompson. Not one who typically flocks to live action Disney features (call me too sentimental for my 90's animated favorites), this movie blew every expectation out of the water. The tapestry of this story weaves together color, creativity, and character development in such a way that every moment kept me engaged. I?m still sitting here with my mouth agape as I play it all back in my head.
Set against the backdrop of 60?s and 70?s London, young Estella works to be the good girl that her mother encourages her to be. With her uncanny style, unfiltered opinions, and explosive personality, playing nice isn?t exactly second nature to her. But for the sake of the mother she loves, Estella (Emma Stone) navigates both trauma and genius to stay as she is, until Cruella fully emerges from the depths in retaliation of a painful truth. Consumed with taking out her former mentor and now-enemy the Baroness (Emma Thompson ? absolutely perfect), Cruella subverts the Baroness?s grip on the London fashion scene with a rock star edge and in-your-face theatrics. With the help of long-time partners in crime, Jasper (Joel Fry) and Horace (Paul Walter Hauser) and a team of nonconforming designers including Artie (John MCrea), Cruella is on the precipice of being unstoppable. But will she survive her own ambition and vengeance?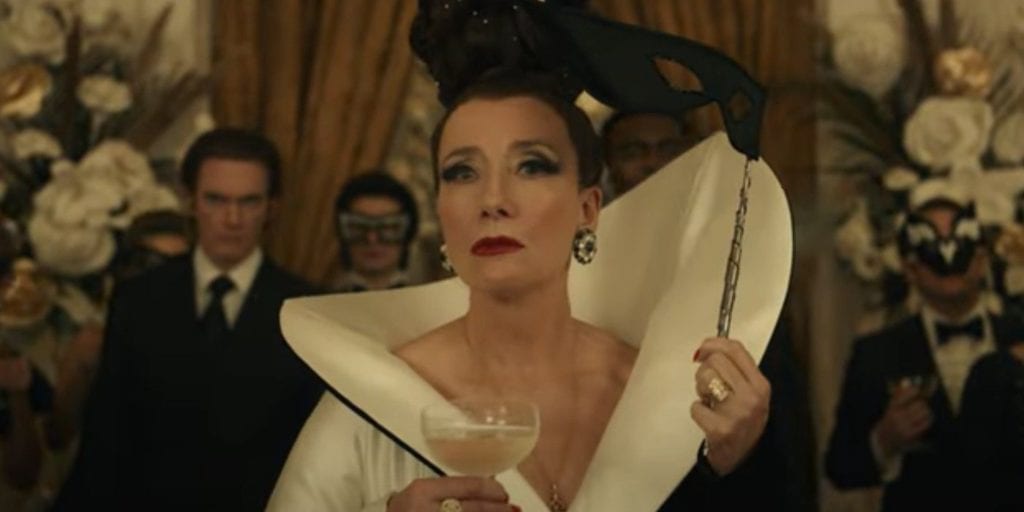 As an origin story, the set up for the characters and storyline of 101 Dalmatians is well-placed and subtle. Anita and Roger fade in and out just enough to play key roles without overshadowing the heart of this story. We get to the root of Cruella?s obsession with dalmatians, and Jasper and Horace are elevated to relatable characters as opposed to bumbling second-rate thieves.
But this movie has its own heartbeat ? one that loves and bleeds ? and Stone?s performance is the soul of the film. Her transformation from Estella into Cruella kept me in a state of ?is she or isn?t she? the unfeeling villain we?ve seen before now. Against the backdrop of the statement black and white color scheme, there was a grey in-between for me. Behind every villain there is a beginning, and that beginning isn?t always evil. And the other side of that coin is that behind every hero, that beginning isn?t always benign. Morality can get murky depending on a variety of factors and influences, and Cruella really hit that point home.
It?s an exceptional film with layers of development, visualization, ambition, and even heartbreak. And it?s a testament to both the writers and the cast that with every turn I was invested in characters that I?m supposed to define as ?bad guys.? Did I close my laptop ready to absolve them of them crimes? No. But did it remind me that our stories are rarely as black and white as we think? Definitely.
Cruella opens in theaters and is available with Disney+ Premier Access on Friday May 28th, 2021.