If horror movies have taught us one thing, it's that nothing good ever happens in the woods (and if they've taught us a second thing, it's that pre-marital promiscuity leads to an almost instantaneous, violent demise…but I digress).
Friday the 13th, Evil Dead, The Hills Have Eyes, Last House on the Left, I Spit On your Grave—take your pick, but each provides a forest full of killers, freaks and demons.  Apparently the characters in this week's feature, The Hallow, never saw any of those gems or else they'd know not to buy a place in the middle of perhaps the peskiest pines this side of The Cabin in the Woods.
Yes, indeed; this little fixer-upper comes with a heaping helping of fairies that don't take the teeth you leave under your pillow.  Nope.  They're more content to run off with your kids instead—and leave you morphed into a hideous, wood-nymph that looks more like The Fly than Tinkerbell. 
So, join us, if you will as we explore the theological wilderness of The Hallows from the luxurious safety of our secluded ScreamFish beach house. 
Because it's always safe to go back in the water, right?
The joys of new homeownership.
Renovating.  Decorating.  Landscaping.
Metamorphosis into a demonic woodland cryptid.
Good times.
Yep, buying a new house can be stressful.  Take it from Adam and Clare Hitchens (Joseph Mawle and Bojana Novakovic), a young Irish couple trying to raise their baby in a new home in the peace and serenity of the countryside.  Trouble is, there's nothing so serene about their backyard.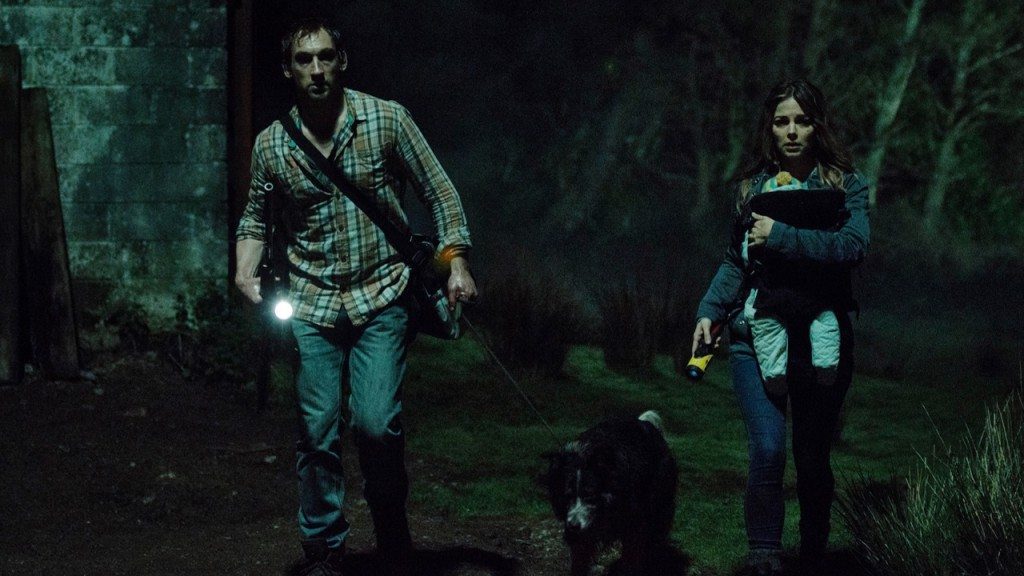 When Adam starts clearing the surrounding acres of some unwanted timber, the creatures that call that grove home don't take kindly to his deforestation plan.  And these chaps aren't from the Hundred Acre Wood.  Instead, they're shambling, spindly, sharp things that look like the abhorrent lovechild of Pumpkinhead and the California Raisins.
They use a black slime moss to infect Adam, who slowly begins to transform into one of them.  Then they come after the Hitchens' baby.  Adam gets locked into an internal battle between man and beast, fighting to save his child as he struggles against the compulsion to eliminate his wife and capture and deliver the baby to the very things that want to destroy it.
There are some solid jump scares along the way, along with some truly striking visuals (a flaming-scythe wielding demon-man; come on, how is that not cool?) and enough suspense and genuine gasp-worthy scenarios to keep even the most fickle fright fanatics happy.  But underneath, there's a moss-covered message that relates perfectly to one of the most convicting chapters in the Bible.
In Romans 7, Paul lays all his cards out on the table, admitting that he, though recognized as one of Christ's most fervent followers, is little more than a slave to the world.  As he expounds on the dichotomous relationship between The Law and sin, he comes clean about his own dilemma. He writes:
"We know that the law is spiritual; but I am unspiritual, sold as a slave to sin. I do not understand what I do. For what I want to do I do not do, but what I hate I do. And if I do what I do not want to do, I agree that the law is good. As it is, it is no longer I myself who do it, but it is sin living in me. For I know that good itself does not dwell in me, that is, in my sinful nature. For I have the desire to do what is good, but I cannot carry it out. For I do not do the good I want to do, but the evil I do not want to do—this I keep on doing. Now if I do what I do not want to do, it is no longer I who do it, but it is sin living in me that does it.  So I find this law at work: Although I want to do good, evil is right there with me. For in my inner being I delight in God's law; but I see another law at work in me, waging war against the law of my mind and making me a prisoner of the law of sin at work within me.  What a wretched man I am! Who will rescue me from this body that is subject to death?" (Romans 7: 14-24)
Paul said that.
Paul.
The guy who suffered untold persecution, ostracism, ridicule and violence to deliver the message of Jesus.  He was arguably the strongest voice for Christ in history, yet he recognized that deep inside, he was far from practicing what he preached.  How much like him are we?
How much does it mean if we can memorize and recite chapter and verse but can't love our neighbor?  How strong is our faith if we worship like the Chosen on Sunday and choose the Abomination on Monday?  How much is Jesus a part of our lives if we can't carry him everywhere we go?
In most cases, we know when we're about to sin.  Our Judeo-Christian Spidey Sense (courtesy of one Holy Spirit) can be ringing like a five-alarm fire and still we foolishly wander in…
Just like Paul.
And, just like Paul, there's only one way we get out of that Roach Motel of self-destruction, only one trail of breadcrumbs leading us out of the deep, dark woods:
"Thanks be to God, who delivers me through Jesus Christ our Lord!" (Romans 7: 24).
If we want to avoid becoming a slave to sin, if we want to do what is right, we have to turn to Jesus.  And we need to seek his direction before tiptoeing toward the the shadows that lurk in the Valley of Death.  And we must constantly, repeatedly follow in His footsteps if we want to make it out alive, because it's a long, hard road.
And we're not out of the woods just yet.