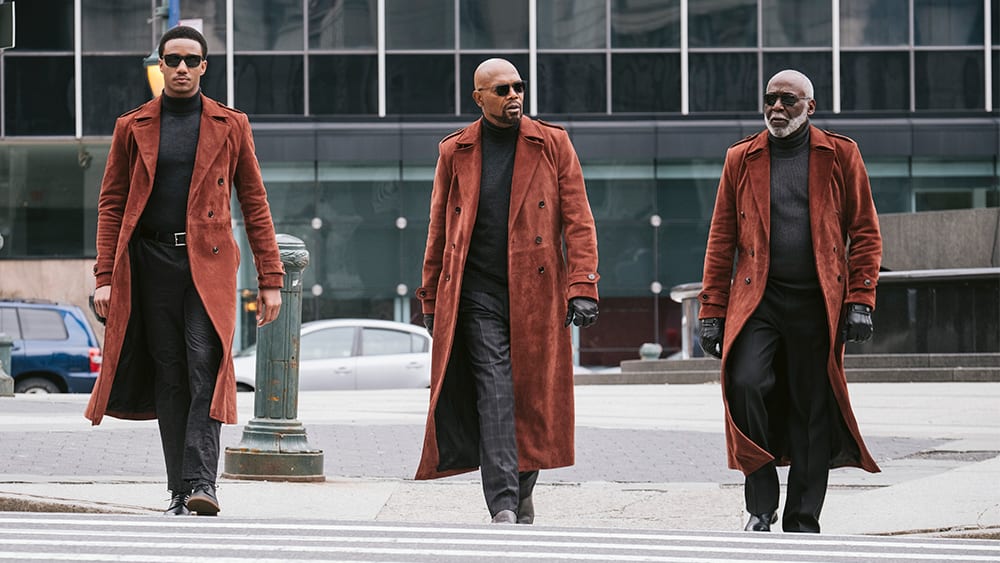 In the latest iteration of Shaft, three generations of the crimefighter appear onscreen, bantering and bullying their way through every shade of danger, while struggling to emotionally adapt to their interactions with love. Directed by Tim Story, with a script by Blackish's Kenya Barris, Richard Roundtree, Samuel L. Jackson, and Jessie T. Usher represent the phases of life for the fifth film in the series, and a direct sequel to the 2000 film.
Usher's "Junior" is the character through whom the audience sees the story unfold, a search for truth and justice after one of his childhood friends, and a drug-addicted ex-Marine, dies of suspicious causes. Having never known his father, the youngest male Shaft seeks out his father's help, unbeknownst to his mother (Regina Hall). While the wit is prolific, and off-color, there's an underlying thread about what it means for a son to grow up without a father, and who takes responsibility for that. [Short version here: it's complicated.]
The latest film seems less about mood (and violence) and more about humor, but there are car chases, shoot-outs, fist fights, and more. It's an entertaining film, even if it merely scratches the surface of topics like what it means to be black in 21st century America or how to grow in relationship with both mom and dad (when they're divorced). In the end, this is one of the most entertaining films I've seen this year.
The Blu-ray Combo Pack includes the gag reel, deleted scenes, the making of feature and a three-part exploration of "A Complicated Man" ("A Bad Mother Born," "No Questions Asked," and "A Legend of His Time."