?In chess, the small one can become the big one.?
Disney knows how to do inspirational stories. The latest is Queen of Katwe about a Ugandan chess prodigy who finds a way out of the slums of Kampala through the dedication of a man who reached out to impoverished children by teaching them the game.
Nine year old Phiona (Madina Nalwanga) spends her days selling vegetable in the streets of Kampala to help her mother (Lupita Nyong?o) provide for the family. School isn?t an option. Her future seems bleak indeed. One day she follows her brother to a church that hosts a youth sports outreach ministry. Part of that outreach is led by Robert Katende (David Oyelowo), an unemployed engineer, who himself achieved an education in spite of his coming from the slums. Robert strives to teach not just chess to the children, but also tries to give them a hope and vision of a better life. As Phiona advances in the world of chess, she also must deal with various struggles in her family life?often leading to times of despair.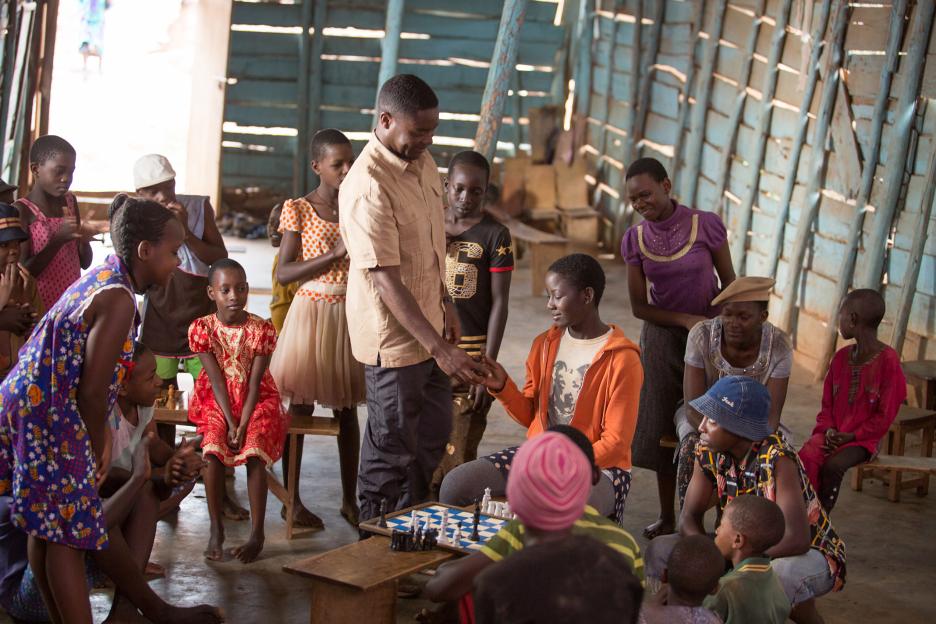 Chess often serves as a metaphor of conquering life?s challenges. The film is rich in aphorisms such as ?Sometimes the place you are used to is not the place you belong,? ?You use your mind, make a plan, and you will find safe squares,? and ?Do not be too quick to tip your king,? all of which speak more to Phiona?s personal struggles more than her chess playing.
It is worth noting that the church and faith has a role in the story. Robert is working with the church as he awaits a possible job that his education has prepared him for. Although it is a church ministry, we don?t see any religious teaching going on along with the chess. Yet, the implication is that there is more here than just the game. At the same time, after losing their home, Phiona?s family squats in the ruins of a burned out church. That less than perfect shelter is another interesting metaphor for the way God may seem to the young struggling girl. She wonders at one point if God really cares about her and her family. She certainly sees no clear evidence based on the events that befall them. So the church is both a physical shelter (although not a very good one) and the place that offers hope for finding more than her life has provided her. That ambivalence, I think, is a common experience of church?something that nourishes us, but we often fail to see its importance in day to day life.
While Phiona?s story is indeed inspiring as we watch her become more confident in her game and in life, it may also seem a bit trite. Certainly she finds her path out of the poverty that has defined her life to this point, but it is such an individual journey that it becomes something of a Horatio Alger story. While she has help along the way, in the end we celebrate what Phiona has achieved by her dedication and work. She has found a way out of the slums, but what of all the others in the slums. A few other children also play chess and begin an education, but the social structures that allow such poverty continue untouched. That is often the flaw in stories such as this. One person?s success is worth celebration, but not by ignoring the roots of the problem that they have overcome.
Photos courtesy of Walt Disney Studios