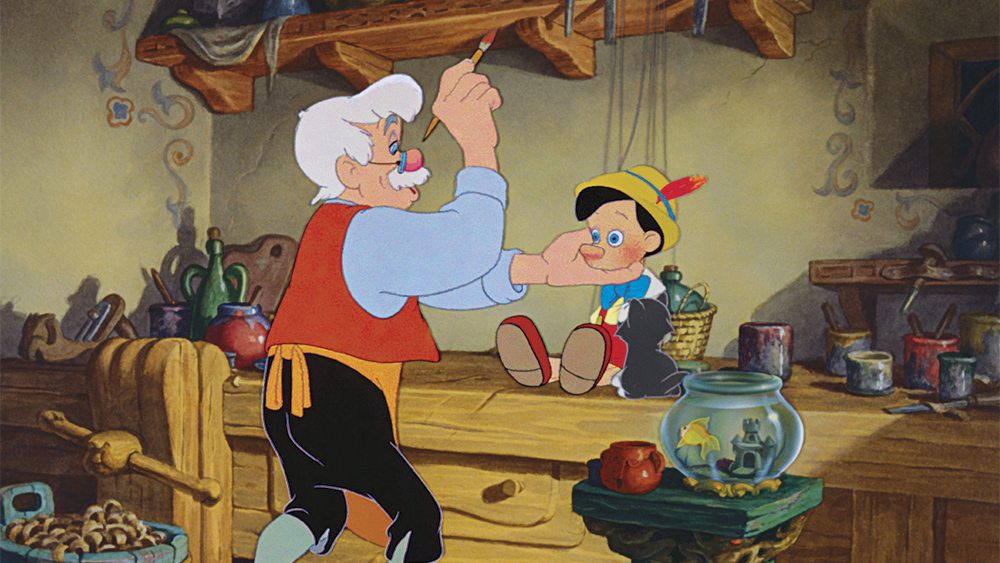 The second feature-length motion picture by Walt Disney,?Pinnochio?followed the success of?Snow White and the Seven Dwarfs?three years after the parable of purity and goodness enchanted us. Here, ?Disney adapted Carlo Collidi's tale about a wooden creation who longs to be a real boy but must overcome his laziness, lying, and general misbehaving to achieve his goals.
After the opening strains of the Award-winning "When You Wish Upon a Star" (Best Music, Original Song – Academy Awards), Jiminy Cricket (Cliff Edwards, the singer behind "Singin' in the Rain") tells the story of how dreams can come true through the life of the little wooden guy named Pinnochio (Dickie Jones). Designed by the woodcarver Geppetto (Christian Rub), Pinnochio learns from The Blue Fairy that if he is "brave, truthful, and unselfish," that he will fulfill Geppetto's dream for him and become a real boy.
Along the path to boyhood, Pinnochio gets lost several times. Some of this is his own fault (he can't seem to tell the truth, forever cementing that a growing nose is a sign of deceit); some of this is the result of evil characters taking advantage of his naivete, like Honest John the Fox (Walter Catlett) and his (mostly) silent sidekick, Gideon the Cat (hiccups by Mel Blanc!) While Pinnochio's lies get him a big nose and more trouble, his trip to Pleasure Island is a highlight for its depiction of how a lawless society (and a discipline-free childhood) is truly problematic for the boy-in-training. With a Jonah-like finale and a Jiminy-gets-his-wings moment,?Pinnochio?proves to be one of the strongest morality tales in the Disney vault.
Part of the "Signature Collection,"?Pinnochio?arrives on Blu-ray, DVD, and Digital HD today with a stockpile of Disney extras, like the variations of "When You Wish Upon a Star" by JR Aquino, Alex G, and Tanner Patrick in "The?Pinnochio?Project," or check out the artwork for Pleasure Island that didn't make the final cut. There's also the opportunity to hear Walt Disney himself discuss the story thanks to old interviews and the short "Poor Papa" that highlights how the storks bring babies to an overrun father bunny's house.?