?We were doing what we thought God wanted us to do.?
If one constantly hears they are sinful when they go to church, they may quit going?or, they may seek to change. For LGBTQ+ people, for several decades, this often meant trying not to be gay?to change their life. Pray Away, from director Kristine Stolakis, gives us a historical overview of the ?pray the gay away? movement, and lets us meet some of the people who founded that movement and have since not only abandoned that approach, but have embraced the reality of being LGBTQ+ people.
In the 1970s a small group of men in an evangelical church were all struggling with being gay and the message they were hearing in church. They formed a group to help each other with their urges. Soon they had thousands of letters asking for their help. That was the beginning of Exodus International, a huge ministry that promoted the idea that same sex attraction was a temptation to be overcome, and that with work, LGBTQ people could change. Various therapists tied into this with ?conversion therapy? to help people change their LGBTQ behavior. (That therapy has since been found to be ineffective and is rejected by medical and psychological professional groups.)
Soon, the more articulate of these people became well-known within the evangelical community and Christian talk shows. They told their stories and became (as one person notes in the film) ?the most famous former gay [people] in the world?. They worked politically with the Family Research Council to oppose LGBTQ rights and especially same sex marriage. A good deal of the documentary is about the way these groups became a political force.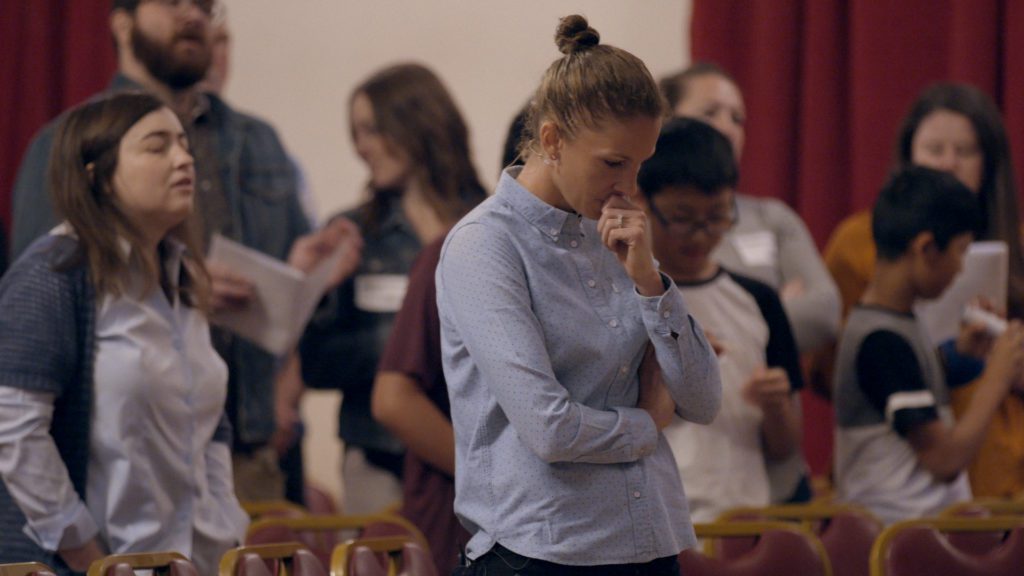 But in time, these same people came to realize that although they may have stopped acting on their desires, their same sex attraction never went away. They came to understand their same sex attraction to be a part of who they were. It became harder for them to maintain their public anti-LGBTQ stances. As one of them noted after working hard to defeat Prop 8 in California (which would have allowed same sex marriage), ?A voice inside me said, ?How could you do that to your own people??? The film shows that in 2013 Exodus International disbanded because those involved had repudiated its mission.
The film really only alludes to the pain and trauma that Exodus International and other groups like it caused those who underwent the conversion therapy process. We see some scenes of some of the leaders of Exodus listening to stories with former members, but we don?t hear those stories. It is sufficient to know that the stories were significant enough to lead those who were running the program to see the errors of that approach, and their discovery that what they were doing might not actually be God?s will.
It is worth noting that when Exodus International began, even the most liberal Christian denominations were struggling with how to view LGBTQ people in their midst. Since that time some have become fully welcoming, accepting, and affirming. Others continue to struggle.
Those few men who started that group in their church (and the myriads that followed) were actively trying to follow God?s will as they understood it. They saw their actions as faithful, even if they came to see the harm it those actions later. As such, the film provides the viewers with the question of how (or if) we should judge those people. They sought to serve God, but ended up doing harm. But, to use a churchy term, they (at least those we see in the film) repented.
The film also shows the way the ?ex-gay? movement continues still. From time to time in the film we see a current manifestation in the person of a self-proclaimed former transexual who is reaching out to others with his message. I would say that these sections of the film are less helpful in that the person involved just doesn?t have the same kind of credibility as those who were involved in Exodus International through the years. That makes it easy to dismiss him.
The film is narrowly focused on the history of Exodus International within the evangelical community and the harm that conversion therapy has brought to the hundreds of thousands who have gone through it. The film really doesn?t look at the whole question of the place of LGBTQ people within the church. There are indeed great differences?even within denominations?about how to look at LGBTQ people and issues.
The film shows at least two of those who were involved in the conversion therapy movement but now have accepted their sexuality, who still speak of their faith and we see them participating in worship. Personally, I find it encouraging that so many LGBTQ people continue to be in church?some where they are hardly welcome. It is not because of some ?gay agenda?, it is because these people know the love of God and seek to worship and serve. For some they try to live out their faith in environments that denigrate them, but they persist. As I note above, many churches are welcoming?and are glad for the gifts these people bring.
Pray Away has a brief theater opening, but is available on Netflix on August 3.
Photos courtesy of Netflix.