Let?s be serious. What do you really remember about Disney?s Pinocchio?
If you?re like me, your memory of some of these classic animated films is limited to a few key scenes. In fact, it?s this limited nostalgia that has allowed the House of Mouse to cash in on some of its animated properties with successful live-action remakes. (Admit it. Can you remember any other part of the original animated The Jungle Book other than Bare Necessities?)
Which brings me to Pinocchio.
Originally released in 1940, the classic was only the second feature length animated film released from Disney Inc. Remembered primarily for its colourful characters and charming songs like When You Wish Upon a Star and, to a lesser extent, I Got No Strings, there are few other aspects of the film which come to mind. Again, nostalgia gives way to actual memory. (Honestly, I even thought that the tune for An Actors Life for Me was from the theme from the Pirates of the Caribbean ride.) As a result, Disney has somewhat of a blank slate from which to work with its latest live action retread, now available on Disney+. Somewhat amazingly though, it stays incredibly faithful to the original tale while delivering an entertaining and visually stunning final product.
For those who do not remember, Pinocchio tells the story of Gepetto (Tom Hanks), an aging woodcarver who specializes in cuckoo clocks. When he builds a puppet made from pine, he names his creation ?Pinocchio? and makes what he believes to be a silly wish that he might become a real boy. But, when you wish upon a star, dreams come true. Then, when the Blue Fairy (Cynthia Erivo) brings the puppet to life, Pinocchio (Benjamin Evan Ainsworth) is assigned Jiminy Cricket (a surprisingly faithful Joseph Gordon-Levitt) to be his conscience in order to help the young man make good decisions and please his father.
First and foremost, what?s most noteworthy about Pinocchio is its production design. Directed by Robert Zemeckis, the film is surprisingly good quality, especially for film sent directly to Disney+. Featuring some gorgeous CGI work on Jiminy Cricket and Pinocchio himself and elaborate set design, the finished product is lush with colour. What?s more, co-written with Chris Weitz (About a Boy), the film is surprisingly willing to engage in the darker aspects of the original (even if it pulls its punches a little for its 2022 audience).
And there are some dark stories being told here.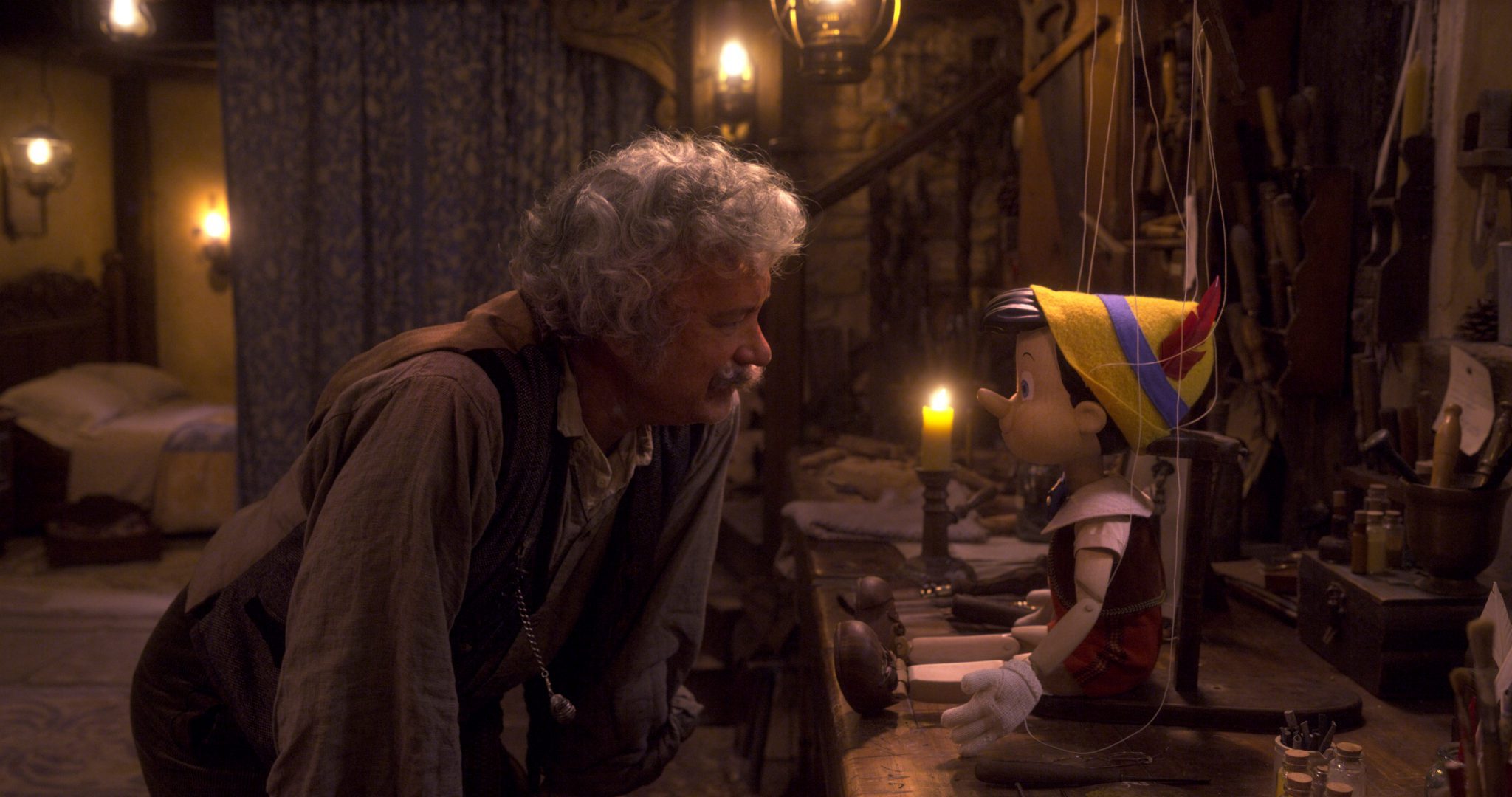 Again, despite what you may remember, Pinocchio has never been particularly fun film. Themes of xenophobia, child slavery and giving into temptation are all pervasive within the original film and remain fully on display here, even if some changes have been made. It?s worth noting that the original was created at the tailend of the Great Depression and released during the Second World War so that would have undoubtedly shaped the storytelling. (In fact, that realization gives new meaning to When You Wish Upon a Star?) In the live action, more empowerment is given to children, especially those under Stromboli?s reign of terror. So, parent may want to take care with younger viewers who may be frightened by some of the scenes.
Just as in the first film, this version of Pinocchio is all about character and conscience. Determined to become a ?real boy?, Pinocchio is filled with determination to please his father by doing the right thing. However, as young people often are, he soon becomes distracted by the trappings of self-indulgence and fame. (Incidentally, in a clear reference to our social media culture, this particular version even highlights the power of being an ?influencer?.) Pinocchio struggles to know who to listen to, especially considering that both the bad influences and Jiminy Cricket claim to tell him the truth.
Frankly, it?s overwhelming for him.
Nevertheless, Pinocchio begins to learn that true character comes from within. Rather than listening to outside voices, his desire to do the right thing needs to affect his decisions as opposed to any ease of fame. (In fact, the easier the fame and comfort comes along in Pinocchio, the more toxic and terrifying it usually is.) There are moments when he falls but he slowly begins to realize that he needs to take responsibility for making his own choices, rather than depend on his (surprisingly absentee) Cricket conscience. In this Pinocchio, its these decisions that determines whether or not one can be a ?real? boy, even more than the Blue Fairy herself.
Pinocchio is available on Disney+ on Thursday, September 8th, 2022.