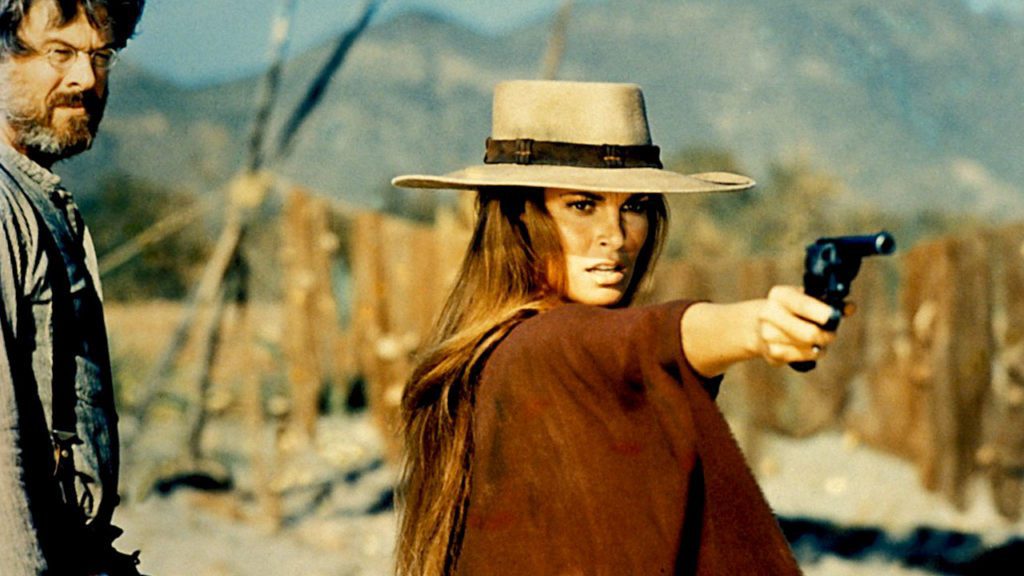 Burt Kennedy, the director behind?Support Your Local Sheriff!?and a host of others (including?Suburban Commando), delivered Raquel Welch in the titular role of Hannie Caulder. Caulder is the victim first – as she watches her husband murdered, her ranch torched, and her body left broken and for dead – before she becomes the force of vigilante justice. In this Olive Films release, it's clear that Welch's Caulder is out for justice.
While Welch is front and center, she's joined by a who's who of film, with Robert Culp (I,?Spy) as her bounty hunter 'trainer', Thomas Luther Price who Quentin Tarantino said helped inspire?Kill Bill. But these two protagonists are up against the Clemens clan, portrayed by Ernest Borgnine, Jack Elam, and Strother Martin, all significant villainous portrayals in their own right.
Not to be outdone, Christopher Lee and Ben Hur's?Stephen Boyd also make it into the film. While fans will cheer for Caulder – and recognize that her goodness/humanity can't be completely broken – there's plenty to discuss, and Olive Films' collection digs into that.
Included here is a pointed discussion of the rape element of the film, as film scholar Ben Sher unpacks revenge movies like this in "Exploitation or Redemption?" The sci-fi?Repo Man's?director, Alex Cox, is also the author of?10,000 Ways to Die: A Director's Take on the Spaghetti Western; he dives into the film via audio commentary. Sir Christopher Frayling, a British purveyor of pop culture, discusses how the primarily horror-based movie company delivered this western in "Win or Lose: Tigon Pictures and the Making of Hannie Caulder."?Kim Morgan writes the strong essay that's included in the collection as "Sympathy for Lady Vengeance," drawing out the elements of "humor" and how they clash with the humorless element of rape. Seriously, audiences into discussing a film could have a field day here.
Dig into this classic, and consider the story's ramifications. Is it sensational? Is it exploitative? Or is it empowering? I'm doubting that any two audiences will completely agree.