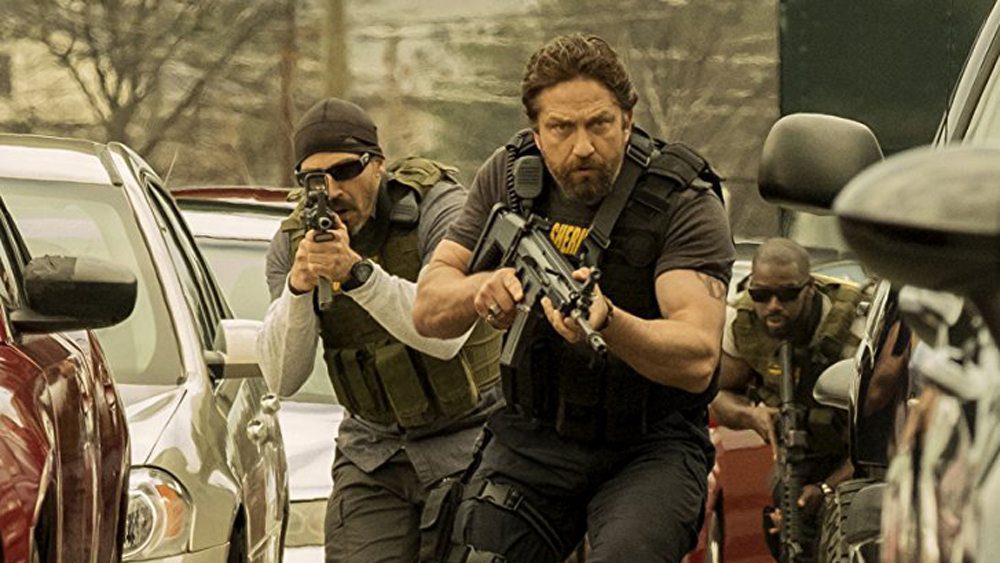 Den of Thieves is a gritty crime thriller about a gang of violent criminals and the cops who pursue them.
Ray Merriman (Pablo Schreiber, half-brother to Liev) has been leading a gang in forcibly executed thefts of armored truck loads and plans to rob the Federal Reserve. Donnie (O'Shea Jackson, Straight Outta Compton), Levi (50 Cent), Bo (Evan Jones), Bas (Max Holloway), and Mack (Cooper Andrews) round out Merriman's crew, and prove to be more of a problem than a help at times. It's hard to tell sometimes who is the villain and who is the law, because Big Nick (Gerard Butler) is the cop hellbent on catching the robbers. And Big Nick is now shining light of ethics and morality.
While Den of Thieves has its faults, it makes up for them with noir-ish camera shots and actors who are better than the film they end up in. Christian Gudegast wrote and directed the film, after writing Vin Diesel's A Man Apart and Butler's London Has Fallen, and clearly has that criminal-ish tendency to make it through the kind of story that's being told here. Crime doesn't pay, blah blah… or does it?
The story moves forward and then back, laying out how Merriman has been laying down a plan to rob the Federal Reserve. Big Nick is desperate to catch him, and aims pretty low to try and make it happen, kidnapping Donnie initially to interrogate him. His home life is completely destroyed by his own philandering, and the audience might get the impression that Big Nick wants to bust Merriman because he's angry he didn't think of the idea to rob the Reserve first.
Special features on Universal's Blu-ray combo pack include an alternate ending – and looks at the character developments behind the scenes. It's a shame it doesn't come with Vudu (only iTunes), but the whole vibe is one that plays better on the bigger screen than your phone anyway. From the opening firefight to the way it progresses, this is half-character-driven drama and half-explosive thriller. You know from the getgo that the two crews are headed for a collision; it is just a matter of time whether Donnie's driving and Merriman's brain can outrun the corruptness of Big Nick and his crew.