Is it kidnapping or liberation? Anna Kerrigan?s Cowboys is the story of a father who is trying to give his child the chance to a potentially fulfilling life. But the only way to do that is to go against his estranged wife?s wishes and do so outside of the law.
Troy (Steve Zahn) and his wife Sally (Jillian Bell) have been separated since Troy was released from jail. Their ten year old child Joe (Sasha Knight) wants to spend lots of time with Joe, and one day alone with him Joe asks Troy to tell Sally that he is a boy in the wrong body. He no longer wants to wear dresses. We have seen that Joe is always sullen when at family functions dressed as a girl and expected to act as such. Sally is not open to this revelation. She keeps trying to force girly things and toys on Joe. Troy and Sally can?t even agree on a pronoun for Joe. Finally, Joe can?t take it anymore and wants Troy to take him away. That night, Troy shows up and Joe sneaks out the window and they?re gone.
Troy leads them up into the Rockies and is headed for the Canadian border. Meanwhile, Sally has called in the police. The detective in charge (Ann Dowd) can tell that there is more to the story than Sally is telling. As she learns more, she wants to help Troy and Joe find a way out of the mess. As the manhunt draws nearer, Troy (who is bi-polar and has lost his meds) becomes more erratic.
The story is told with lots of flash backs that reveal bits of the story leading up to Joe?s coming out. That backstory also includes the reason Troy had to spend some time in jail. We also see that even with the problems Troy and Sally have had, this is a loving family. Joe having to deal with coming out as transgender was a strain that Sally was not able to deal with. It is understandable that one cannot quickly come to understand one?s child as being totally different than what you have known them as.
The film comes up a bit short of its potential. Part of the reason is the part of the story dealing with Troy?s bi-polar issues really doesn?t add much to the story. In some ways it becomes a distraction to the real issue of coming to terms with a transgender child?both for the parents and for the larger community. At the end of the film we see Joe getting on a bus to return to school for the first time. We know that will be a difficult transition as well. There is grace at that point, but we sense that it has been arrived at a bit too easily.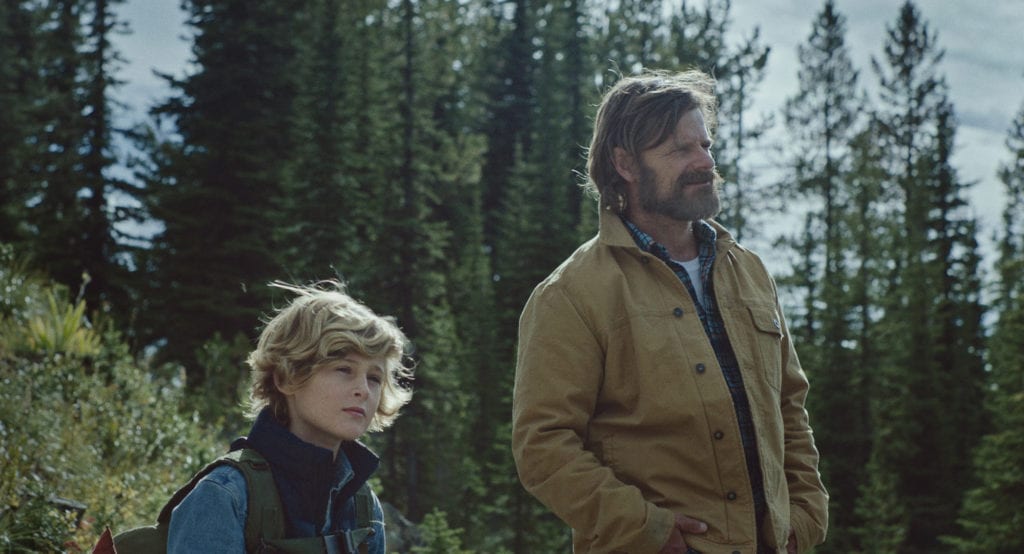 Cowboys is available via virtual cinema through local theaters and on VOD.
Photos courtesy of Samuel Goldwyn Films.