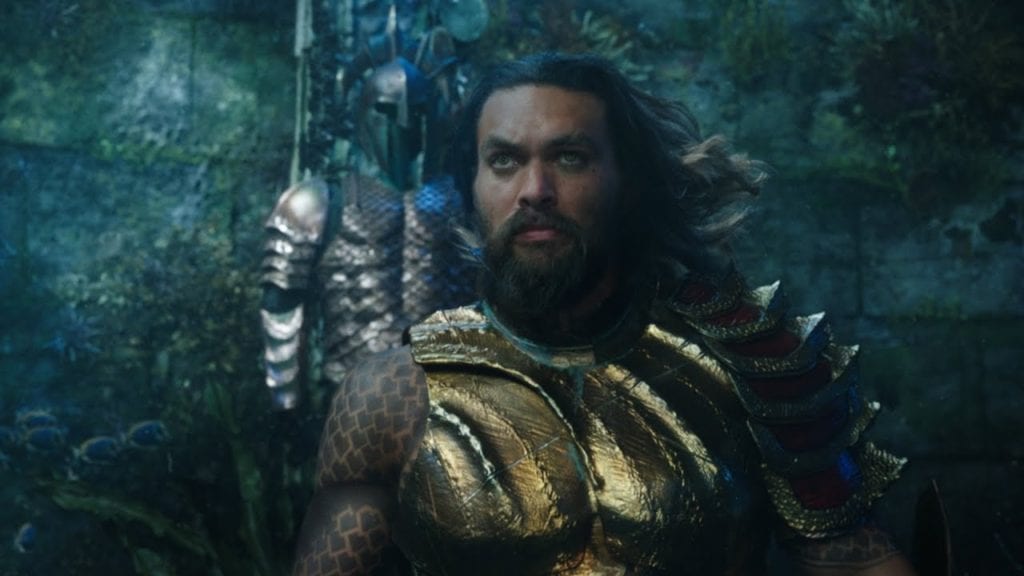 Aquaman, the least appreciated member of the Justice League, finally has a standalone movie. Based on the stories of the man who is the result of a tryst between a lighthouse keeper and an Atlantean queen,?Aquaman?swims up with spectacular CGI?and?a ridiculously complex story in a superhero universe.
While new fans might need the intro to the character, director James Wan's (Furious 7, The Conjuring) film takes its pointers from a wide variety of DC's backlog of stories about the oft-maligned sea hero. Whether it's the Silver Age inclusion of the octopus Topo playing the drums or the more recent development of The Trench and its fearsome creatures, the new film rolls out a plethora of characters, subplots, and action. A virtual delight for the eyes, it has so many tributaries leading back to Arthur Curry/Aquaman's (Jason Momoa) path to be king that it proves to be more than one expects given the scripts from?Justice League,?Batman v. Superman,?or?Man of Steel, and more like the spectacular?Wonder Woman.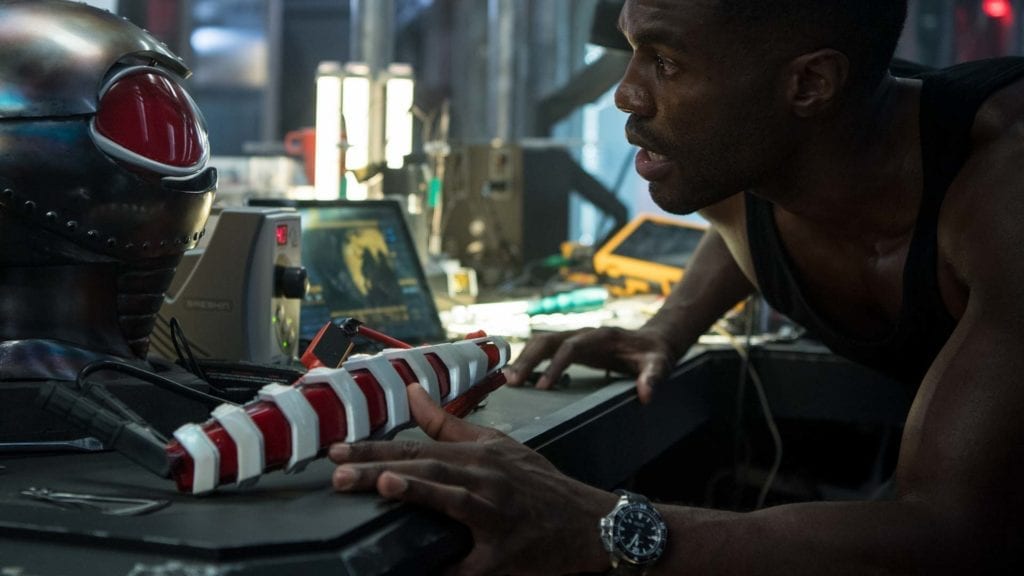 After a brief prelude where Aquaman results from his mother's rescue by his father, he's mixing it up with Black Manta (Yahya Abdul-Mateen II) and creating a nemesis who provides ample energy in this film, and totally sets up for the sequel. Black Manta is being manipulated by Orm (Patrick Wilson), Atlantean brother to Aquaman and would-be Oceanmaster, to create a conflict between the earth dwellers and Atlantis, so that Orm can invade the lands above Atlantis. When Nereus (Dolph Lundgren) pledges his undersea nation's allegiance to Orm, Nereus' daughter Mera (Amber Heard) travels to the land to recruit Aquaman to take the throne of Atlantis and abort Orm's war attempts. Spinning out of this premise is a quest to find the Tritan of Atlan that would prove Aquaman's place as king, and some skirmishes with the different nations of the undersea world. In the process, we're taken on Aquaman's social, moral, and emotional journey to becoming the superhero we've known from?Superfriends?or the like – even if he's less grumpy.
My chief concern going into the film (no, not that Momoa isn't blond) was whether or not the film would hold up underwater. I should have been more concerned that this was?another?DC film with mommy issues! Under the sea, whether Aquaman is battling Orm or the multi-headed Karathen voiced by Julie Andrews (yes, you read that right!), the CGI blends pretty seamlessly with the live-action footage. The various nations (even the Fisherman, made of … fish people) all explode across the screen, with their glorious battles and significantly intricate use of the actual creatures of the sea. While it relies more on CGI (think sea instead of space) than any of the other films, it's visual delivery is solid, using water to shape, destroy, and save in excellent ways.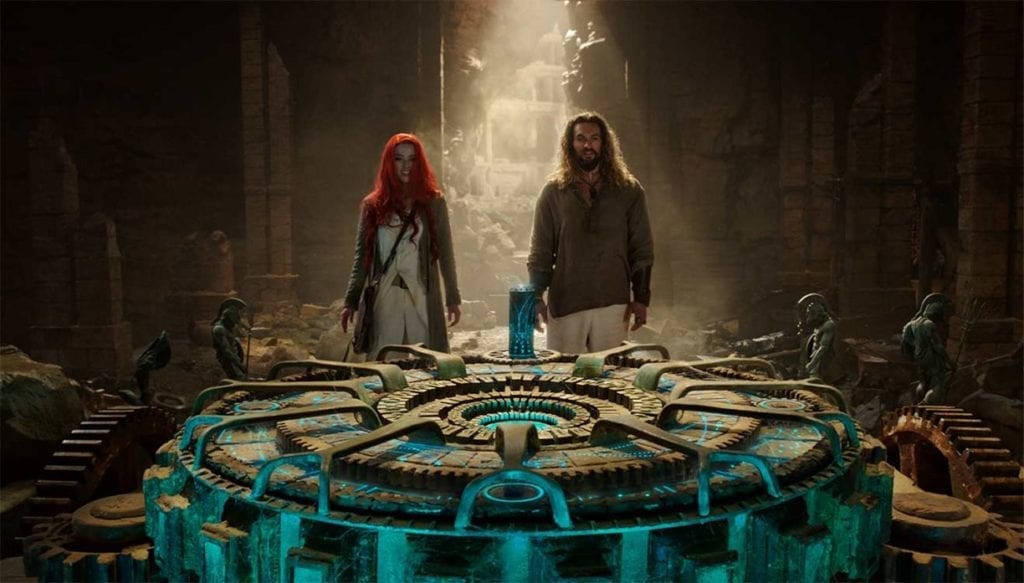 While the film looks good, it also has some serious explorations of development in character and morality. Aquaman's response to Black Manta's father certainly plays a role in the action, one which he regrets and figures out that he needs to learn from, taking more responsibility. His mother urges him to see the difference between a king (who stands for a country) and a hero (who stands for everyone); Curry/Aquaman clearly comes to recognize that he can't simply sit by and watch either the land or the sea devolve into chaos and destruction. Mera shows grit and faith in recognizing Aquaman's potential, and in standing against a stupid/immoral war, even while those around her come under Orm's spell. (She also gets to steal her fare of scenes, holding her own (and saving Aquaman's bacon), proving she's more than eye candy.) This is a morality tale at its finest, with a solid payoff at the end, proving Momoa and Aquaman to be more than the meatheads they've been classified as previously.
In a world where our differences seem to be emphasized, Aquaman rises up from the deep mess around him to represent everyone, to see the value in the various nations, races, and peoples. He's the hero we need right now, tearing down walls because he proves to be child of both Atlantis and humanity to unite rather than divide. Quite a few times, I found myself thinking of the Christmas Nativity story we reflect on now, about a child who was fully God and fully human. It doesn't seem to be much of a stretch to see the child who is both son of a poor blue collar worker and of a queen to compare to Jesus; we can see the gradual growth arc of Aquaman's recognition of his abilities and responsibilities in the way that Jesus' earthly education allowed him to recognize his place in the world. The dilemmas are similar to: join a war or work for peace, choose to turn aside from participation or enter into the fray at one's own risk. Is Aquaman a Christ-figure? Probably not. He's probably more like Jason (of the Argonauts), Hercules, or Odysseus, but he's a fine representation of the way we're all challenged to use our powers, to grow our souls, and to take our place in the struggle for peace.
Special features on the Warner Bros. Blu-ray Combo Pack for Aquaman include more than sixty?minutes of special features. That includes a sneak peek of the upcoming?Shazam!?There's a behind-the-scenes/making of look at the world of Aquaman, as well as a featurette on Jason Momoa and on Black Manta. Fans of the film will enjoy taking a deeper dive into the WB/DC universe.