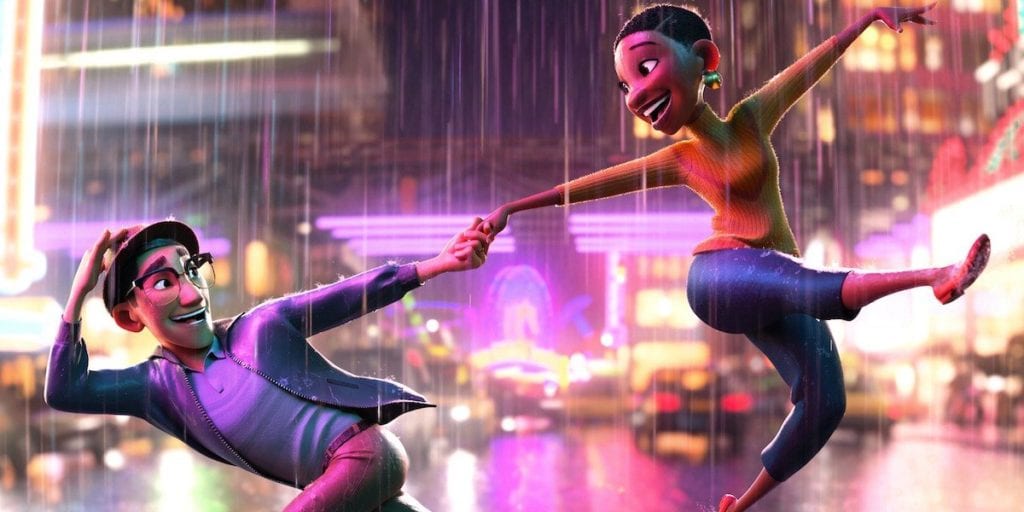 Set in a vibrant city bubbling with rhythm and energy,?Us Again?tells the story of an elderly man self-confined to his apartment. Though his young-at-heart wife calls him to step out and enjoy the city, he stubbornly refuses. However, when he finally steps out onto his balcony in the pouring rain, he begins to feel reborn. Taking to the streets to find his lady love, they revive their youthful thirst for life and their feelings for one another.
Written and directed by Zach Parrish, Us Again is undeniably charming. Tagged with Raya and the Last Dragon, Us Again is the type of animated short that truly is best seen onscreen (although, for most, that may not be a possibility right now). As Disney?s first animated short in five years (!), Us Again is a return to form for the studio. While the short contains no dialogue, this story of rekindled love and youth shines brightly with joy and energy. Brightly coloured and featuring a bouncing score, Parrish?s film pops onscreen with a vibrancy that is almost intoxicating, drawing you in with every step and movement.
At its heart, Us Again is a reminder that the joy of life stems from being willing to experience it. As the world goes on around him, this man has lost sight of the boyish exuberance that once sparked his life. Though his wife yearns for him to join her, he refuses to leave his inner sanctum. However, when the rain calls him outside and he sees the joy and bright lights of the city, his soul begins to dance once again. By stepping outside, he realizes that his stubborn refusal to participate in life has been draining him of his vigour in the process. Conversely, these new perspectives create moments of joy that regenerate both his soul and their relationship. (Incidentally, Us Again also feels oddly appropriate at a time when many feel trapped within their homes due to the current pandemic.)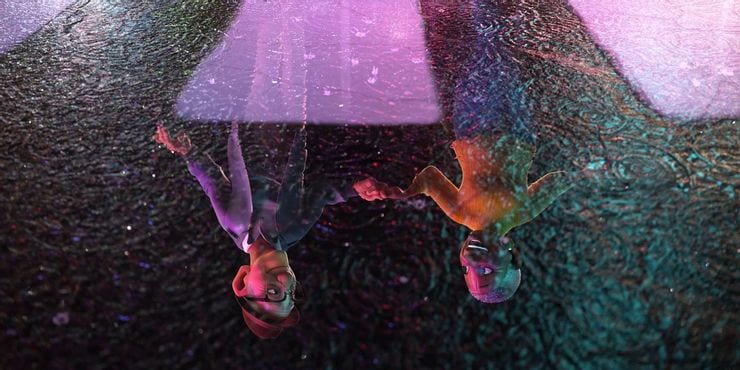 What?s more, Us Again highlights the fact that joy can be a choice. Although this man seems to believe that his best years may be behind him, this bright, shining moment reminds him of who he once was. However, at the same time, he also connects his re-emergence with the rain around him. As the rain begins to dissipate, he immediately fears that his joy will disappear with it. Nevertheless, through the love of his wife, he comes to recognize that he controls his attitude, regardless of his circumstances.
No matter what?s happening around him, he can choose to dance.
This is not to suggest that the problems of the world do not wear on our hearts but rather to point out that there is always joy to be found in our relationships with the people that care for us. (Again, this is yet another poignant truth coming at a time when the world situation feels particularly bleak.) Despite his age or his circumstances, this man understands that his vivacity comes from within. His perspectives shape his reality?and those perspectives have begun to shift in a healthier direction.
In the end, Us Again may not be long but it remains poignant in its message. Coming at a time when many feel drained and exhausted by the global pandemic, this tale of youthful regeneration serves as a sharp reminder that our joy stems from our ability to focus on the people that give us life when things seem darkest.
Even in the rain, we too can dance again.
Us Again?is available in theatres with Raya and the Last Dragon on March 5th, 2021.