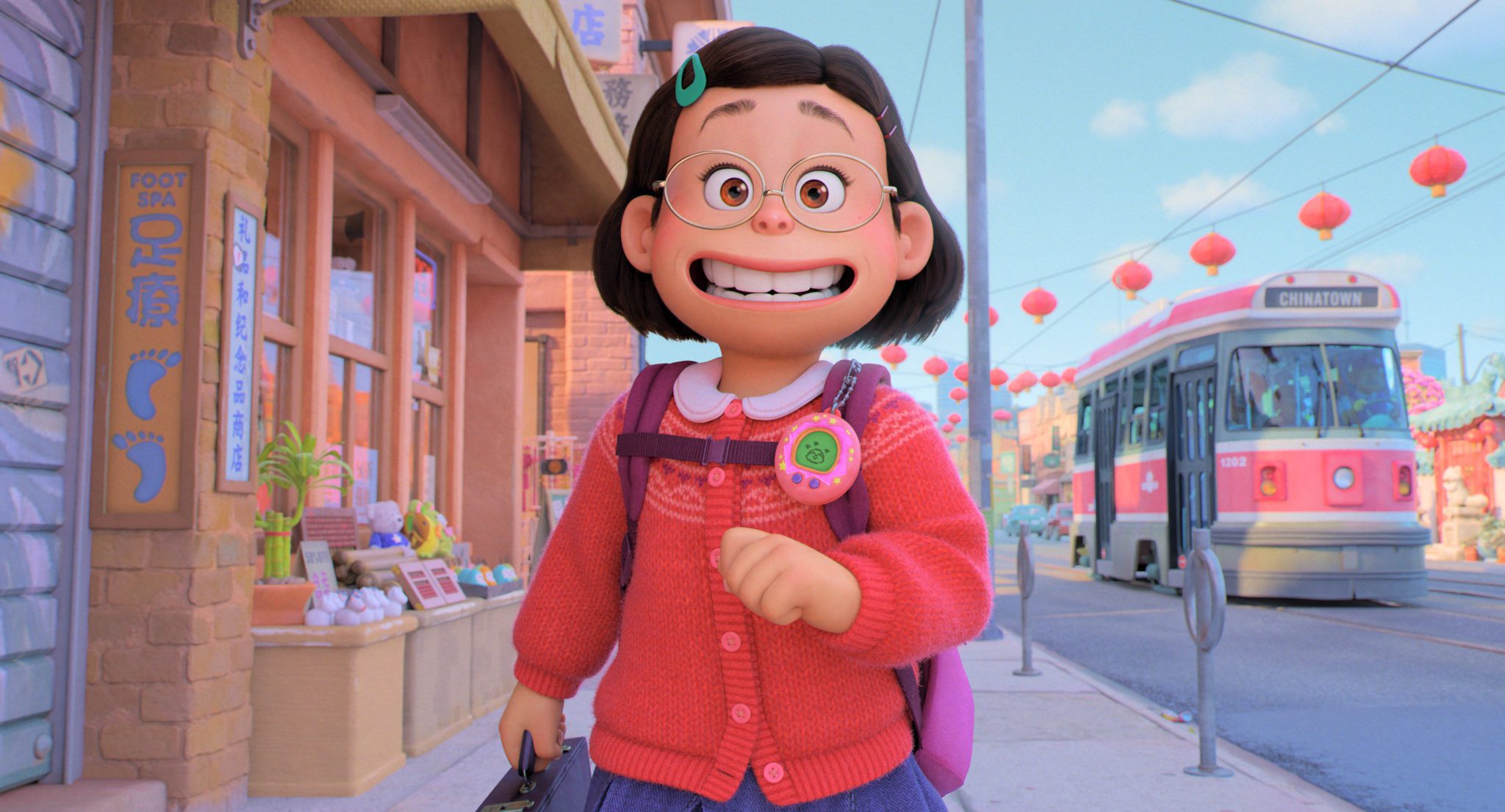 Growing up is hard. Embracing the changes as they happen can be even harder.
Directed by Academy Award-winner Domee Shi (Bao),?Red?is a delightful coming-of-age story that is easily one of Pixar?s best films in years. Filled with bright colours and fueled with humour and heart, there?s simply an infectious joy about the film?that charms and delights throughout. With fun and furry? er? fury,?Turning Red becomes a wild ride into one young girl?s journey into the madness of puberty.
Taking place in 2002, Turning Red tells the story of Mei Lee (voice of Rosalie Chiang), an enthusiastic pre-teen girl who lives in Toronto, Canada. Though she loves her family dearly, the expectations and pressure created by her over-protective mother, Ming (voice of Sandra Oh), is a cause of stress for her as she endures the chaos of adolescence. Things become even more frenzied when Mei discovers a family secret: whenever she gets too excited, she changes into a giant red panda! Freaked out by this shocking truth, Mei must try to figure out whether or not this change can be controlled? and whether or not she wants to.
While the premise may sound similar to Pixar?s Inside Out, the two films could not be more different. Written by Pete Doctor, Inside Out has an unavoidable level of distance as he writes from his own perspective. However, Red feels much more personal. As Mei wrestles with the changes within her, Shi brings an empathy and understanding that stems from her own experiences as a young girl that makes Red feel more real. As a result, whereas Inside Out feels like a man attempting to comprehend his daughter, Red seems much grounded from personal understanding.
Set in the urban jungle of Toronto, there?s also little question that the film is a love letter to her upbringing in Canada. Having immigrated at a young age, Shi grew up in the city and?Red?unashamedly adores its hometown. References to loonies, Wilfred Laurier, rides on the TTC and more all allow the city to have its moment in the sun. (Set in 2002, they even refer to the Rogers Centre as its proper name, the SkyDome.)?
More importantly though, Red is also a loving testament to her upbringing as an immigrant Canadian. While the film is not about Shi herself, the film celebrates her Asian heritage yet also remains willing to show the challenges that growing up in a different culture may cause within the home. Caught between the traditions of her parents and her life as a Canadian teen, Mei attempts to make sense of her world and her place within it. Although she remains committed to honouring her parents and their values, Mei?s life feels like a threat to her parents? traditions. Pop music, boys and sexual attraction begin to create a rift between her and her mother that begins to break down their relationship.
In this way, Red fearless in its exploration of growing up. Using the red panda as a metaphor for Mei?s changing emotions and body, Red feels authentic and honest. Dealing with issues ranging from sexual attraction to a girl?s first period, the film feels grounded in all of the awkwardness of youth, even in the midst of its wild premise.
While Mei?s world begins to change, Red points out that all of us are fueled by a complex mixture of imperfections, anger and sadness. As she attempts to balance her new and unpredictable emotions and her mother?s expectations of her, Mei becomes frightened of what? happening to her. However, as she begins to navigate these changes, she also begins to understand what it means to accept the pieces of herself that don?t always fit into the box. (In fact, she becomes empowered by them.) Yes, the changes in her life may be scary and cause tensions at home, but there?s something incredible about them as well.
In the end, Turning Red definitely turns into something special. Mei?s journey may be her own, yet this is a story for everyone who has (or are) going through the chaos of growing up. Whether it?s learning to accept who you are or the ever-changing dynamics between teenagers and parents, these moments in our lives can be really difficult. Even so, Red reminds of the power that comes when we embrace the panda.
Turning Red is available to stream on Disney+ on Friday, March 11th, 2022.