I recently had the chance to speak via Zoom with Dana Canedy, who wrote the book A Journal for Jordan about her fianc? 1st Sergeant Charles Monroe King who wrote a journal for their yet unborn child prior to being killed in Iraq. The film version of the book is directed by Denzel Washington and stars Michael B. Jordan and Chant? Adams. Ms. Canedy is a Pulitzer prize-winning journalist who is now Senior Vice President of Simon and Schuster. She has written for the New York Times
I?m sensitive to the fact that even though it?s been a number of years since the events in the film, the writing of the book, the making of the movie, and now all these interviews you?re doing can stir up many emotions for you and for your son. So how are you feeling about it all at this point?
Thank you for appreciating that. I have a mix of emotions. I?m mostly really humbled and grateful. The fact that people all across the country care about the story and are sending me hugs and sending me emails is very healing for me. There are some days I?m really overjoyed and other days are difficult. When we were shooting the scene in Arlington Cemetery was one of the worst days of my life. One the whole I think it?s a beautiful story. I?m grateful for this experience and hopefully there are some words of encouragement in the movie that will resonate with people with their own struggles, to help them get through. So if I can serve in any way, my story and my loss, and how to deal with tragedies and serve to inspire someone else and help them through, then it?s okay. I?m happy to go through it.
In the production notes you?re quoted as saying you were willing to trust Denzel Washington with this project because ?In this order, I knew Denzel was a Christian man and a good family man. And then I knew he was the best at what he does.? Can you speak a bit about the importance of who Denzel Washington is as a person as it relates to this project?
I think who he is as a person as it relates to this project is as important as who he is in Hollywood, in the sense that he made this personal. He started many of the shoots in prayer with the cast. He got to know me and my son over time. We?ve been thinking about and talking of doing this for thirteen years. So Jordan?s sixteen and I have pictures of him holding Jordan on the set of one his other movies when Jordan was three years old. He made this very personal. In fact, at one point several years ago, he was reading through the script and he was pretty emotional about it and called me about it. I told him ?We?re no longer characters on a page to you; we?re people.? And so, I think part of the beauty of the movie is that everyone involved made it personal, and you can see that with the performances.
You also mention that part of what your fianc? wrote about was his love of God? How did you see that form him as a man?
He was a deeply Christian man who grew up in the church and read his bible every day. I used to watch him read and pray and he wrote in a prayer book. He?s the only man I ever dated who I felt comfortable praying with. God was at the center of his life. He really was. In fact, his pastor at his childhood church asked him, ?You?re such a Christian man, how can you be in the military?? He said, ?The military needs Christians, too.? Faith was at the heart of everything he did. I grew up in a very nontraditional religious household, and he helped me, actually, grow in my faith. That is one of the blessings of having known him and spend so much time with him, to watch a man of faith practice his faith.
Also in the production notes, you talk about the two different ways your fianc? was known: The warrior that the soldiers knew as ?Top? and the man you describe as the gentlest man you ever met. What was it like to discover new dimensions to this man?
Incredible. It was absolutely incredible. Incredible for the soldiers and incredible for me. When I described the man I knew to the soldiers, they said ?Ma?am, we never met that guy.? He was so different at his home. He had all these little flecks of gray in his mustache, and he used to let me take my mascara wand and color it in. That?s who he was at home. Of course, that?s not who he was as a military leader. He really had these two different parts of his personality that he balanced very well. To this day it makes me smile and laugh that this fierce warrior could also be so gentle. Though I shouldn?t be surprised because he was an artist who specialized in pointillism?creating beautiful three-dimensional drawings with dots of paint. He would draw children and old people and soldiers and landscapes
As I mentioned I haven?t seen the film yet, but how do you feel Michael B. Jordan did in capturing that complexity?
First of all I was struck by how much they looked alike, so that was incredible. He, again, put in a lot of time researching the role. The first day I went to the set, I took a small duffle bag that had the actual journal in it and Charles?s dog tags, and his Purple Heart. Michael wore the dog tags on set that day, and was very emotional about it. So I think he really understood that there was a boy at the heart of the story, whose name was Jordan, who?s a real person, and he had this unbelievable measure of respect for Charles. So he put in the time to talk to me a lot, to read through my book and the journal to understood us as people. And he brought all that to bear on the performance. He captured him perfectly.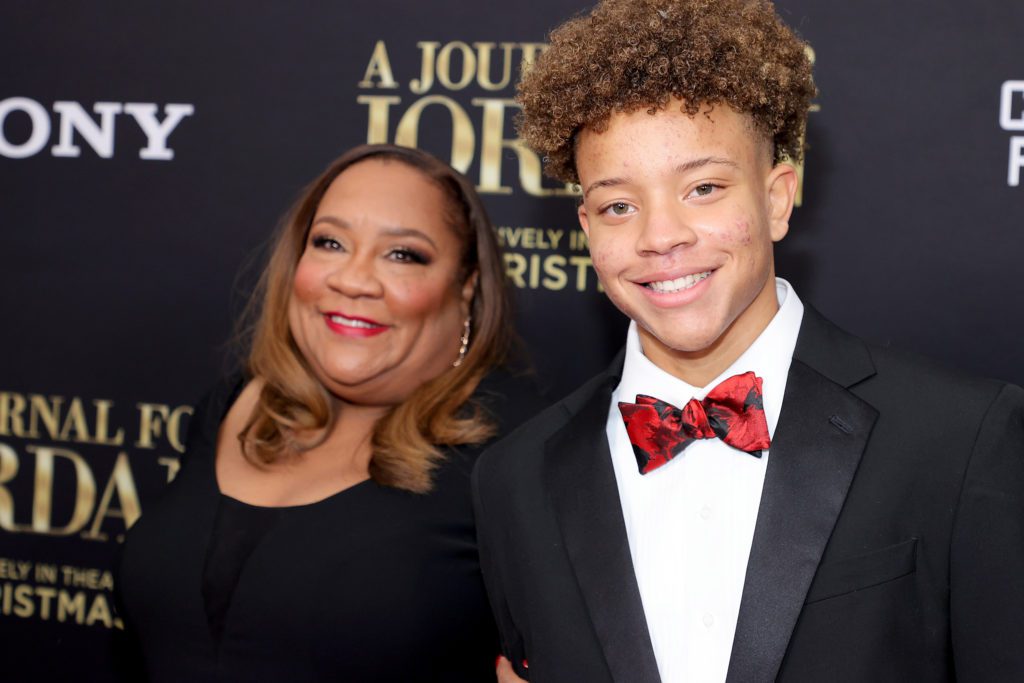 Is there a kind of weirdness to watching yourself being portrayed on screen?
Oh, no. I mean, I?m so grateful. This is such an awesome, amazing experience, by the grace of God, to be able to tell my story?our story?to share that. I don?t think of it that way at all.
This is a story about fatherhood, but in a very different way than most films. How would you describe the concept of being a father that this film creates?
I think what it does is it doesn?t create an example of fatherhood. It gives an example of the epitome of fatherhood. You know, a man who found a way to be present for his family and his son after he was gone. I tell Jordan all the time ?You?re having an ongoing conversation with your father that many people don?t have with fathers who are living.? The fact that he tried so hard and worked so hard at anticipating what he?d want to say to Jordan over the years is unbelievable. There are entries in the journal that mean a lot to Jordan at sixteen years old, but, as you can imagine, there are other things that are going to be even meaningful for him on his wedding day or when he becomes a father. Charles was able to anticipate all of that while writing this from a war zone. I can?t think of a better example of a father who is loyal and thoughtful and caring and loving. It?s why I chose him.
A Journal for Jordan is now available on Blu-ray and On Demand.