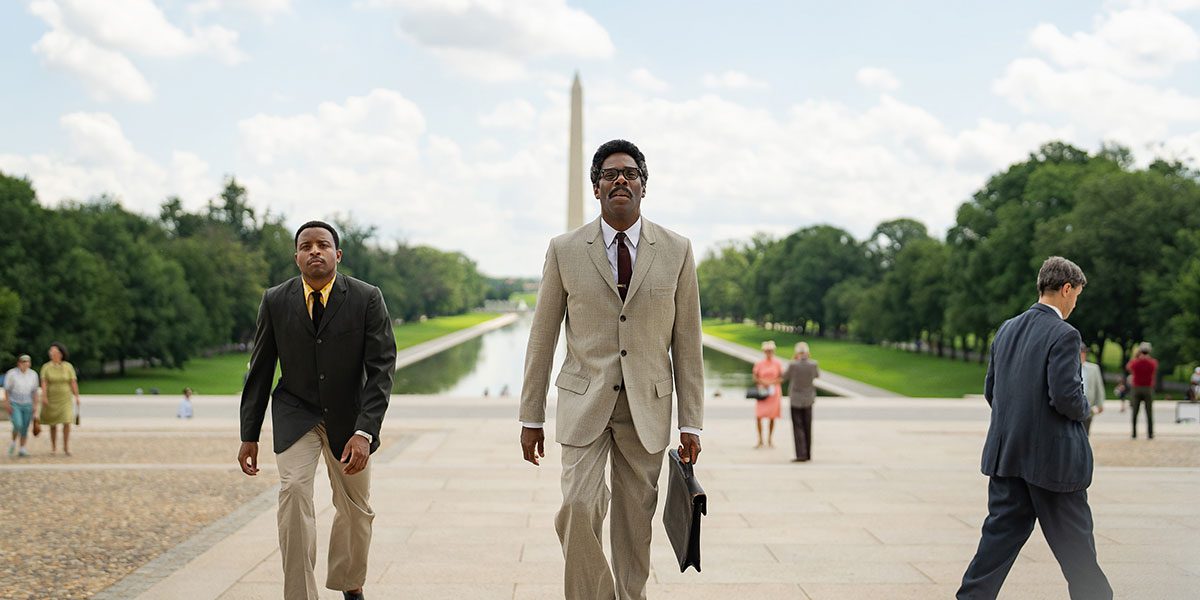 George C. Wolfe's latest film, Rustin, shows that he finds scripts that give his generational talented actors the to shine. However, this one takes a step back in its originality and covers mostly familiar narrative and historical ground. 
Rustin stars Colman Domingo as Bayard Rustin, a charismatic civil rights leader who keeps getting pushed to the side because of he dares to be an unafraid gay man in America. The film sees Bayard kicked off the NAACP board after he's pushed out to avoid scandal rumors about him and Dr. Martin Luther King (which had no basis in truth). From there, Bayard's eccentric energy and passion are kept to a dead-end job but, as he witnesses the civil rights violations happening across America and the brutal government response, he kicks starts his dream action that comes in the wake of Gandhi. Bayard and his passionate team, including his lover Tom (Gus Halper), come together to lay out an extremely detailed plan to bring everyone to Washington D.C. in an epic showing of passive resistance. These details are extensive from the washrooms, dealing with local authorities, transportation, food, weather, a day that aligns with religious customs, moving the group, and even the potential of camping overnight. Bayard comes alive in the face of these challenges and, even as the group struggles to get the support they need from different unions, organizations, and figures like Dr.King, Rustin's personal life keeps getting in the way of him being the true leader of this movement.
This film is led by Colman Domingo who has proves that, the longer you put him on screen, the more excellence you get out of him and the cast around him. He leads a fantastic cast who all bring in worthy performances but Domingo remains the standout. Domingo uses his charismatic energetic powers to deliver some lines with such force that our audience was clapping in response. Combined with his unique manner of speaking to replicate Bayard's (which came about because of his missing teeth), Domingo disappears into this role, giving him another lead performance worthy of the Oscars. The energetic score also brings it together in this familiar but worthwhile biopic that could be showing up during awards season this upcoming year.
Rustin is now playing at TIFF '23. For more information, click here.