When the news broke that Daniel Craig would be succeeding Pierce Brosnan as James Bond, it seemed highly improbable. He is, of course, blond, not dark-haired. He had starred in Layer Cake, which lent itself to being hard to understand, and hardly debonair. How could an actor of no real background be the ?tall, dark, and handsome? ruffian that had held our attention since Bond first played cards in 1962?
Casino Royale (2006)
After the black-and-white flashback, Bond chases a bomb maker through Madagascar in a parkour-styled pursuit, providing two opening vignettes of the new Bond. We?d retraced our steps to his beginnings as a 00 spy, and now Bond traced the movement of money from Alex Dimitrios (Simon Abkariam) to the financier Le Chiffre (Mads Mikkelsen), whose distinctive characteristic was weeping blood.
After breaking into M?s apartment, the boss and her ?blunt instrument? exchange barbs. She tells him ?arrogance and self-awareness seldom go hand and hand,? while he proposes that she wants him to be ?half-monk, half-hitman.? M?s twenty-first century challenge? ?I want you to take your ego out of the equation and to judge the situation dispassionately. I have to know that I can trust you and that you know who to trust.? We?re set up for a developing give-and-take between Bond and M about trust (which we already know will come to a head in Skyfall).
After Bond?s seduction of Dimitrios? wife results in her death, we see that death affects Bond more than M would like it to, even as she criticizes his decision-making abilities. She forces a monetary babysitter, Treasury agent Vesper Lynd (Eva Green), on Bond as he goes to challenge Le Chiffre in a game of Texas Hold?em in Montenegro. He meets up with old CIA character Felix Leiter (Jeffrey Wright in the new reboot), who takes on a more serious partnership, banking Bond after he loses all of his English bankroll.
In the middle of the action, one of the most telling scenes about Bond?s difference occurs. After a brutal fight, Lynd retreats to a shower, fully clothed, and can?t seem to get the blood off of herself. Craig?s Bond doesn?t bed her; he takes her in his arms and holds her, trying to cleanse her of the blood but remind her that she?s not alone. She in turn saves him with some hi-tech technology after Le Chiffre poisons him, before they continue their conversation about the ethics of spying. (Bond tells her that to be good at his job, he must ignore reservations about killing people, but she doesn?t believe he?s really that detached.)
The last third of the movie finds Le Chiffre?s backers involved. Bond gets sterilized (a twenty-first century explanation for his unprotected sexual encounters) by torture, and finds himself dealing with a desire for vengeance that exceeds the duty that he has known before. We are made to believe that Bond truly loves Lynd, and that her death changes him. He leads M to believe that he no longer trusts anyone, but Bond is also informed that Lynd made the deal she did to save Bond?s life. The dichotomy, neither trusting nor without trust, rises up in the reboot, and we?ll see it continue in the sequel.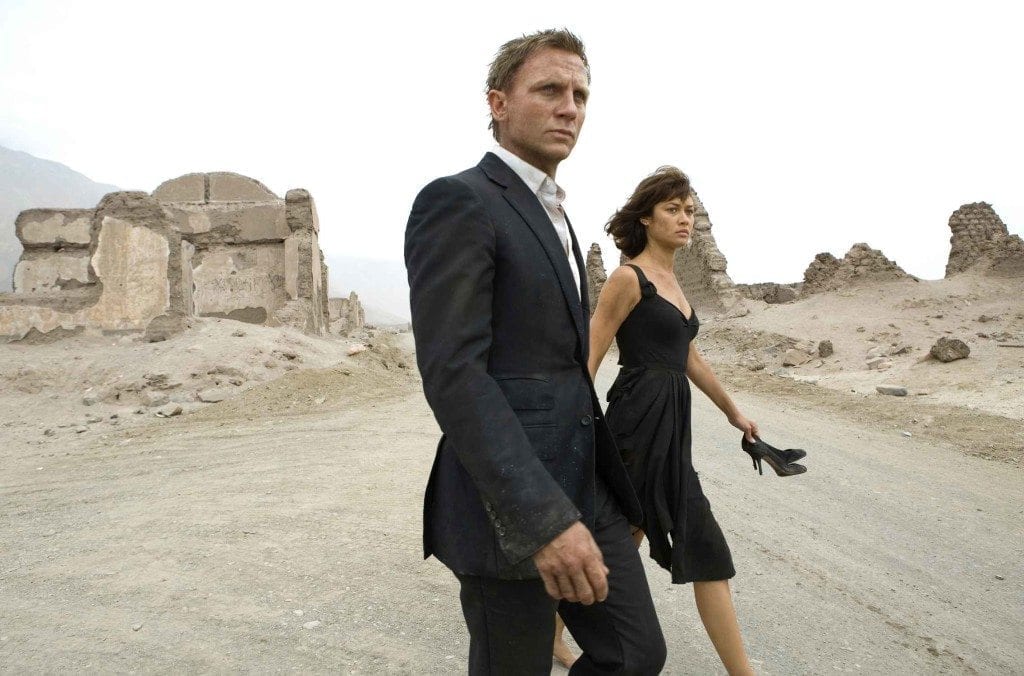 Quantum of Solace (2008)
Early on, Bond and his chief philosophical foil, M, go head-to-head over the fallout with Le Chiffre. Bond says that the Americans shouldn?t be angry with him: ?if they wanted his soul, they should?ve made a deal with a priest.? He?s obviously angry, but to what degree? M implies she thinks he?s emotionally devoid (isn?t that what she wanted?) when she tells him that it takes a ?pretty cold bastard that didn?t want revenge for the death of the woman he loved.? But who says Bond doesn?t want revenge?
Following the money, again proving that this is a more hi-tech/advanced way of pursuing the criminals, Bond finds a connection to the ?environmentalist? Dominic Greene (Mathieu Amalric), and saves Camile Montes (Olga Kurylenko), who has her own reasons for wanting revenge against members of what we understand is called Quantum. Thinking Bond has gone AWOL, M revokes his privileges, and he seeks out his old friend Mathis (from Casino Royale), who urges him to forgive Lynd and forgive himself.
The British Secretary of State sets the stage for the new monetary crimes Bond will see: ?If we refused to do business with villains, we?d have no one to do business with. It?s not about right or wrong.? But Bond and Montes certainly recognize ?wrong? in Greene and his compatriots, even if M continues to accuse him of being out of control. She later says that she does trust him, but a female agent is found drowned in oil (similar to Jill Masterson in Goldfinger).
After all of the dust settles from the finale, Bond and Montes reflect on vengeance (which plays out in the finale for both). Montes remarks that she feels listless, directionless, now that her mission is complete, but Bond tells her that he doesn?t ?think the dead care about vengeance.? Montes tells him that she longs to set him free, but his final retribution for Lynd?s death isn?t as violent as we?d expect; somehow, Bond knows when to kill and when not to.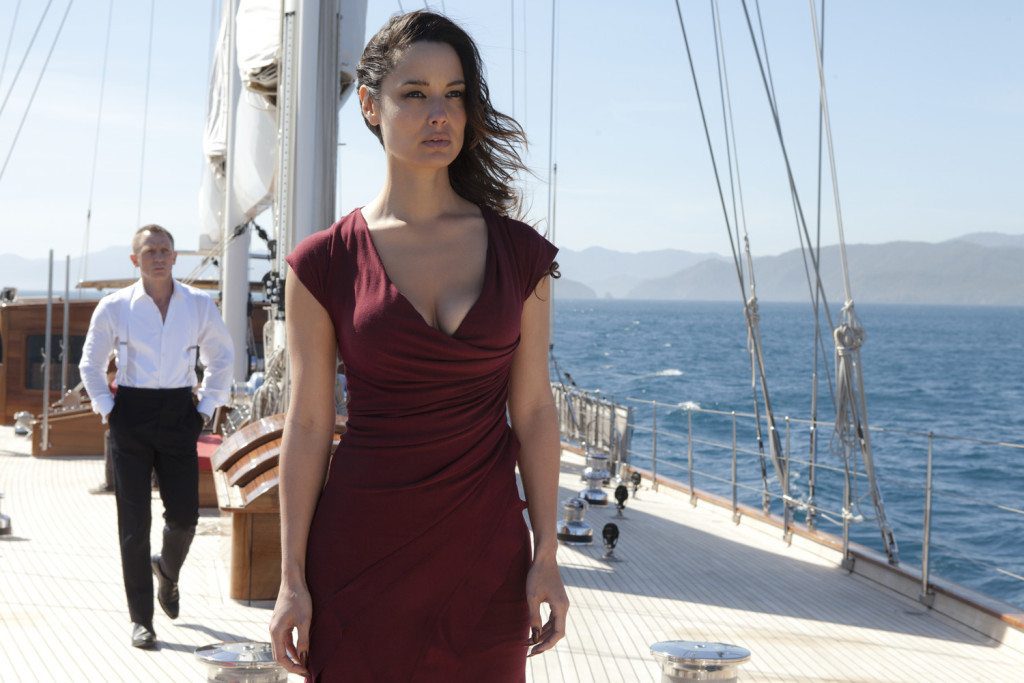 Skyfall (2012)
The twenty-third film in the Bond series boasted a theme song by Adele and a Bond villain actor who might be more world-famous than Craig himself in Javier Bardem. Miss Moneypenny received more Bond street cred with the arrival of Naomie Harris as the in-the-field MI6 version, Eve. But whatever trappings this film might have to jazz up the glitz and glamor of the series, it simply boils down to this: it's the most personal Bond film yet.
Of course, we can now tell from the brief trailers that we have seen of?Spectre, that there will be another dose of madcap adventure coming next, and a dialing up of the internal pressure for this Bond. See, while?Skyfall?finds Craig's Bond outside of the system and on the run at times, we also discover that there may have been other "Bonds" before him [setting up the possibility of Idris Elba's James Bond, if some would have you believe]. This is a film intent on exposing the old wounds that made Bond who he is – with dashes of salt and vinegar already showing in this Friday's installment – while moving on M (from Judi Dench to Ralph Fiennes) and creating a portable mystic of the Bond universe. [If we end up with a solo Q movie, I'm not buying, but the minds behind Bond seem to be taking a note from the Avengers handbook.]
The film of course revolves around the idea that Silva (Bardem) and Bond are the two "sons" of M. One left, betrayed and angered by the handling he received; the other stayed, faithful to Queen, country, and M. Clashing in the fiercest of ways, we see that the battle wounds Bond carries are more than those of lovers lost or the weight of dead men. No, Bond is a man who has intentionally siphoned off feeling and emotion to better serve the majority of humankind. And yet, when faced with his deepest losses, his greatest fears, and his darkest past, we can see that he cares.
In Conclusion
We?ve seen the somewhat one-dimensional Bond with Connery, the debonair with Moore, the violent/angry with Dalton, the slight blend with Brosnan. But Craig proves to be ?a blunt instrument,? ?tall, (blonde), and handsome,? and deeper than any of the Bonds who came before him. He?s damaged and determined, tortured and liberating, dependable and independent. This Bond considers the orders and the situation, but his internal DNA is written to be something that isn?t fully determined yet. But it?s something truer and more realistic than anything that came before Craig.
While Bond might not be a card-carrying Catholic or an every Sunday Protestant, he has a spirituality to him now that makes him more compelling. He will kill for Queen and Country, and for the held-down and neglected, but never for sport. He?ll avenge wrongs, but not for pleasure. His ethics and morality are created in stark parallel to the absolute terrors that are represented in the villains he battles, as both Le Chiffre and Greene take joy in bringing harm to others, simply for their own pleasure. Bond?s ethical decision-making rises above that.
Bond?s mission is ultimately one for peace: peace for others, but since the death of Lynd, impossible for himself. Bond saves because he can, because he should. His sentiments are driven by his marching orders but carried out because his heart is ultimately pure (as both Lynd and Montes implied). Ultimately, our view of Bond cannot be simply determined by M?s evaluation because her narration may be off. Maybe Bond is more than a blunt instrument, more than a womanizer or violent psychopath. Bond is a twenty-first century classic, forged by the fires of global terrorism and greed, but ultimately, an individual who won?t stand for corruption on any level.
Bond is a hero indeed.