Cedric Nicolas Troyan, who was nominated for an Academy Award for Best Visual Effects on?Snow White & the Huntsman, directed?The Huntsman: Winter's War?out now on Digital HD (and on Blu-ray on August 23). After directing Chris Hemsworth, Jessica Chastain, Emily Blunt, and Charlize Theron in his debut, Troyan shared his thoughts on conveying strong visuals, and the challenges of showing audiences something new.
As a first-time director, Troyan found himself leading a group of A-listers into a new enterprise, but after initial jitters, Troyan said he was unfazed. "When you do visual effects, you're there from inception, working beside the director. It's a grew school to learn from them. So, I figure in twenty years, I have put in my share of set time," the director said with a chuckle. "But you ask yourself, how will you interact with the cast? Will they get what they need from me? Will I flounder around like a bowling ball? I was confident that I had the knowledge necessary. And in the end, I could see that these people were all great."
Troyan's confidence was potentially bolstered by (in his mind) the surprise?nomination for the Academy Award, because he was so focused on creating what he needed to. "At the end of the day, you try to make something you think people will like, something cool. That's the job: trying to take the ingredients and make something great, like cooking up a dish for your guests. But there's no full-on recipe for success. There are just things you think are good, and you hope people will share your enthusiasm."
While?The Huntsman?varies in tone from the original in the series, Troyan saw the way that the characters were influenced by a variety of backgrounds in legend and style. The director was focused on telling those stories, and making sure that it looked cool (a regular adjective for Troyan's understanding about the way things would appear). But he admitted that a different take on an old story can be tricky.
"You have Hans Christian Andersen's Snow Queen not exactly but inspired. You have the Snow Queen in Narnia or Elsa, the queen in?Frozen.?You're mixing the different worlds but trying to stay in the same world as?Snow White & The Huntsman."
"It's like most people when they wake up in the morning; they don't stay in the same mood all day long. When you explore the world [of these fairy tales] mixed with changing emotions, it's kind of cool. Some people like the way we presented that and some people don't. You flavor it thinking it will fit but the important part is that you're trying."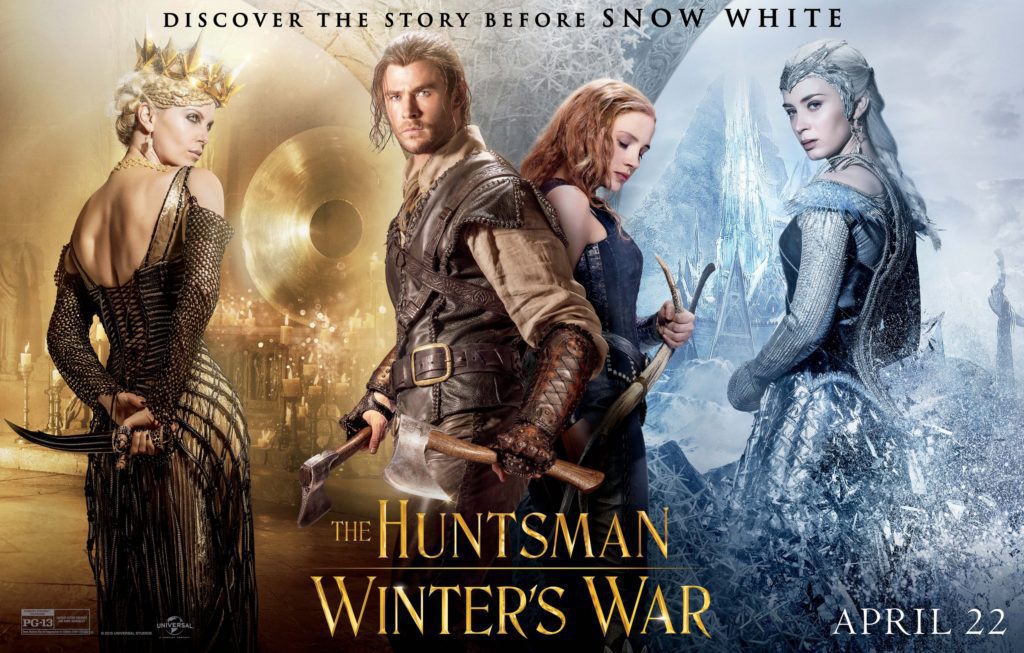 Troyan's path continues to draw him into stories (like?Maleficent) where female characters show us more than we had seen before. It's clearly of interest to Troyan as he creates these 'meals' for us to enjoy, and he warmed to the subject, especially when it came to Theron.
"I'm definitely more interested in female characters in my life. I tend to sway toward those females. It's not that male characters aren't interesting but I think there's more variation in female characters. There's a broader spectrum. We need to hear those different voices."
When the subject of the hyper-visual?Mad Max: Fury Road?was broached, Troyan admitted that he hadn't seen it in theaters because he was filming. "I told Charlize I was sorry. I wasn't sure I'd like it because I'm not a huge Mad Max fan. But because of Charlize I went to see it. As soon as I got home, I emailed her that I absolutely loved it – especially her portrayal of Furiosa. It was just so rock'n'roll! The most rock'n'roll thing I've seen in a long time."
As our time drew to a close, I had to ask: what could Troyan tell us about the?Highlander?remake that has been rumored about for the last few years? Troyan laughed, and measured his response. "Highlander?was always supposed to be my first film, never my second. Now that's my first has already been done, I just can't say too much."
Ah, the heart of a fan. We must wait to see what Troyan is cooking, and then dig in. Each meal won't be for everyone, but this chef is cooking a buffet of visual and storytelling delight.