"We can't change the past. All we have left is our future." The past and future are not so much what Sergio Navarretta's The Cuban focuses on. Rather it calls us to find life in the present.
Mina (Ana Golja) is a young Afghan-Canadian pre-med student who is working at a nursing home. She is tasked with feeding one of the patients who has Alzheimer's. Luis Garcia (Louis Gossett Jr.) spends his day staring blankly. Because he reacts violently in frustration, he doesn't eat with the other residents. Mina notices a poster on his wall of a Cuban jazz musician. She remembers that music from her grandfather's home when she was a child. She notes that as she hums music that Luis becomes a bit more animated. She begins to bring Cuban jazz records to play for him and each time he becomes more engaged. Soon she's bringing him Cuban food as well. She's skirting the rules, but it is paying off. She soon discovers that Luis was a famed Cuban musician.
But when we see Mina's homelife with her aunt (Shohreh Aghdashloo), we discover that Mina is less interested in being a doctor than her aunt. It is the aunt's dream that she expects Mina to live out. She is concerned about Mina's future, but not with Mina's desires. (Mina is more interested in music.) It is the aunt who voices the quote above. The aunt had been a doctor in Afghanistan, but now is an administrator at the nursing home. As an immigrant, she was not credentialed to practice medicine, but she did the best she could to provide a home and opportunity for Mina. She may feel a bit like a martyr for her sacrifice.
But the contrast is really when we see Mina's relationship with Luis. Here is a man who has seemingly lost his past, and has no hope of a future. With neither, he is stuck in a present of emptiness. The music and food that Mina brings him begins to draw out his memories—some happy, some not. It is the interplay of Luis's past and Mina's possible future that creates a meaningful present.
The film is a little bit cluttered with side stories of Mina entering into a romance, and with battles with the nursing home staff (which are a bit stereotypical). Those subplots take away some needed exploration of Mina's memories of her family and how that impacts her situation vis-à-vis her aunt.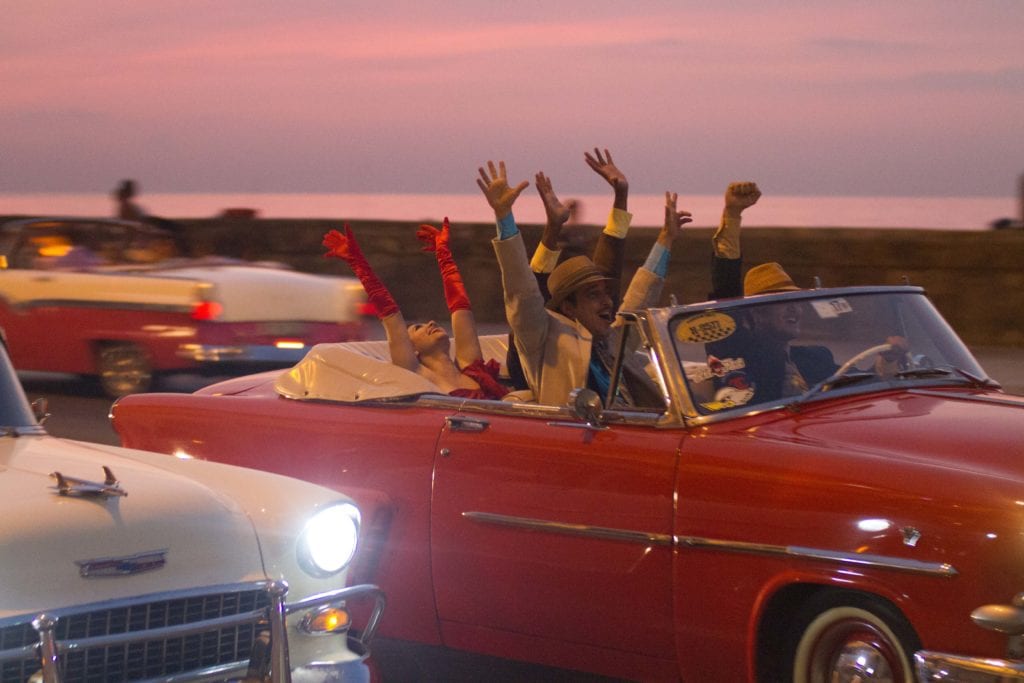 The film does offer some wonderful bits of Cuban jazz. Some of those involve getting into Luis's mind as the music awakens him, taking him back in time to New York clubs, and also cruising in Havana. The music adds a sense of joy and life to the film, that focuses so much on people who are stuck in a life that is not their choosing. But throughout the film we find that the music, so based in the past, is what brings meaning into the lives of these characters.
The Cuban is available on Virtual Cinema through local arthouses.
Photos courtesy of Brainstorm Media.