What if we had never met Dory? Or if Buzz and Woody had never become friends? Would our world be different?
Most of us think that Pixar burst onto the scene with the release of its first feature film in 1995, Toy Story, noting its fifteen Academy Awards coinciding with the partnership with Walt Disney Studios. But the real Pixar Animation Studios originated sixteen years earlier as a division of Lucasfilm, aiding in the special effects for The Wrath of Khan, Young Sherlock Holmes, and others. But when we reflect of the legacy of Pixar, we do so with an eye toward the fourteen feature-length films and its wealth of awards. But what makes these films rise above any others in the animated genre?
With the release of Inside/Out on Friday, a film receiving rave reviews from advance screenings, we should recognize that PIXAR has changed animation, and our expectations for how good a 'toon' might look. No more are we stuck with the flat objects on screen, moving around in jerky motions (like those flip books we used to make in elementary school). No, we have real-life motion with toys, bugs, and rats! The thing is though, while we can get caught up in the visual wonders (and there are plenty of those!) that the minds at PIXAR bestow on us, there's more to this brand of storytelling than the "average animated movie."
Let's look at a few of the films that shouldn't be missed. With apologies to the others (quite honestly,?Monsters Inc.?is my favorite), here are the five deep PIXAR movies that visually wow us but have more going on under the hood.
Toy Story ?(1995)
When we're introduced to ?Woody (Tom Hanks) and Buzz (Tim Allen), we meet a pair of toys, one old and one new, owned by a six-year-old boy named Andy. Over time, and I'll cheat a little here by incorporating all three movies, the two foil a bully who destroys toys for fun, a collector who steals?Woody, and each other, but it's their friendship (and bickering) that add much of the fun to the films. We (adults, that is) see something of our own childhoods, recognizing that there's a time and a place for play, and probably feel a desire to nurture that in our own children (a la?The Lego Movie). While other real-life films like?The Sandlot?or?The Goonies?might also provide the same sense, there's a certain amount of magic that the PIXAR crew bottled up here.
For me, the "you had me at hello" moment is in?Toy Story 2, when Buzz comes to rescue Woody. Woody has been sort of brainwashed into thinking that being a collectible is all there is to life; he's forgotten his purpose as a toy to entertain Andy and to be loved. Buzz reminds him that there's more to the world, and in a moment of clarity, Woody wipes off the new paint from his boot, revealing "ANDY" scrawled across his foot. Like Woody, we can get deluded into believing that "this is all there is," or that we don't matter. It often takes an outside force, or someone who God uses, to break through and remind us that we are loved by the God of the universe, that God's name is written on our hearts and in our DNA.
Finding Nemo (2003)
It's amazing who you meet on a cross-ocean journey, and better still when that journey is animated by some of the best in the business. While?Finding Nemo?has some of the typical Disney sadness (Nemo's mom), there's still a sense of love, community, and recovery that's greater than the average two-dimensional animated flick.
While some might say that Dory's (Ellen DeGeneres) "Just keep swimming, just keep swimming" is the best life advice they've ever received from an animated flick, I'll again refer to the more Biblical tones the story reverberates with: The Parable of the Prodigal Son. Our friend Nemo (Alexander Gould) strays from the safe confines that his father (Albert Brooks) set up for him and ends up netted, transported, and dropped in the dentist's tank. But his father doesn't stop searching for Nemo. He just keeps going and going and going, until he's able to save him. That's pretty consistent with my understanding of God's love for us: even when we're in a mess all on our own, God won't give up on us.
WALL-E (2008)
Stanton (who also did?A Bug's Life) directs a film I'll never forget. With a few hours to kill before officiating the wedding of a good friend (who happens to be our site manager here at ScreenFish), my wife and I tripped into the least family-friendly animated flick I'd seen at that point:?Wall-E. [Editor's note: this was before seeing the animated?Watership Down…] But the "Waste Allocation Load Lifter ? Earth-class," who sounds a bit like Johnny 5 from?Short Circuit, had a profound thing or two to say about childlike wonder, believing in the best of humanity, and never, ever giving up.
Before?Tomorrowland?and?Mad Max: Fury Road?proposed that we needed to rejuvenate the community we're in (and to some extent, the Earth) instead of bolting for some better promised land,?Wall-E?proposed that the Earth could be cared for if we would all waste less, recycle more, and care about each other. Less jettisoning lifeboat and more life-restoring ark,?Wall-E?is still not really a kid movie, even if it masquerades behind a wall of eye-popping animation.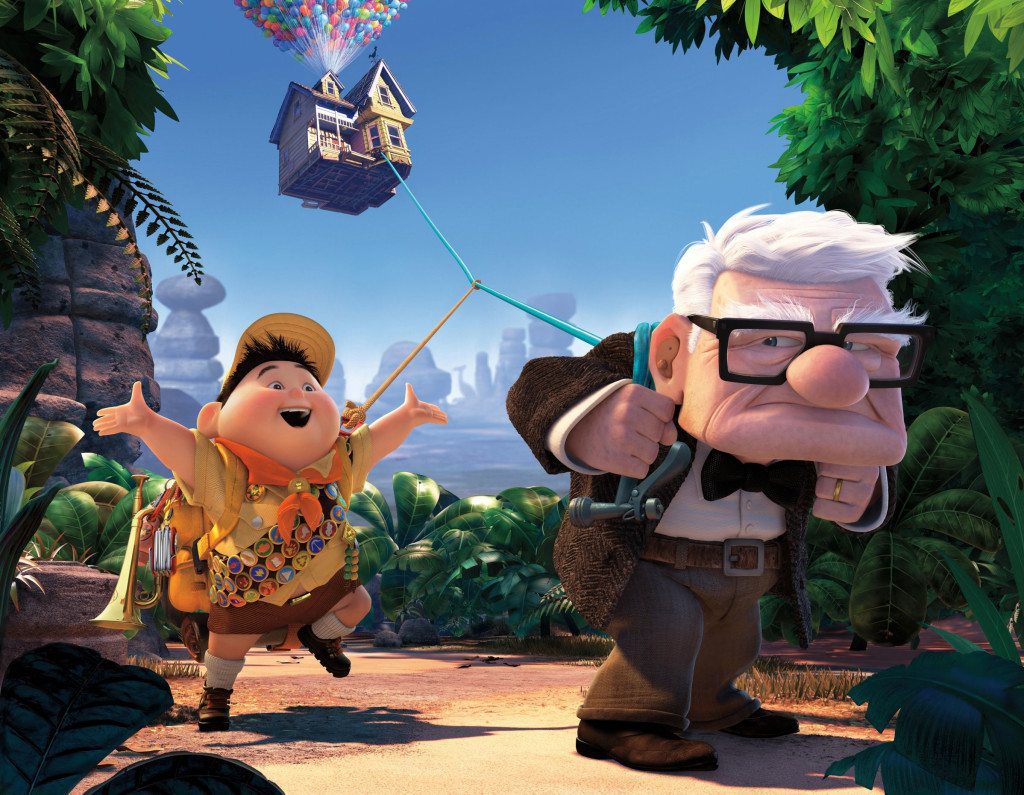 Up (2009)
Russell (Jordan Naga), an earnest "Boy Scout" type, and his grumpy, elderly neighbor, Carl Fredricksen (Ed Asner), end up taking a ride via lots of balloons and … a house. While there's plenty of amusing stuff going on here, this is another film that seems more for the adults than for the kids. Sure, the excitement is worth diving into but there's plenty of social/psychological commentary going on here.
Carl never lived out his dream because death got in the way; he's being marginalized and diminished by the people making decisions all around him because of his old age. The overall vibe moves toward the positive, but the power in the story is recognizing the ways that we push people to the side when we think they've outlived their usefulness or we don't understand their pain. What?Up?pushes us to consider is that we can still learn from our elders even if we think they move too slow or don't like the new things that we're into technologically or socially. In fact, we might even propose that understanding our "cloud of witnesses" and embracing mentorship is strongly on the minds of those who created?Up.
*******************************************************************
So, there you have it. Four movies. Four stories of faith and family, of powerful characters with big challenges, who live out stories that are true to our human experience. "Cartoons?" These are narratives, moving pictures that are bigger than just a throwaway afternoon of entertainment, movies that move us and make us dream, think, and love.
Can?Inside/Out?join the pantheon of the greats?
I know you won't all agree. That's what the comment section is for. What did I miss about your favorite PIXAR film? Show me the error of my ways with your response below!