There are few bands as adored as the Beatles.
With a mere 12 studio albums under their belts, John Lennon, Paul McCartney, George Harrison and Ringo Starr produced music so remarkable that it defined a generation of music lovers. Even now, after over 50 years and the passing of two original members, the fire for Liverpool?s mop-tops burns just as brightly as before.
Now, with the release of the new docuseries?The Beatles: Get Back, audiences have the opportunity to travel back in time to the band?s 1969 recording sessions. With the goal of performing live for the first time in two years firmly in view, John, Paul, George and Ringo attempt to create an entirely new album in a mere 21 days. With such a daunting task putting incredible pressure on the Fab Four, tensions begin to mount, causing division and arguments between them. However, as a result of their commitment to both the creative process and one another, the ?Get Back Sessions' result in one of the music's most iconic concerts: the live performance on the rooftop of Apple Studios.
Directed by Peter Jackson,?The Beatles: Get Back?is an extensive and expansive behind-the-scenes look at one of the greatest bands in music history. Although the series draws inspiration from Michael Lindsay-Hogg?s 1970 documentary of the project, Jackson manages to create something new by sitting more deeply within the moment. Having to choose from over 60 hours of footage and over 150 hours of unheard audio,?Get Back massive length?offers an intimate portrait of the creative process of the band like we?ve never seen before.?
While we?re familiar with their songs, there?s something special about watching them become the anthems that we know and love. Songs like ?Get Back?, ?Let It Be? and ?I?ve Got a Feeling? didn?t simply drop out of the sky. (Well, there are some exceptions here, like Paul?s development of ?Oh, Darling? which seems to just… materialize.) Generally, there?s a push and pull that takes place within the creative process that Jackson highlights beautifully. By slowing down and allowing the footage to simmer, he reveals the comraderie that this group enjoyed when they were creating their best work. As the famed rooftop concert develops, the [rubber] soul of the group is exposed and we witness the magic they could make when working together.
Furthermore, even amidst the chaos of attempting to write 14 new songs in 3 weeks, there?s a playfulness that comes through in many of the practices. Yes, they had grown up and matured. Yes, they had changed. But still,?Get Back?provides glimpses of the boyish charm that defined them in their earliest years. Fully aware that their life as a band was beginning to come to an end, their desire seems to be to reclaim the fire that they once felt one more time. As a result, whether it?s non-sensical riffs and falsettos or simply relaxing by playing the hits of other musicians, there?s a joyfulness that shines through amidst the seriousness of the moment.?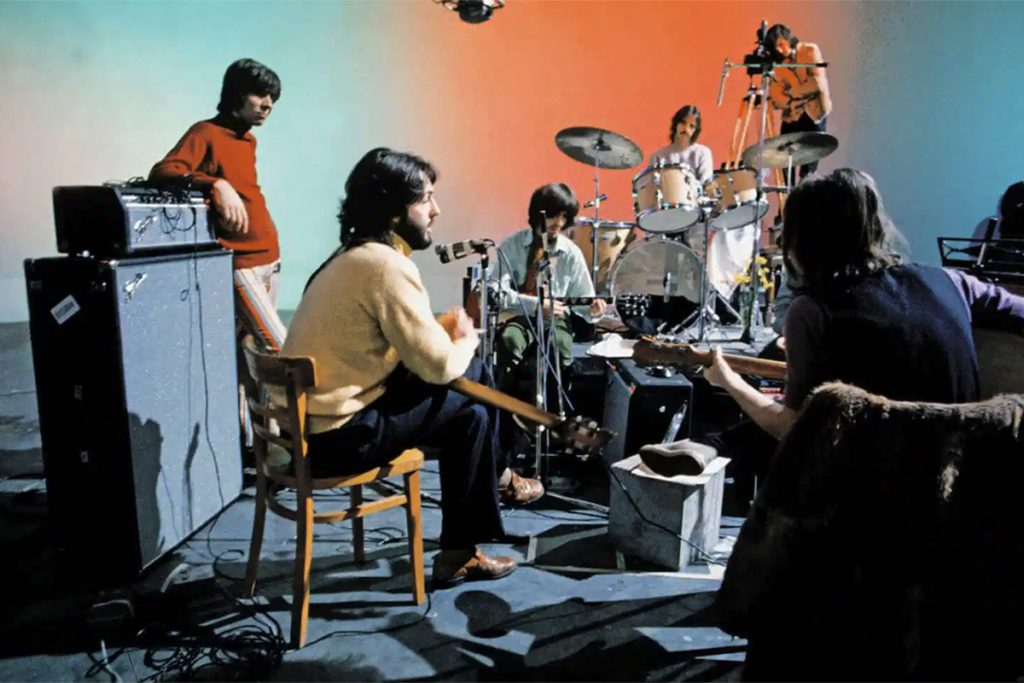 Meanwhile, Jackson?s series also recognizes the tensions that were brewing behind the scenes. Moments such as Harrison?s brief attempt to leave the band, McCartney?s battle to have his own way and the struggle to accept the intensity of John and Yoko?s relationship during creative sessions offer a deeper picture of a band that has been studied for decades. (Incidentally, it?s worth noting that, while any edit of this type will skew the image in some ways,?Get Back?opens with text that insists that they?re doing their best to portray these icons in their truest forms.)?
In doing so, Jackson also exposes their shortcomings. Whereas pop culture has immortalized the names John, Paul, George and Ringo as examples of creative geniuses, so too were they simple boys from Liverpool who simply wanted to make music. Idolized by millions, they were also flawed and imperfect, squabbling amongst one another over who?s vision would become the final product. (This tension is particularly visible during the audio of a private conversation between McCartney and Lennon where they address Paul?s constant insistence on doing things his way.) As they work through their difficulties together, we begin to see past their celebrity status and focus increasingly on their desire to rediscover their passion for music (and each other).?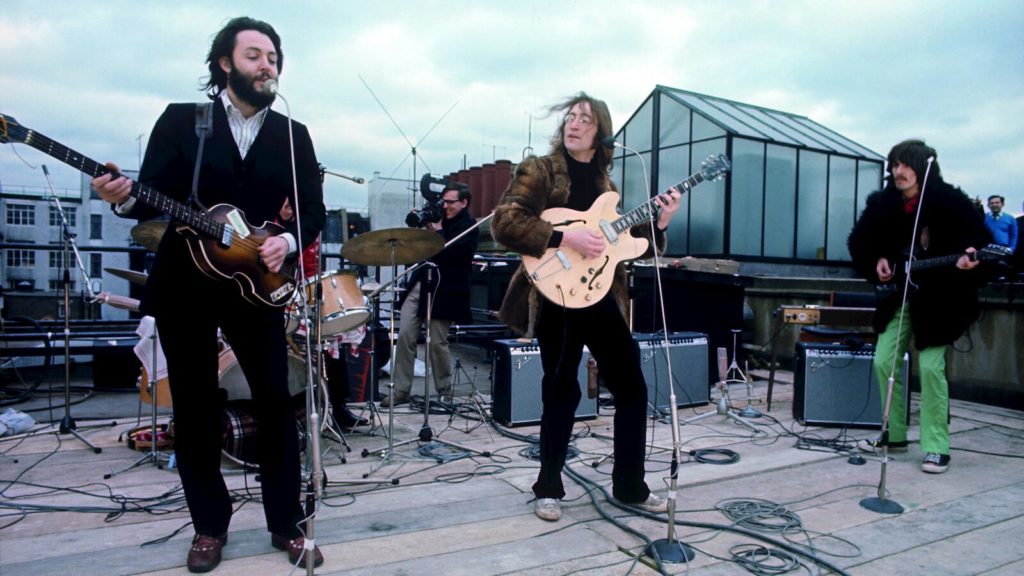 Now, having said this, it?s also worth noting that?Get Back?is likely not going to win over any new members to the Fab Four Fan Club. While the expanded footage is remarkable and revealing, so too does it move at its own pace. Repeated performances of half-finished songs and conversations about chord progressions may excite devotees but, without that prior passion for the group, it?s hard to imagine outsiders getting particularly excited about it. Throw in the fact that the series clocks in at an incredible 7 hours and 50 minutes and one could understand why the massive scope of this project with its slow tempo will make it a difficult ?binge watch? for the younger generation. (Yet, ironically, somehow the runtime seems appropriate considering Jackson?s repertoire for longer, more reflective pieces.)
Even so, there?s something truly special about Get Back. As a love letter to the Beatles, Jackson celebrates the originality and ingenuity of the team as they develop songs that will remain stalwarts for the next 50 years and more. However, at the same time, he also reveals their humanity, including the struggles and strains that can be felt as they work together under duress. By allowing their faults and failings to shine through, Jackson manages to pull back the curtain of celebrity and remind us that these were ultimately just boys who wanted to ?get back to where they once belonged?.
The Beatles: Get Back is now playing on Disney+.