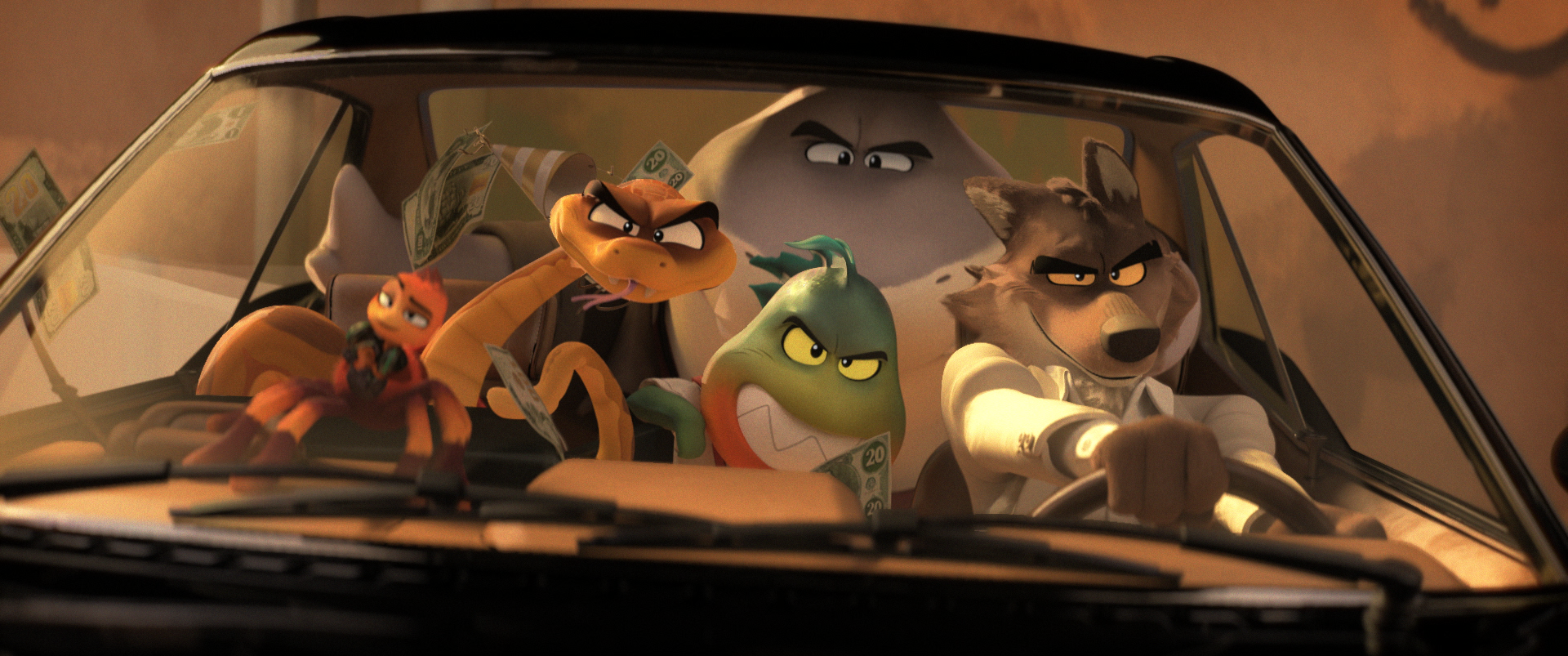 The film may be called The Bad Guys, it's definitely filled with good fun.
For many years, The Bad Guys have been the world's most wanted criminals. Led by dashing pickpocket Mr. Wolf (Sam Rockwell), the team is highly skilled and impossible to catch. However, when their biggest heist ever goes wrong and the team gets caught, Mr. Wolf concocts a new plan. In order to save them all from prison, this crew of Bad Guys promise to go good. Allowing themselves to be trained by the adorable guinea pig Professor Marmalade (Richard Ayoade), Mr. Wolf and his crew work towards redemption but also secretly intend on using their new reputations as heroes to their benefit as thieves. But will they be able to follow through with their plan? Or will these Bad Guys see the benefits of becoming good guys after all?
Directed by Pierre Perifel, The Bad Guys is a fast and furry-ous trip outside the law. Based on Aaron Blabey's children's books of the same name, Bad Guys pops with lovable characters, stunning animation and genuine fun. Pulling in the charm of the Ocean's Eleven crew, this crew of misfits has some enjoyable chemistry and fun exploits on screen that invigorates the franchise with life. Featuring some solid voice work by Sam Rockwell, Awkwafina, Marc Maron, Craig Robinson and more, the characters have an energy and likability about them that makes them endearing. This enthusiasm is especially noteworthy in Rockwell who seems to be having more fun than he's had in years as the sly and scheming Mr. Wolf. (It's also worth noting that any comparisons to the Ocean's franchise are absolutely intentional. Not only was Aquafina involved in Ocean's 8, Mr. Wolf's attempt to charm the police chief is referred to as going "full Clooney".)
Unraveling like the pages of a children's book at story time, the variety and style of the visuals also gives Bad Guys an extra pop that makes it feel different than other current animated fare. Like other companies such as Pixar and Illumination, the film makes use of CGI animation yet the style feels entirely unique. At times, Bad Guys feels like a water colour illustration. However, in other moments, the film exhibits wildly different influences, ranging from anime to stop-motion animation.
At its heart, The Bad Guys is [obviously] a film about what it means to be a good guy. As the film begins, we know instantly that these are expert thieves who are the top of their craft. Even so, as the crew attempt to manipulate the public by convincing them that they've changed their ways, they begin to discover the joys of helping people. The shivers down their spine that they experience when they do good deeds reveals an almost physical joy that comes from putting your own needs aside to help others. Hated for their appearance, they decide that, if everyone thinks they're bad, they might as well be.
Interestingly, Bad Guys also recognizes that toxicity of stereotyping (and, potentially, even racially profiling) others. While these Bad Guys definitely do bad things, they do so almost as a result of the expectations of others. Hated by the general public simply for being a wolf, snake, spider and more, they begin to lean into the characters created for them by others.
After all, a wolf must mean that he's big and bad, right?
Though they start out by trying to make friends, public perception presses these characters down until they believe they can be nothing less than villains. In fact, it's only as others begin to feed positive messages into their heart that they realize that they can live up to their potential. In this way, Bad Guys demonstrates the power of encouraging and supportive voices to those in need, especially when others are doing the opposite. 
Now on 4K and Blu-ray, its worth noting that the animation especially pops on your home entertainment. Though, admittedly, the disc contains some surprisingly solid features that make it worth the purchase. While the disc includes the traditional fare of 'making-of' featurettes, the additional animated short, Maraschino Ruby, is cute and Snakes Frozen Pop Shop provides some simple fun for the family. But, sound the alarm! Easily the best feature is its full-length commentary which contains some valuable insight into the creation of the film. (Commentaries continue to be more rare nowadays so they're always worth your time.)
Fueled by stunning animation and fun characters, Bad Guys pops with the energy of the best of heist films. More importantly though, the film carries an important message about looking past our perceptions so that we can bring out the best in people. As a result, Bad Guys is one animated adventure that is worth opening your wallet for (if they don't steal it first).
The Bad Guys is available on 4K and Blu-ray on Tuesday, July 19th, 2022.