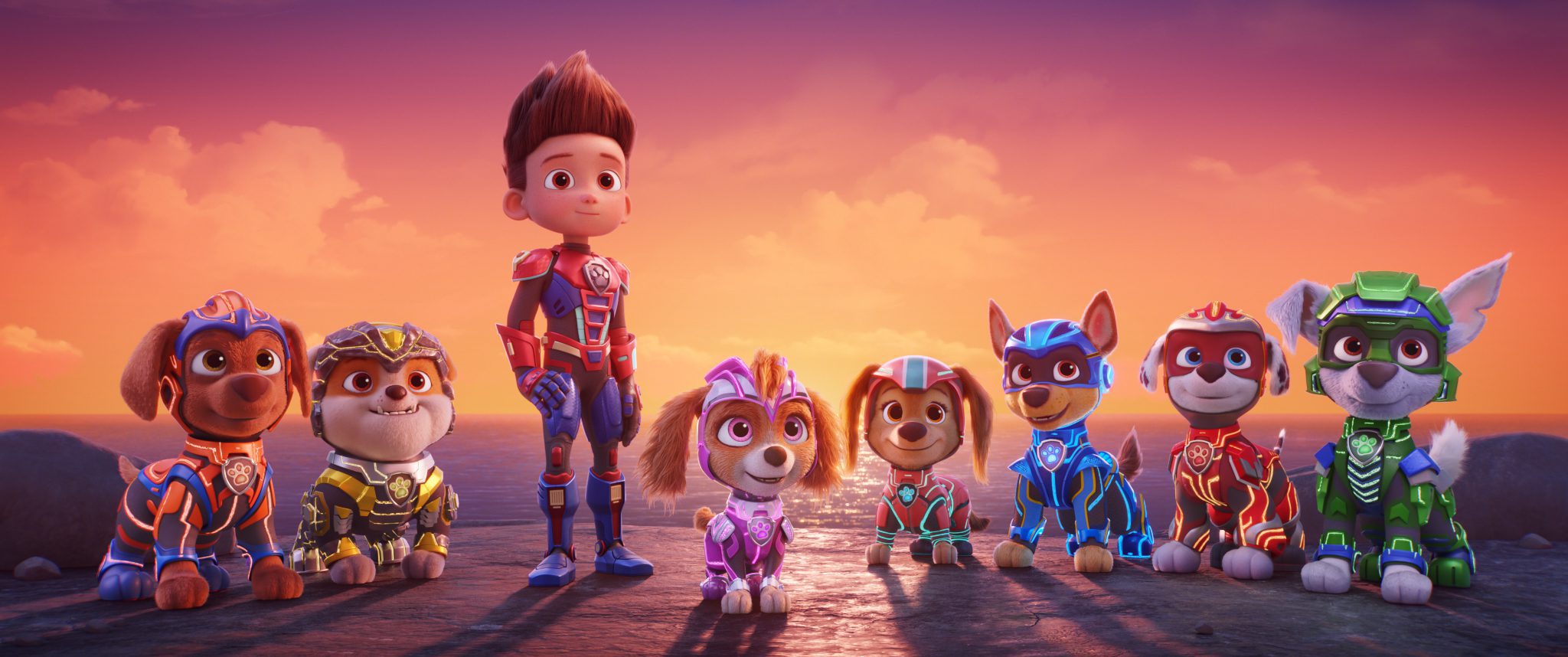 Whenever there's a problem around Adventure (City), Ryder and his team of pups will come and save the day…
You kind of have to respect how far Paw Patrol has come over the last ten years. What began as a simple animated kids show designed to sell a few toys has become a global franchise that attracts some of Hollywood's biggest names as voice talent. Now, with the release their second film, Paw Patrol: The Mighty Movie, they continue to grow their brand into something special.
In Paw Patrol: The Mighty Movie, Ryder and the pups continue to be the law and order of Adventure City. (Seriously, who's paying the bills for the Paw Patrol? Are they privately funded or a branch of the municipal governme… maybe I'm overthinking this…) However, when a 'mad scientist' (Taraji P. Henson) causes a meteor to crash down in the city, the Paw Patrol find themselves superpowers. Transformed into the Mighty Pups, the team must work together to defeat their villainous new foe who proves to be a greater threat than they had imagined (especially when she teams up with their arch-rival, Humdinger).
Admittedly, for fans of the franchise, the plot of The Mighty Movie may seem a little familiar. After all, the film is an adaptation of a storyline that has already featured on their animated series. However, with The Mighty Movie, the story evolves into something bigger… and, arguably, better.
Quite simply, The Mighty Movie is an absolute delight from start to finish. Although the generally targets younger viewers, there is enough heart and humour within this film to entertain children and parents of all ages. Although the lessons are simple, they are never spoken down to in an infantile manner. (In fact, there's a certain level of maturity to this film that's surprising.) Featuring stunning animation for a television adaptation, Mighty Movie looks great but maintains the same sense of family-friendly fun that has put these pups on the map.
What's more, there's no doubt that great care has been put into developing their action scenes. Although the stakes are heightened with pups that seem to be able to do the impossible, the film creates moments that genuinely work. (For example, the scene involving an emergency airplane landing works particularly well.) This sort of commitment can be rare in children's fare but Paw Patrol seems to have found their stride.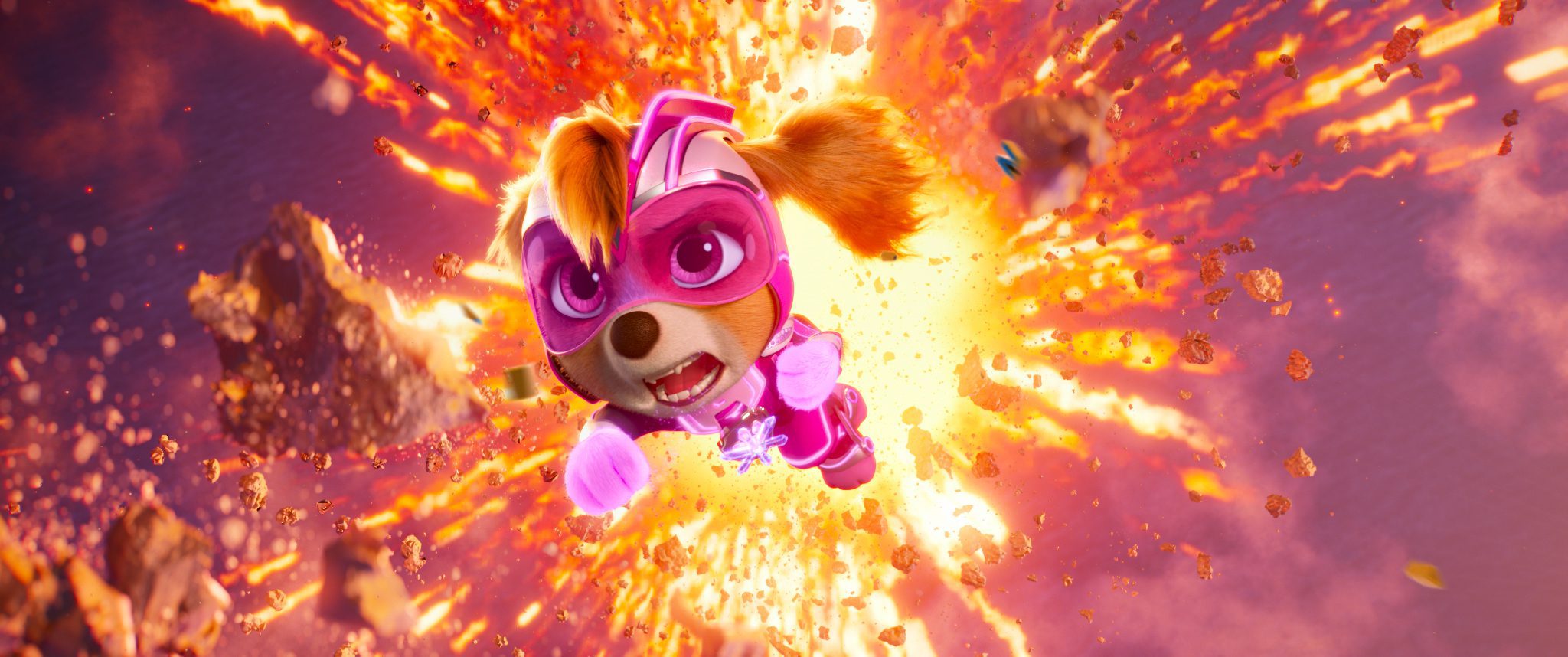 Taking a more cynical approach, one could easily point out that this film is yet another opportunity to sell more toys and build its brand. (In fact, the film even laughs about the fact that 'new vehicles means new merchandise'.) However, one simply can't deny the pure joy that pops within this franchise that extends beyond elaborate toy commercial.
In fact, this particular entry features a story that has some emotional impact by focusing on its female pups. When The Mighty Movie begins, both Skye and Liberty are struggling to understand their place in the Paw Patrol unit. As the smallest member of the team, Skye is struggling with feeling unwanted. ('The runt of the litter often doesn't get picked,' she recalls.) At the same time, Liberty is wrestling with her identity. Left without a superpower, she also wants to find her place on the team, but isn't sure how to do that.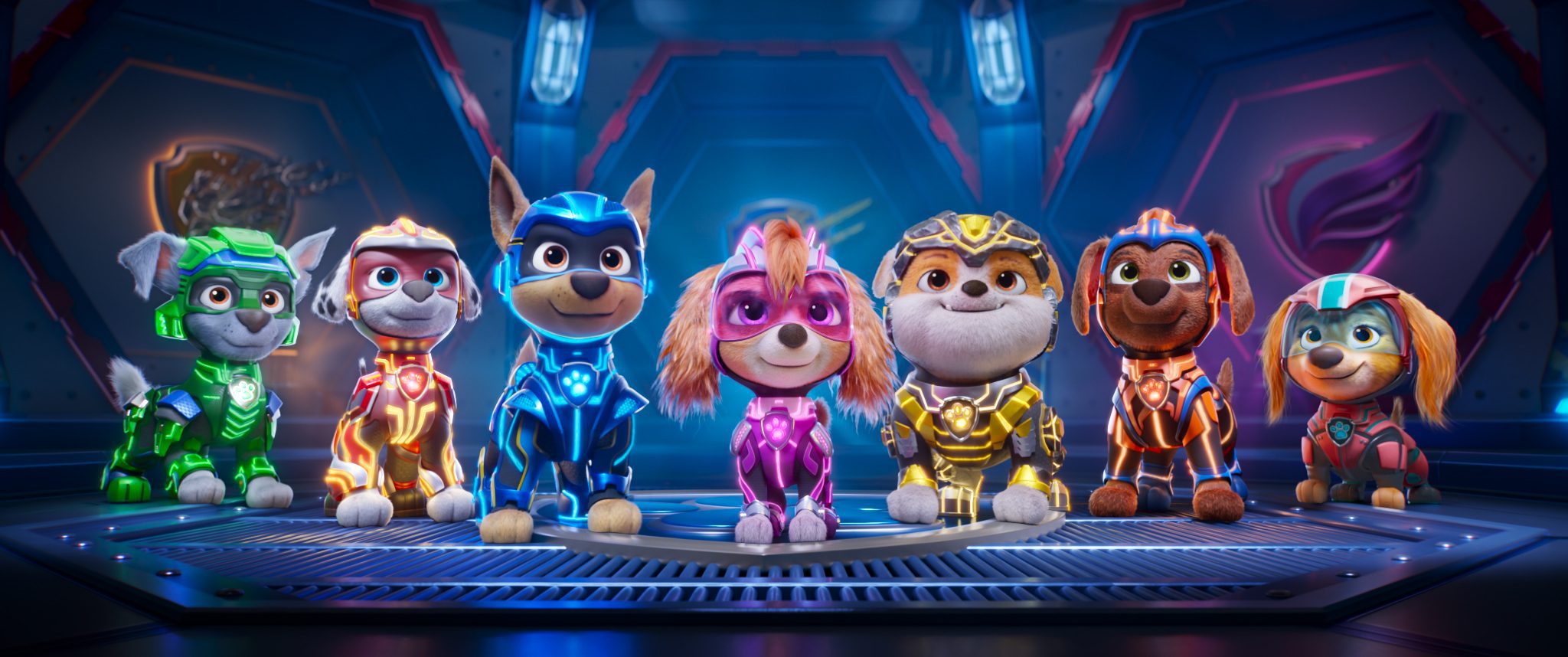 Although both stories take their respective pups on different journeys, they connect thematically by speaking to everyone's value. (After all, Ryder may claim that 'no job is too big and no pup is too small' but does he really mean it?) In this way, The Mighty Movie challenges is what it really means to be mighty. For Skye and Liberty, they must learn that true power comes from within and that everybody has a place to belong.
In the end, one can't help but fall in love with these Mighty pups. Unlike other toy-based franchises, the team behind Paw Patrol really seems to care about not only their product but also the children that make up their audience. Even if the stories are silly and the merchandising opportunities are real, there's a charm about this film that makes it worth the trip to Adventure City.
Paw Patrol: The Mighty Movie is available in theatres now.