Remember that time that Michael Jordan and Bugs Bunny lead the most ridiculous rag-tag team of basketball players in a game for the fate of the world? It's hard to believe it's been twenty-five years since Jordan and the Looney Tunes joined forces to defeat the? Nerdlucks-turned-Monstars in a game of basketball for the fate of the world.
Back in 1996, Leo Benvenuti and Steve Rudnick (the?Santa Clause?franchise) wrote a script that riffed on Jordan's ill-fated retirement to baseball's minor leagues with a collision that gave a Who Killed Roger Rabbit? -type vibe to basketball, aliens, and Jordan. Directed by Joe Pytka (whose real claim to fame is critically-recognized commercials for athletes like Tiger Woods and Jordan, sending over eighty commercials to Super Bowl weekend), the film allowed the world to see Jordan, Charles Barkley, Larry Bird, and other NBA stars in a different light.
The film has the greatest soundtrack one could possibly imagine for a film from 1996, with Coolio, Steve Miller Band, and many more – including R. Kelly's "I Believe I Can Fly" – on the record. (The year the film came out, I was volunteering at a summer camp for homeless children – they demanded I play the song on repeat which meant fast forwarding the 'B' side song thanks to those things called cassette tapes!) In fact, the special features of this 4K HD release include the music videos of Seal's "Fly Like an Eagle" and the cast's "Monstars' Anthem Hit 'Em High."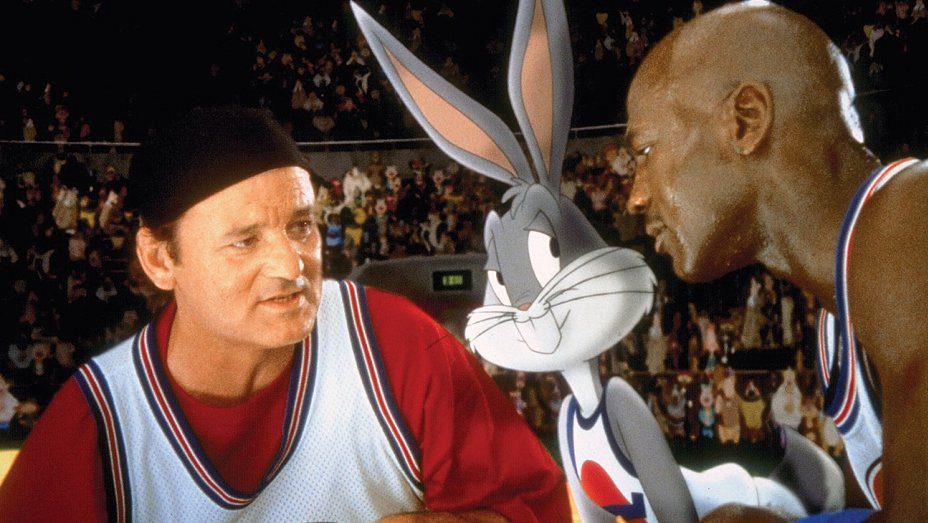 Wayne Knight (Seinfeld) provides some laughs as Jordan's bumbling publicist, but this mostly Jordan and Bugs Bunny working together. For this release, the commentary is by Bugs himself, with Daffy Duck and Pytka. The other special features include the featurette "Jammin' with Bugs Bunny and Michael Jordan."
If you're a fan of '90s music, Looney Tunes, or Jordan, this is one you'll want to own. If you haven't seen it, I don't know I can sell it any more — it's a classic! Now we'll just have to sit back and wait to see how Lebron does with?Space Jam: A New Legacy?– and if we're celebrating it twenty-five years from now.