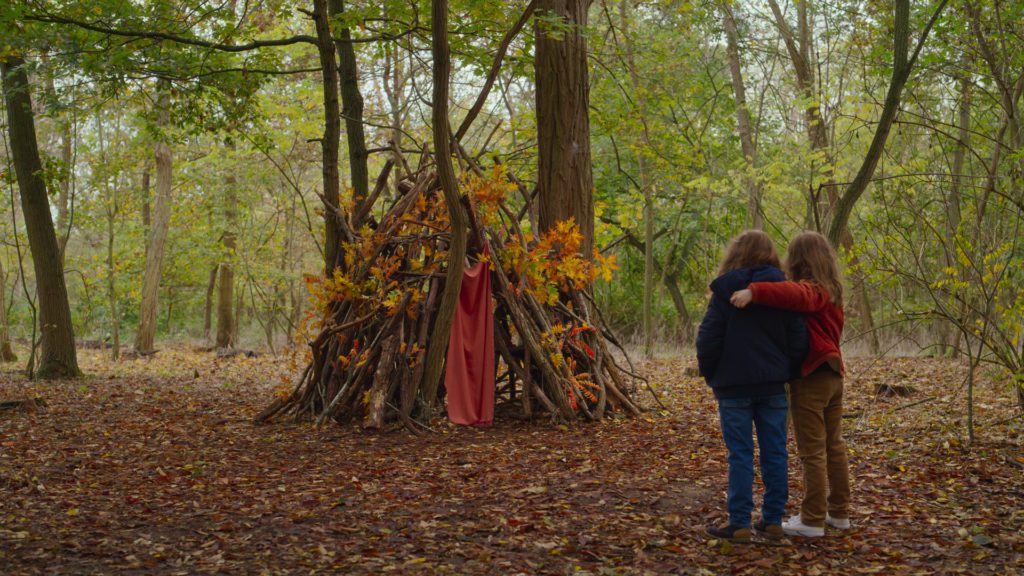 If you're in the mood for a time-bending coming-of-age story, Petite Maman will do the trick. From director Céline Sciamma (Portrait of a Lady On Fire, Tomboy) this is the story of eight year old Nelly, who after her grandmother's death goes to the grandmother's house with her parents. This is her mother's childhood home. Nelly remembers her mother telling her about building a hut in the woods. One day her mother suddenly leaves without telling Nelly. When Nelly plays in the woods, she meets Monica, a girl her age who is building hut just as her mother described. When she goes to Monica's house, we see it is the same house she is staying in, only many years earlier. We (and Nelly) understand pretty quickly that she's encountered her mother as a girl. Nelly moves back and forth between present and past houses and people. As she does so, she learns about her mother, her mother's fears, and her own insecurities.
As in Sciamma's previous films, Petite Maman has wonderful cinematography and brilliant character studies. It's not so much a story of time travel per se as it is a mystical connection that will forever bond Nelly with her mother. Has it always been a bond that her mother has known?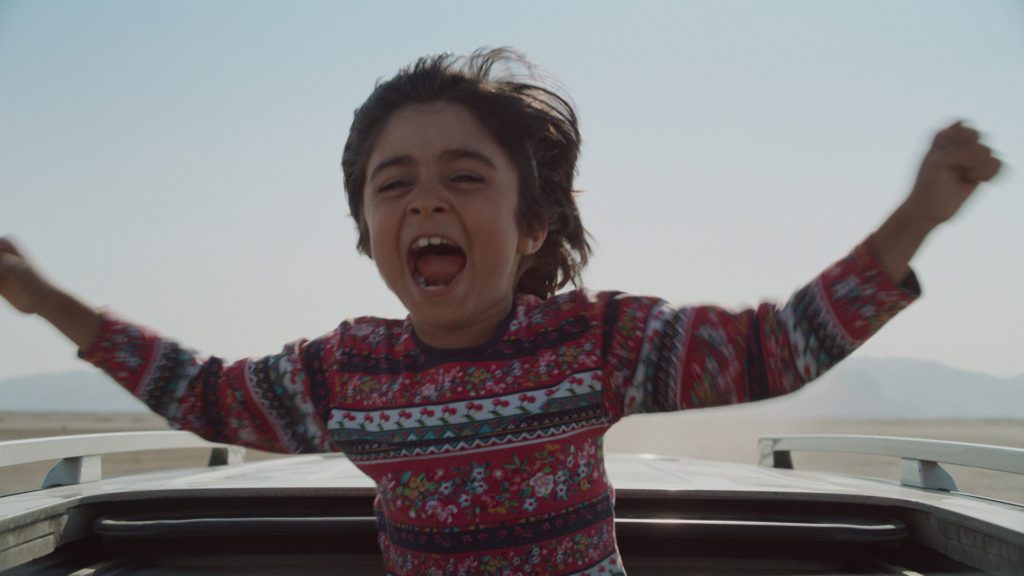 Hit the Road is the premiere film from Iranian director Panah Panahi. This is a bizarre road trip with a loving (although it's hard to tell sometimes) family driving across the country for some unknown reason. (It's somewhat revealed later in the film.) The father is in the backseat with his leg in a cast. (Is it really broken?) The eldest son is driving with the mother beside him in front. The very energetic younger son seems to bounce around the car. And there's a sick dog in the back. The chaos becomes a bit claustrophobic as we travel with them in the car.
The difficulty with the film is being not quite sure what it is about what is happening in Iran that has triggered this emergency road trip. I can conject various possibilities, but I expect the film's Iranian audience would have a much better grasp of the situation.
And, of course, I have some shorts to share.
In Are You Still There? from directors Rayka Zehtabchi and Sam Davis, we spend a hot day with Safa when her car battery dies and she must wait in a strip mall parking lot until her mother can get off work to come jump the car. It is a long day (condensed to 15 minutes) that ends in triumph.
The documentary short Video Visit by Malika Zouhali-Worrall shows us the program at the Brooklyn Public Library that allows families of those held in New York City jails to have video call with their incarcerated families. It lets us discover the difficulties families have visiting in person, and the bureaucratic hurdles the library staff faces to try to keep this important program in place. Libraries rule! (23 minutes)
Yoruga, directed by Federico Torrado Tobón, is a brief story of a lonely man in the not to distant future who goes to "Noah's Ark", a facility where some animals still survive. He can afford a one minute visit with one of these animals, and he shares a bit of his life in that short time. (7 minutes.)