The 93rd Bomber Group was a highly decorated American fighting unit in the Second World War. In Return to Hardwick we revisit a bit of the unit?s history.
Hardwick Aerodrome 104, in England?s East Anglia, was an active airfield from which B-24 bombers would set out on (and hopefully return from) dangerous missions over Germany. Today it is farmland. Two of the three runways still exist on the land, but little else survives from that time. This film gives us a chance to hear stories of what life was like for those bombing crews, and to see some of those veterans and their younger family members as they return for reunions.
For director Michael Sellers this is a personal story. His grandfather took him to one of the reunions many year ago, which kindled in him the interest in the unit?s history. Actually, a good deal of this unit?s history has been preserved, in large part because of local residents who maintain a small museum in one of the old Quonset huts.
The personal aspect becomes clear in scenes of people attending a recent reunion on the site. As veterans tell their stories, or descendants look for special places where their fathers (and in one case, a mother) actually walked and worked during the war, it can become an emotional journey.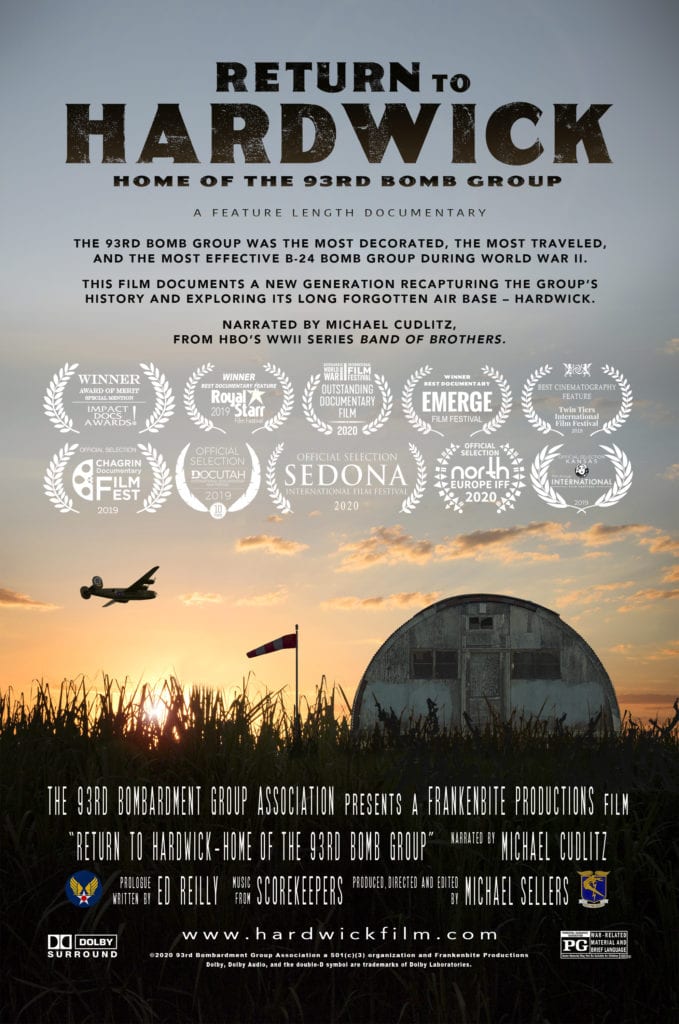 Among the things that struck me watching the film was the peace that has settled on that patch of land through the years. The pastoral setting and the green of the crops are a stark contrast to the photos we see of the same place when it was an air base. The two remaining runways, now probably used as roads, are the only evidence that this was a place where war was carried out.
It is also important to note the aging of the veterans. There are only a few left that were part of that unit during the war. It is always important to hear the voices and stories of history when they are available to us. That history is obviously important to the descendants of those who served at Hardwick because it gives them a chance to know their fathers/grandfathers more fully. It also matters to the rest of the world to have a clear picture of what happened in that time and place.
Return to Hardwick is available on VOD.