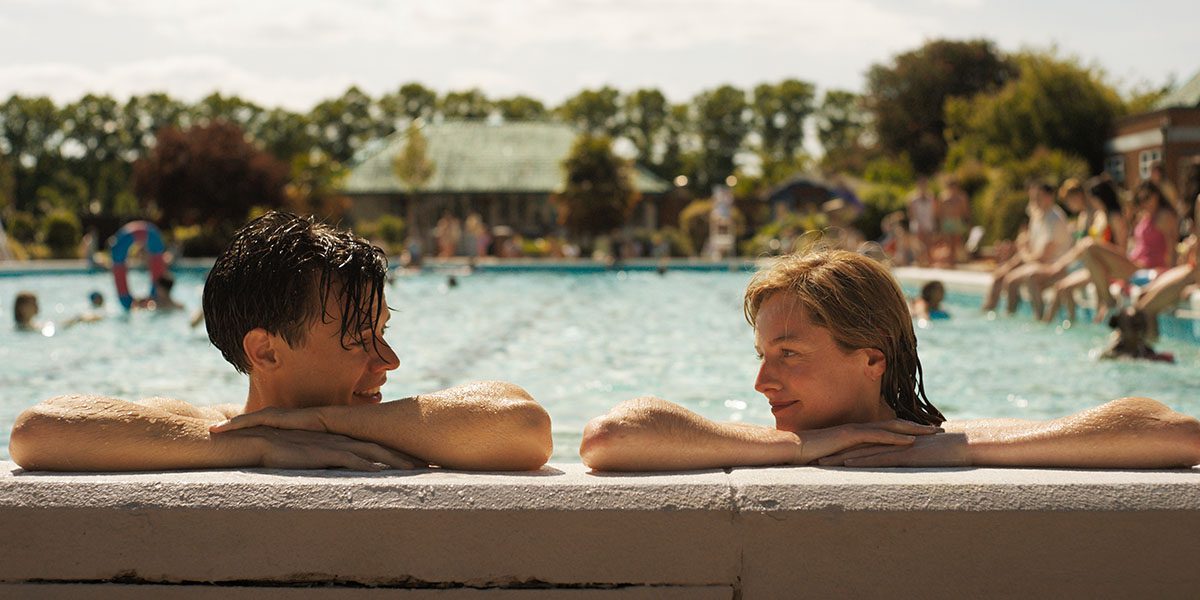 I have a few charges against My Policeman.
Directed by Michael Grandage, My Policeman is a love story that wants to demonstrate the height of passion yet leaves the viewer disappointed. Despite its willingness to show graphic scenes of sexuality, the film feels less like a breakthrough for the LGBTQ community and more of a failed opportunity to process the pain of the past.
Set in the 1990s, married couple Tom and Marion (Linus Roache and Gina McKee) live a contented and quiet life. However, their tranquility is threatened with their friend Patrick (Rupert Everett) suffers a severe stroke that requires Marion to invite him into their home to care for him. When she tells him of her decision, Tom is furious at his wife and refuses to speak with their old friend. Sitting in their grief and anger, Tom, Marion and Patrick reflect upon their youth (played by Harry Styles, Emma Corrin and David Dawson) and the complex and complicated relationships that set their world into motion.
In many ways, the most divisive aspect of Policeman will remain its cast. Led by Styles and Everett, the film has a certain sense of chemistry within the two groupings that helps their performances on screen. However, at the same time, there's also seems to be something missing. Of course, many are pointing the figure at Styles who, despite his fame, remains a relative newcomer to the film industry. Though, frankly, this seems largely unfair and a response to his mega-stardom. In fact, while Style, Dawson and Corrin don't exactly heat up the screen together, they offer some solid performances that show promise for all of their careers. No, if there's a criticism to be made about this Policeman, it seems to lie within the writing. While fairly well executed, the script itself often leaves its cast with little to do. (This is especially noticeable within the performances of the older cast members who simply spend much of their time brooding about the past.) 
Written by Ron Nyswaner, Policeman has an excellent opportunity to explore the injustice of oppression against the homosexual community. Set primarily during a time when homosexuals were thrown into prison for their behaviour, the film highlights their desire to express their love without fear or persecution. At this time, to be known as a homosexual meant imprisonment or worse and they are left to find one another amongst the shadows. Even so, within Nyswaner's script, this potentially compelling conversation settles for bland romance and leaves its cast adrift in the process.
However, beyond the questions of injustice, My Policeman is very much a film about accepting who you are and living that out in with pride. Even in his old age, Tom struggles to come to terms with his sexuality. Having grown up during an era of oppression, Tom still clings to the shame that was put upon them because of their relationship and it has broken his spirit. Despite his marriage to Marion, Tom's heart still belongs to his former flame yet he also blames him for the pain within his soul. In this way, the film grapples with the scars of psychological damage that have been left from a history of cultural abuse and points to the power of coming to terms with the truth about one's self.
In the end, while My Policeman never commits any grand offense, neither is it particularly worth thanking for its service. As a result, ladies and gentlemen of the jury, I encourage you to make your deliberation regarding this Policeman with great care.
Because, unfortunately for this viewer, the verdict is still out.
My Policeman premieres on Amazon Prime on Friday, November 4th, 2022.