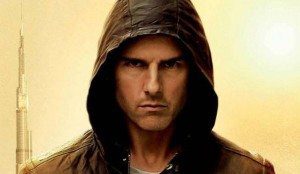 You can almost hear the theme song now.
With the release of this week?s Mission: Impossible ? Rogue Nation, it?s time once again for Tom Cruise to jump back into the spotlight as larger-than-life action hero, Ethan Hunt, an agent in the IMF (Impossible Mission Federation? I know. IMF sounds much cooler.) Spanning almost two decades and five films, the franchise has become synonymous with over-the- top action sequences and adventure. Often (and correctly) viewed as the ?American James Bond?, Hunt travels the globe defeating the forces of evil with high-tech gadgetry and Cruise?s wry smile. While not known for their intricate plots, the franchise has become defined by its death-defying stunt work, much of which was performed by Cruise himself.
Interestingly though, if you pull back the lens a little further, we soon discover that the journey of the M:I franchise also seems to mirror the career of Cruise himself. Over the nineteen years since the first film?s release, we have watched first-hand as Cruise?s public life and career have been emphasized almost as much as his films. This collision between personal and public sphere also creates an alternate reading of each film that I would suggest reveals the heart of the man himself.
Still not convinced?
When the first film was released in 1996, Cruise was literally Hollywood?s Golden Boy. Every film he released was a hit. His cocky smile and hard working attitude was a perfect fit for Brian DePalma?s smug, young IMF maverick. (Sorry, I couldn?t resist.) Nowhere else in the franchise does Ethan (or Cruise) appear more brash and confident, even in the face of ?impossible? odds. While every film involves incredible stunts, Mission: Impossible reveals him as a young man with swagger and energy that isn?t found in other entries.
By M:I-2, Cruise?s career was still on an upswing. Coming off an Oscar nomination the year prior (Magnolia, 1999), we find him to be a man who is attempting to stretch himself as an actor. Bringing in the legendary John Woo as a director brought an Eastern flavor that allowed the franchise to set itself apart as well. Also, around this time, as his Ethan Hunt-type ?superman? character had started to become stale in our culture, this entry features a sense of self-awareness and parody within it. (Hunt is even described in the film as ?grinning like an idiot every fifteen minutes?.) Cruise was now the man who didn?t have to take himself too seriously and continued to top the box office.
But things changed dramatically in 2005.
By the release of M:I-iii in Summer 2006, Cruise had not only married Katie Holmes but also fathered his first biological daughter. (He had adopted twice in his previous marriage.) In his personal life, Cruise wanted to be a family man? and, all of a sudden, so did Ethan Hunt, who?s character had taken a wife. Like Cruise himself, Hunt?s character suddenly yearned for something more important than the mission itself, making this entry arguably the most grounded of the franchise.
At the same time, however, Cruise?s career had taken a major downturn as well. After his legendary ?couch-jumping? incident on Oprah while proclaiming his love for Holmes, his fan base seemed less unanimous about his cultural importance. Add to this the bizarre rumors surrounding his involvement with Scientology and one could argue that Cruise had worn out his welcome. While a few movies of mixed reviews over the next few years kept him in the spotlight, he became better known for his personal life than his ability to drum up box office dollars. What?s more, this trend continued until the release of the fourth entry into the franchise ? Mission Impossible: Ghost Protocol.
Released in Summer 2011, Ghost Protocol seemed like the sequel no one really wanted. With his career seemingly dead, there were rumors that Paramount wanted to continue the series without Cruise, bringing in Jeremy Renner to take up the mantle in future entries. Interestingly though, Protocol actually depicts Hunt in the same manner. As the film opens, Hunt lies ?disavowed? in a European prison, broken and forgotten by the IMF. Even Renner?s character seems suspicious of whether or not this ?wild card? still has what it takes to lead the team.
What surprised everyone the most though was the fact that the film was not only a hit at the box office, but a critical success as well. Like Hunt?s character, Cruise?s life was restored as a viable?and bankable?success.
To Hollywood, that meant he had value again.
Is that really fair? In a culture where value is determined based solely on achievement and cultural idolization, Cruise is an example of the ?celebrity machine?. It?s a fairly simple equation: When you?ve proven that you can sell tickets, you matter. If not, you don?t. Value lies solely in achievement. As a Christian, I recognize that this is faulty logic. Whether or not I agree with his theological position or liked his last film, I recognize that Cruise has value to God simply because he was made in His image. Like all of us, he?s human. He both loves his family and makes poor choices.
While Ethan Hunt may seem invincible, Tom Cruise isn?t.
He, too, is a man on a journey where God wants to meet him and, I believe, he wants to meet God as well. His value lies beyond Oscar noms and couch-jumping. It lies in the heart of the God of the universe, whether he recognizes it or not.
It?s that back and forth journey of discovery that sometimes feels like the real impossible Mission.