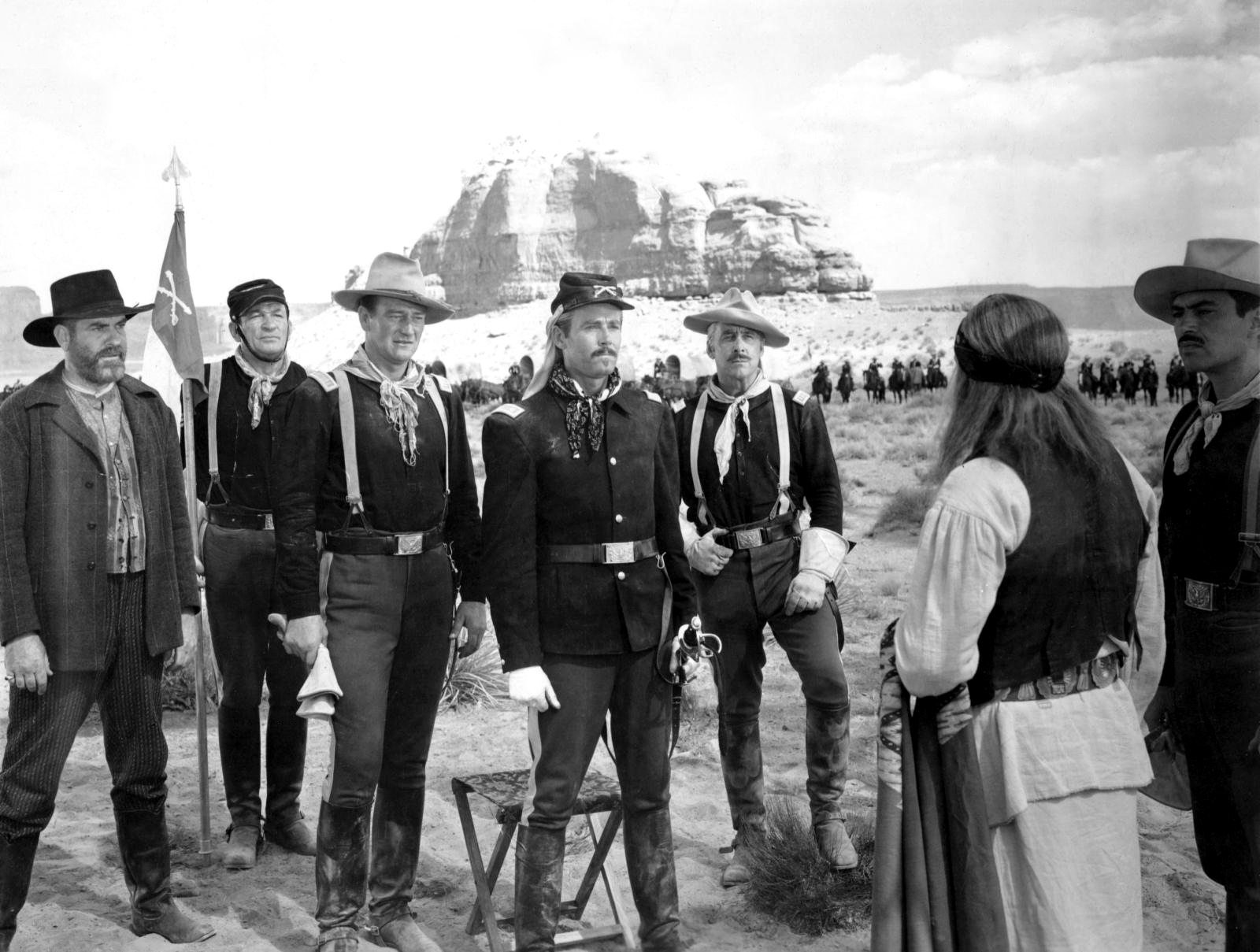 I remember watching John Wayne films with my grandma, a longstanding tradition from all of the John Wayne films she watched with my grandpa. Quite frankly,?any?western would make Grandma smile, but westerns with John Wayne were priceless. With the arrival of Warner Bros.'?John Wayne Westerns Film Collection?(available June 2), I had to sit down to watch, remember, and reflect. It seemed the right way to celebrate my grandparents – and Memorial Day weekend.
The first film in the set,?Fort Apache, may be the one that represents a view of war and peace that is more nuanced?than you might expect for the time period (1948). Wayne plays Captain Kirby York, an honorable leader and veteran who gets passed over for promotion when Henry Fonda's Owen Thursday is appointed to head up Fort Apache. The problem is that Thursday has no experience working with the natives – the Native American Indians – and he blunders his way into a Custer-like massacre. [There's a bit of romance between Thursday's daughter (a grown-up Shirley Temple) and a younger soldier (John Agar).
While war is less "messy" in its depictions from the 1940s and 1950s, Fort Apache?shows off a self-awareness about the humanity in everyone, on both sides of the American government/Native American conflict. Wayne's character shows some depth, some willingness to recognize that even in the midst of a conflict, we must treat people like beings with integral self-worth. Unfortunately, the conflict doesn't end well for Thursday and his troops, but the stage is still set for us to consider the price of war, the cost of conflict, and the way that we are prideful in our interactions with those we consider less than ourselves.??Especially in situations where we make things black and white, us versus them, we fail to see the way that our brothers and sisters often wear the opposite uniform or stand opposed to us in verbal and physical conflict.
If we haven't learned from years of watching the news, we have the examples of?American Sniper,?Lone Survivor, and?Zero Dark Thirty to remind us. Somehow, Fort Apache?artfully dances the line between glorifying war and showing its costs – there's honor in the nobility and sacrifice of many of the soldiers, but there's nothing to crow about when it comes to dying. Seriously, the lesson is as old as John Wayne, so when will we learn? When will we come to respect each other, those who serve and those who oppose us, and see the worth in each of us individually?
———————————————————————————-
The?John Wayne Western Collection?includes?four more westerns for your high definition viewing pleasure.
The Searchers (1956)?finds Wayne teaming again with director John Ford for the twelfth time, this time in a story about another Civil War vet who is searching for his missing niece (Natalie Wood). Named the greatest western of all time by the American Film Institute in 2008, and twelfth on the AFI's Best of All Time list,?The Searchers?combines a bit of Stockholm Syndrome and the white/Native American conflict.
Rio Bravo?(1959)?is a Howard Hawks' film starring Wayne, Dean Martin, Angie Dickinson, Ricky Nelson, and John Russell was one he and Wayne made to rebut the themes perceived in?High Noon, which the two "remade" twice in?El Dorado?and?Rio Lobo.
The Train Robbers?(1973) is a heist movie about a woman (Ann-Margaret) who is pushed by a thief (Wayne) into finding gold her dead husband hid. They're chased by the Pinkertons (led by Ricardo Montalban), under the direction of Burt Kennedy. This is the first time on Blu-ray.
Cahill: United States Marshal?(1973) is the fifth collaboration of Wayne and Andrew V. McLaglen, about an aging U.S. marshal who has to chase a killer when his grown sons get mixed up in the crime. This is the first time on Blu-ray.
The five-disc Blu-ray set?contains hours of special features. There are older "behind the camera" segments from?Warner Bros. Presents, documentaries on Ford ("Monument Valley" and "A Turning of the Earth"), one narrated by John Milius (Dirty Harry, Red Dawn, Conan the Barbarian, Apocalypse Now) about?The Searchers, another on?The Searchers?called "An Appreciation," and "The Man Behind the Star," plus trailers and more.