Based on Elmore Leonard's short story, "Fire in the Hole," FX's?Justified?ran for six seasons full of scene-chewing dialogue, adventure, humor, and trouble for one U.S. Marshal Rayland Givens (Timothy Olyphant). When the credits finally wrapped on the sixth season, Givens left a hole that may not be filled, but?Graham Yost closed out?his show in a way that left most critics satisfied. I had?hoped?for something happier for Givens, but the ending was 'justifiable' given the overall tone and arc of the last six years. In honor of its release on DVD and Blu-ray, I'm looking back at the best western on television (not named?Longmire) in a long, long time.
The show begins as Givens is sent 'home' to the Lexington, KY, branch of the Marshals after a dishonorable confrontation with a criminal. Soon, Givens sticks his nose into the midst of a conflict in the Crowder family. Givens' old girlfriend, Ava Crowder (Joelle Carter), has killed her husband in self-defense; Givens' one-time friend-turned-criminal, Boyd Crowder (Walter Goggins, The Shield), wants Ava's blood but ends up shot by Givens. His 'miraculous' recovery leads him to believe God is calling him to something different…which will later include selling drugs! While Boyd cools his heels in prison, patriarch Bo Crowder (M.C. Gainey,?Lost) inches closer to his release, recovery of his drug operations in Harlan County, and revenge on Givens' father, Arlo (Raymond J. Barry). As if this isn't complicated enough, Givens is also trying to reconcile with his wife, Winona Hawkins (Natalie Zea).
If the Crowders weren't enough of threat to the safety and stability of Harlan County, the second season introduced Mags Bennett (Margo Martindale), whose moonshine is to die for. Her sons (led by Jeremy Davies, another Lost?alum)?want to expand their drug business into Crowder territory, but the feud between the Bennetts and Givens has lasted for decades; this only makes it more volatile. By the third season, an outside crime boss, Robert Quarles (Neal McDonough,?Boomtown) and his local henchman, Wynn Duffy (Jere Burns), are even more violent than the other villains Givens has faced, but the Bennetts are still working with the African-American crime boss, Ellstin Limehouse (Mykelti Williamson, also of?Boomtown), ratcheting up the intensity?again.
After the fourth season (which seemed a bit random in the overall arc but was highlighted by a snake-handling preacher (Ron Eldard)), the fifth focused in on the Crowes (led by Michael Rappaport) and Duffy working to ramp up their drug trade, prostitution, and other criminal aspects. Both seasons are entertaining enough, but they don't necessarily advance the flow of the storyline featuring Givens, Boyd, and Ava. Every episode has?something?interesting, but from the opening collision of Olyphant's and Goggins' characters, this seems like the inevitable way that the series has to go done.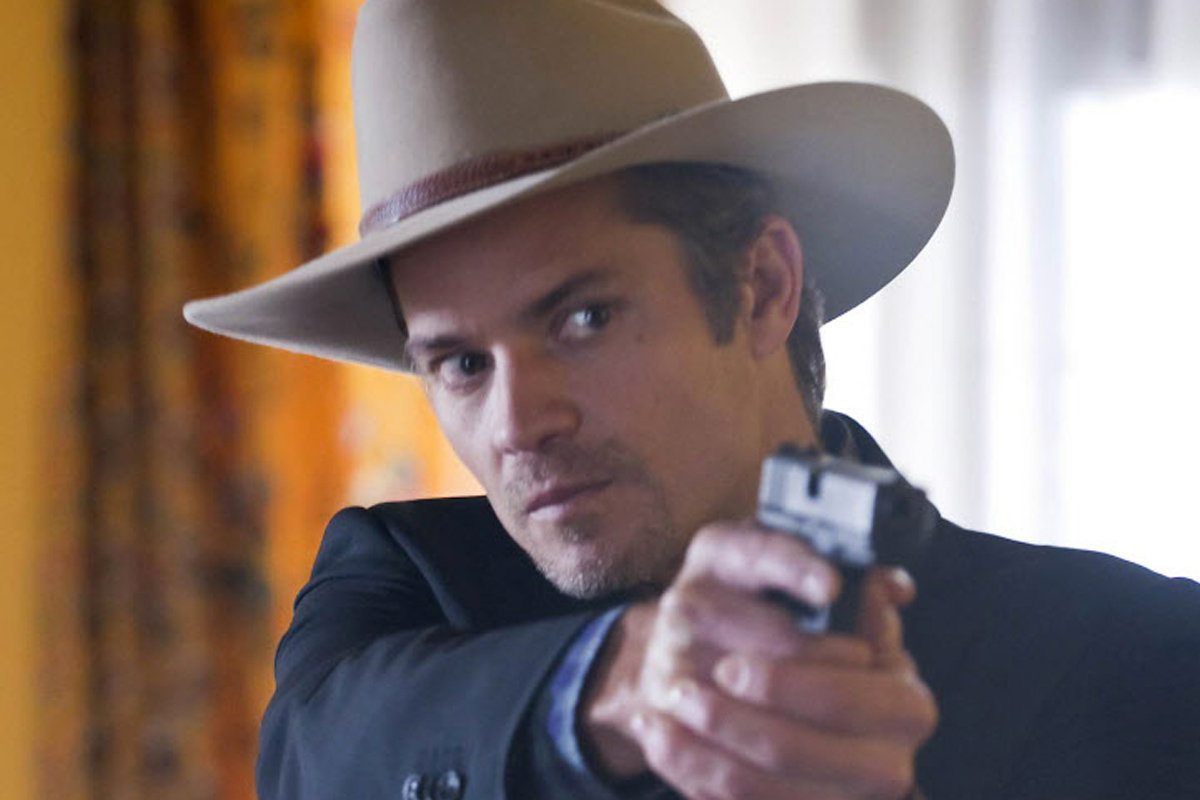 The sixth and final season finds Givens, Crowder, and Ava wrapped tighter than Givens' trigger finger. Ava had previously agreed to provide information in exchange for her freedom, and the tension begins to squeeze, and squeeze. An outside drug dealer looking to expand to Harlan, Avery Markham (Sam Elliott), gets mixed up in the season, but this really boils down to who will blink first between our main adversaries.
Ultimately, I thought the show was epic because of Olyphant's portrayal of Givens. He was earnest, and for the most part, honest. While he often acted with his heart, not his head, Givens sought to be fair and just. His gun, and his steely glare, were his two weapons, hunting down the criminals and eliciting the truth from them. He was the long arm of the law, but he was better than our expectation of the law (if you watch the news): Givens?was?justice, Harlan-style, and he dispensed that with wit and enthusiasm for the last six years.
While you might think that Givens and Crowder were opposite sides of the coin, they were more likely to be on different edges of the same side. Sure, you could say Givens was "good," and Crowder was "bad," but ultimately, they both thought they were doing the right things. Their justice was very much Old Testament-style: "an eye for an eye." In reality, they were also trying to lay their life down for what they believed in how they worked and sacrificed. You might even find that they were willing to die for a friend. In this murky world of Harlan County, being who you say you are was sufficiently close enough to righteous to make Givens rise to the top.
For six seasons, Yost, Leonard, and Givens rarely hit a bad spot, but now in their absence, they'll be missed.