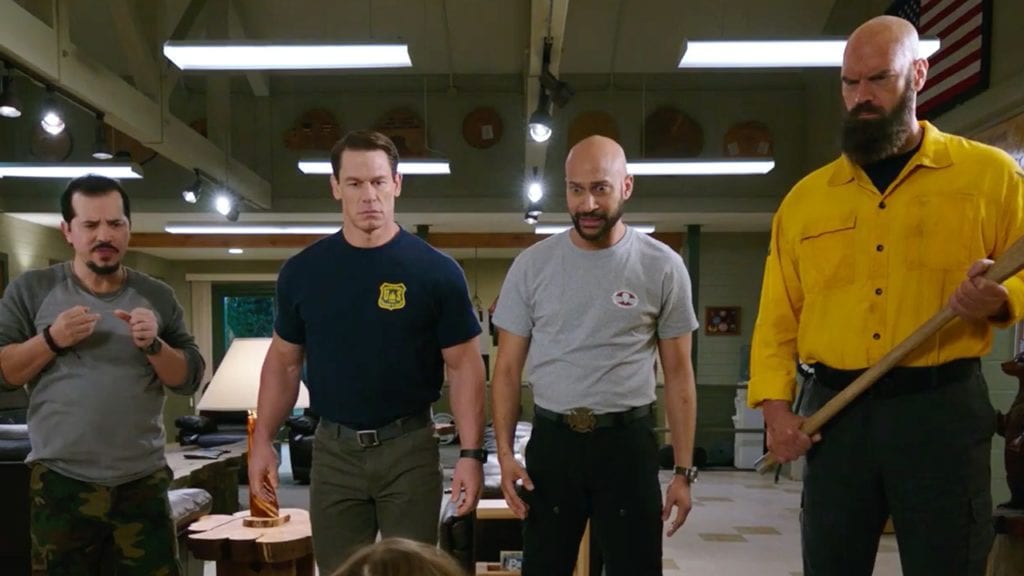 There aren't that many films aimed at families that are actually family-friendly these days. Playing with Fire proves to be one of the films that kids and adults can laugh with, and maybe even walk away feeling empowered by. Revolving around uptight fire jumper Supe (John Cena), who leads Mark (Keegan-Michael Key), Rodrigo (John Leguizamo), and Axe (Tyler Mane) into danger, the film finds these unlikely adults responsible for three young siblings. Challenging the way Supe and his team view the world, the siblings show him that living a little doesn't mean he's less of a fireman.
The three children (Brianna Hildebrand, Christian Covery, Finley Rose Slater) are mischievous, cute, and maybe even dangerous after setting their wilderness cabin on fire. But the all-business way that Supe lives his work life and his personal life can't withstand the force of the children's influence on his life in a short period of time. While hijinks ensue, it's also an opportunity for audiences to see what fostering look like. Yes, slapstick and fun, the film also gives us a bit of heart, too.
Some films are sold as family friendly but have cringe-worthy moments that can leave parents uncomfortable, throwing up hands to shield their child?s eyes or ears. Real-world problems happen and adults (and kids) have to figure out what the way forward looks like. But the film reminds us that getting uptight, or sticking to a strict set of absolutes can provide unsteady ground, or at least a slippery slope.
Let's be super clear: this is one of the most fun films I've seen in quite some time.
Special features here include story time with Cena, outtakes, bloopers and deleted scenes.