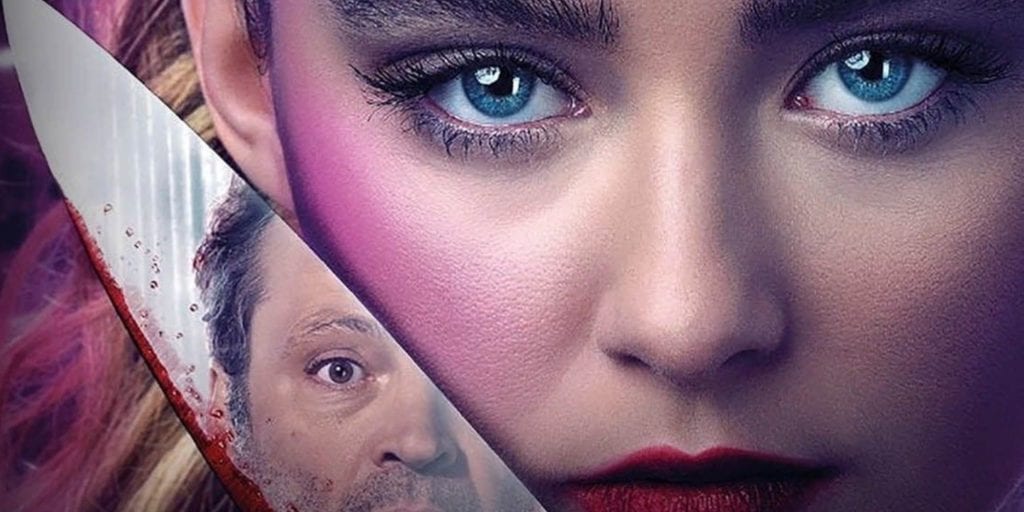 When Blumhouse does something right, it?s worth taking notice.
As the reigning kings of horror, Blumhouse has been involved with some of the last decade?s most iconic franchises. From Paranormal Activity to Split to Insidious, it feels like almost every major franchise of the genre is tied to the House of Blum. While not all of them are instant classics (I?m looking at you, Fantasy Island), the studio has gained credibility for its willingness to try to take risks while still bringing the scares.
And Freaky definitely qualifies as a ?risk?.
Now on BluRay, DVD and VOD,?Freaky?follows Millie (Kathryn Newton), a high school senior still grieving the loss of her father and struggling to survive as a social pariah. Keeping a close circle with her besties Nyla (Celeste O?Connor) and Joshua (Misha Osherovich), Millie mostly stays home to help her mother and wants to get through high school unscathed. However, when a terrifying encounter with the Blissfield Butcher (Vince Vaughn) leads to her soul trading bodies with the known serial killer, Millie must race against the clock to reverse the curse and get back to her normal life.
While?Freaky?doesn?t have the social conscience of recent Blumhouse classics like?Get Out, The Purge?or?The Invisible Man, it?s humour certainly cuts deeply enough to be worth the time. Despite the fact that the body-swap premise is far from fresh,?Freaky?s unique vision gives the formula new life. Directed by Christopher Landon (Happy Death Day),?Freaky?is bloody good fun that accomplishes what it sets out to do. In other words, the film is funny when it wants to be and horrific when it needs to be.?
While?Freaky?s sadistic switcheroo is well-implemented, there are admittedly some characters and side stories that do feel like they get pushed aside in favour of the primary story. (For example, Millie?s mother feels like she?s been given some significant struggles with her alcoholism, yet the film barely blinks the implications of it.) In this way, the film does feel at times like it misses its full potential, even though it thoroughly entertains.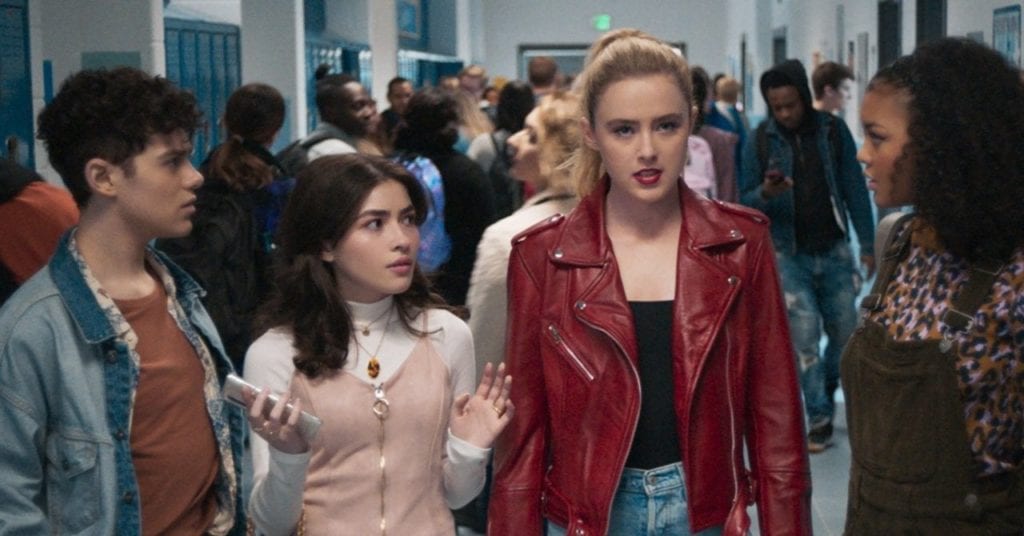 Thankfully, the film?s success is anchored entirely upon the performance of its two stars and both Vaughn and Newton absolutely kill it as the body-swapped duo. Having mostly chosen roles in smaller, independent films in recent years, it?s nice to see Vince Vaughn step back into the comedy limelight. As a 50-year-old man playing a teenage girl, Vaughn shows an vitality and glee that we haven?t seen in his performances in quite some time. In addition, co-star Kathryn Newton counter-balances Vaughn?s silliness with an inner darkness that is almost bone-chilling at times. Empowered by her new personality, Newton works with focus and ferocity as she awaits the proper moment to go in for the kill.?
Somewhat strangely, Freaky is very interested in starting a conversation about female empowerment. Bullied at school for her quiet demeanour, Millie is constantly made to feel weak and helpless by anyone outside her inner circle. (Even Mr. Bernardi [Alan Ruck!], Millie?s abusive shop teacher, seems to have a needless grudge against the quiet young woman.) However, when her spirit lands in the Butcher?s body, she experiences a sense of power for the first time. (In fact, she consistently apologizes for her inability to control her newfound physical strength.) Though she doesn?t inherit his murderous tendencies (well, arguably), Millie?s experience does give her a confidence that she hasn?t experienced before. Having been the victim of many stronger than herself, the experience of life in a man's body offers Millie a chance to claim a power that has long been taken from her by others.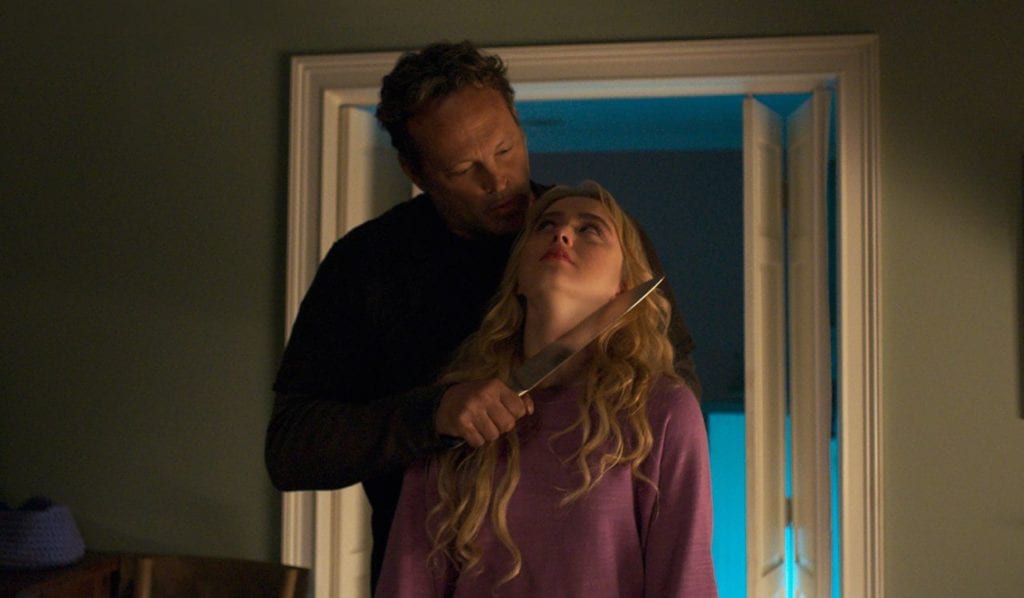 Interestingly though, the film also never (well, arguably) loses the innocence of Millie?s spirit either. Though she is unrecognizable physically, her friends recognize her quickly because the sweetness of her soul continues to shine through her middle-aged, masculine shell. Even potential love interest Booker Strode (Uriah Shelton) is able to see past the Butcher?s gruff exterior and speak with ?Millie? from his heart. (Admittedly, the scene does get particularly awkward when one remembers that it's Vaughn in the role, but I digress.) While the culture around her has often used her innocence as a reason for abusing her, the purity of her soul is what keeps her from fully embracing the Butcher's brutality. By emphasizing her heart, ?Freaky manages to subtly?suggest that true female strength comes from within, especially at the hands of a toxically masculine culture.
Released today on BluRay and DVD,?Freaky?s so-called ?killer bonus features? are a little on the light side. Features on Christopher Landon?s ?brand of horror? and comparing Millie and the Butcher are fun but forgettable addendums. (Of course, the film?s commentary with Landon and an extra explaining how they accomplished their graphic kills are particularly fun.)?
Having said this,?Freaky?is not a film that requires a tonne of extras on its disc to make it an appealing purchase. As a horror comedy,?Freaky?successfully lampoons the tropes of the genre while while simultaneously celebrating them as well. What?s more, with surprisingly convincing performances, the duo of Vaughn and Newton give the film enough focus and energy to elevate it from merely a tired concept to an evening of absolutely killer fun.
Freaky is available on BluRay and DVD on Tuesday, February 9th, 2021.