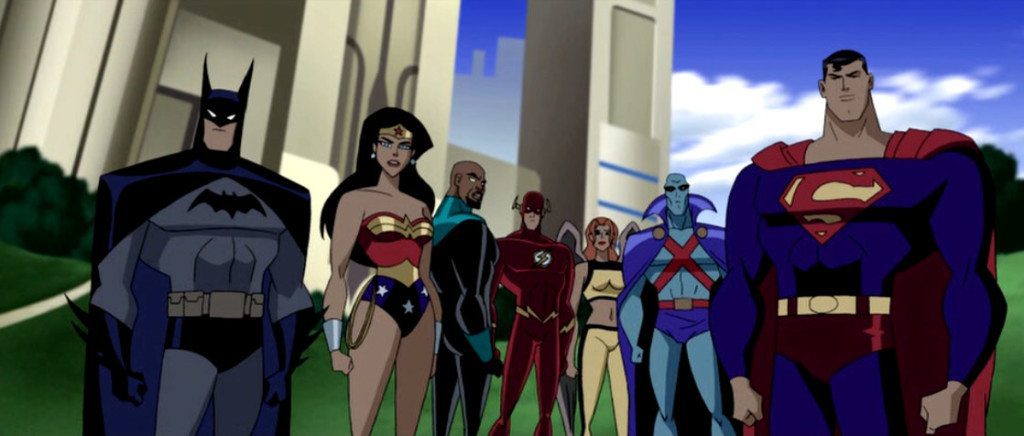 From the Warner Archive Collection,?Justice League Unlimited?bursts onto televisions everywhere in this fantastic, high definition version. For the first time, the entire series is now available on Blu-ray, featuring the episodes from July 2004 to May 2006 in the series that immediately succeeded?Justice League. With more heroes, more villains, and more team-ups, this is stellar DC entertainment for old and new fans of every age!
Originally, the Justice League was 'simply' the seven best known heroes (Batman, Superman, Wonder Woman, Flash, J'onn J'onzz, Green Lantern and Hawkgirl) but after the results of the previous season of Justice League, the JL expands to include lesser known (or at least, under appreciated) heroes like Green Arrow, Black Canary, Hawk & Dove, Booster Gold, The Question, Jonah Hex, and others. It also means that these stories can use galactic enemies of the league like Mongul, Ares, or Darkseid, as well as more individualized characters like Solomon Grundy or Gorilla Grodd.
Astute pop culture fans will recognize dozens of voices who coast through the show. Of course, at the core are still essential voices like Kevin Conroy as Batman, George Newbern as Superman, Susan Eisenberg as Wonder Woman, Michael Rosenbaum as Flash, and Phil LaMarr as Green Lantern. But isn't it fun to hear from Mark Hamill, Neil Patrick Harris, J.K. Simmons, Nathan Fillion, Adam Baldwin, Robert Englund, Fred Savage, Ioan Gruffudd, or Rob Zombie as a hero – 0r a villain?
While it's great fun to watch an animated series featuring your favorite superhero (various Batman cartoons, Green Lantern, or Superman ones come to mind), the purpose here allows for a much wider spectrum of stories featuring science, space, magic, and more. But it also raises more questions about how the League – I almost said,?Society, but that would be another thing entirely – relate to each other.
We would like to believe that all good guys (and gals) get along, right? But it doesn't actually work that way. We don't actually necessarily enjoy every other 'good' person's company – we don't actually necessarily?like?everyone else who goes to our church. The thing is, the Kingdom of Heaven isn't about 'liking' everyone else, but it's about loving everyone as best you can, about loving them as if they were yourself. While the?Justice League Unlimited?team doesn't always get along, they do realize how important it is to work together on their common vision – ending evil and tyranny everywhere!
While the bulk of the content is these decade-old episodes (with their seriousness, their silliness, their cartoonish animation), fans may also enjoy other features like the creator commentary on "This Little Piggy" or "The Return," made by well-known artists, Paul Dini and J.M. DeMatteis. Given that the series was taken in a different direction between the end of Justice League?and?Justice League Unlimited, the series special features include "And Justice For All" about using the same characters in a different way.?One of the two major story arcs, Project Cadmus, gets the superstar treatment as well, with the insights from Hamill and others in "Cadmus Exposed." Various writers, producers, and directors also share their thoughts on the wrap-up of the series in "Justice League Chronicles."
Again, the beauty of?Justice League Unlimited?is seeing your favorite, well-worn characters in a new way (as kids in "Kids Stuff" – based on?JLA: World without Grownups?and?Young Justice: Sins of Youth) and meeting new ones for the first time. No matter what combination you experience, there are moments of humor and adventure that will leave you cheering – in this case, you could watch all day!