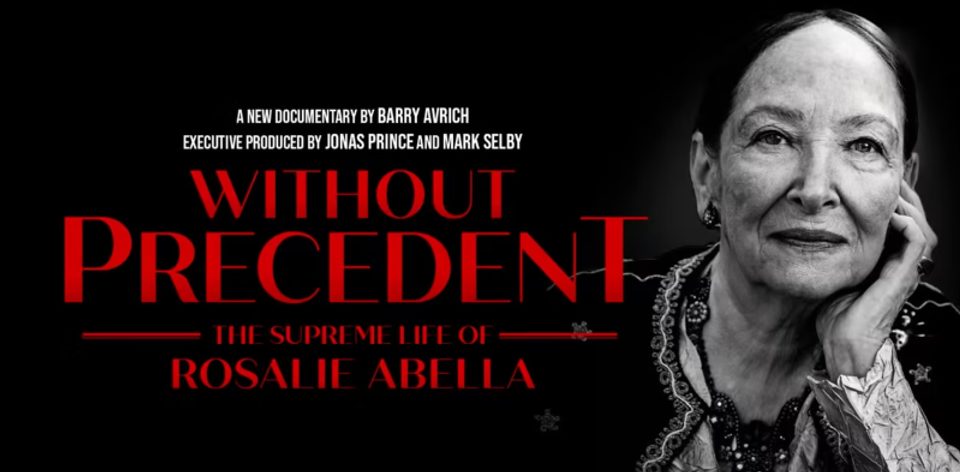 There are remarkable people… and then there's Rosalie Abella.
Without Precedent: The Supreme Life of Rosalie Abella unravels the legacy of one of Canada's true icons. Appointed at the age of 29, Abella became the youngest judge in Canadian history and left her mark on the judicial system through her passion for employment equity, same sex marriage and many more essential cases. What's more, as the first Jewish female Supreme Court Justice, Abella broke gender and racial barriers everywhere she served. In Precedent, Abella and her friends and family share her remarkable story as a woman who served the marginalized and commands respect from all.
Directed by Barry Avrich, Precedent uses few tricks to wow its audience. Anchored by interviews and press clippings, this is a film that keeps its style simple… and for good reason. After all, the story of Abella is riveting enough on its own. Allowing her testimonials to shape her image, Avrich presents Abella as a heroic force of nature that balanced her quest for justice with ferocious motherhood. Every person treats the viewer to tale after tale of a woman who changed the Canadian legal system almost on her own. Battling for change at every level, Abella's passion for equality for all helped redefine the way that Canadian culture views human rights. 
However, what may be most striking about the film is Abella herself. With all that she's accomplished, Abella would have every right to speak with confidence and fire. Even so, she comes across as an unassuming presence, humble and grateful for the opportunity to do her part. As such, Precedent serves as a reminder that those who affect change in the best of ways are usually those who are willing to serve when called but keep their dream of uplifting the marginalized in view.
Without Precedent: The Supreme Life of Rosalie Abella premiered at HotDocs '23. For more information, click here.