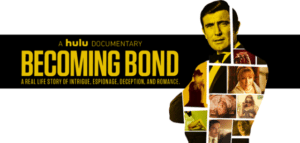 ?History will be kind to me for I intend to write it.? ? Winston Churchill
Opening with the above Churchill quote the documentary Becoming Bond may be the strangest example of story-telling in recent memory.
Directed by Josh Greenbaum, Becoming Bond tells the story of one-and-done Bond actor George Lazenby?or rather, allows Lazenby to tell his own story. Combining both interview, archival footage and dramatic recreations of his life, the film recounts Lazenby?s life from a young Australian ?larrikin? until after his role as the famed British agent in On Her Majesty?s Secret Service.? (Incidentally, the film even explains the surprising reason why Lazenby only took on the iconic role once.)? Sharing his relationships, sexual conquests and, of course, his experience as Bond, the film is both character piece and classic comedy at the same time.
In his interview segments, one can see why Lazenby?now seventy-six years old?was offered the Bond role in the first place.? While he comes from modest roots (he was actually a used car salesman prior to this acting debut), Lazenby still has incredible charm, confidence and a playful sense of braggadocio.? In many ways, he is the underdog that you cannot help but cheer on.? (No spoilers but his account of how he actually locks down the James Bond role is so bizarre that you simply won?t believe it.)
And, herein lies the irony of Becoming Bond.
While Lazenby seems earnest in his desire to share openly all aspects of his life, the film constantly seems to wink at the audience in the most playful of ways.? Through its use of studio sets in the historic re-enactments, the imagery takes on an ?old Hollywood? look (incidentally, not unlike the Bond films themselves).? By casting recognizable actors (Dana Carvey, Jane Seymour, Jeff Garlin, and more) in key roles, Greenbaum also manages to take the audience out of the documented moment, giving it the feel of a television sit-com or Monty Python sketch. Through the use of all of these stylistic devices, the film spins its narrative in such a way as to be both convincing and unbelievable.
While not necessarily it?s goal (or is it?), Becoming Bond actually raises some interesting questions about the nature of truth in this regard.? Is an event true because it?s how we remember it?? (After all, when asked how much of his story is true, Lazenby seamlessly answers ?How could I remember it if it isn?t true??)? Is it objective? Becoming Bond seems to land somewhere in between, where truth is a living construct, constantly moving in the ebb and flow of memory. In the end, Lazenby?s tale is one you absolutely want to believe?but does that mean it?s actually true?? After all, as Lazenby believes, ?You can defy what people expect of you and write your own story.?
This is a story that is so intriguing, you'll have to see it to believe it.
Trust me.
Becoming Bond is playing at?May 3, 8:30 pm, TIFF 1; May 4, 3:45 pm,Isabel Bader; May 5, 7 pm, TIFF 1