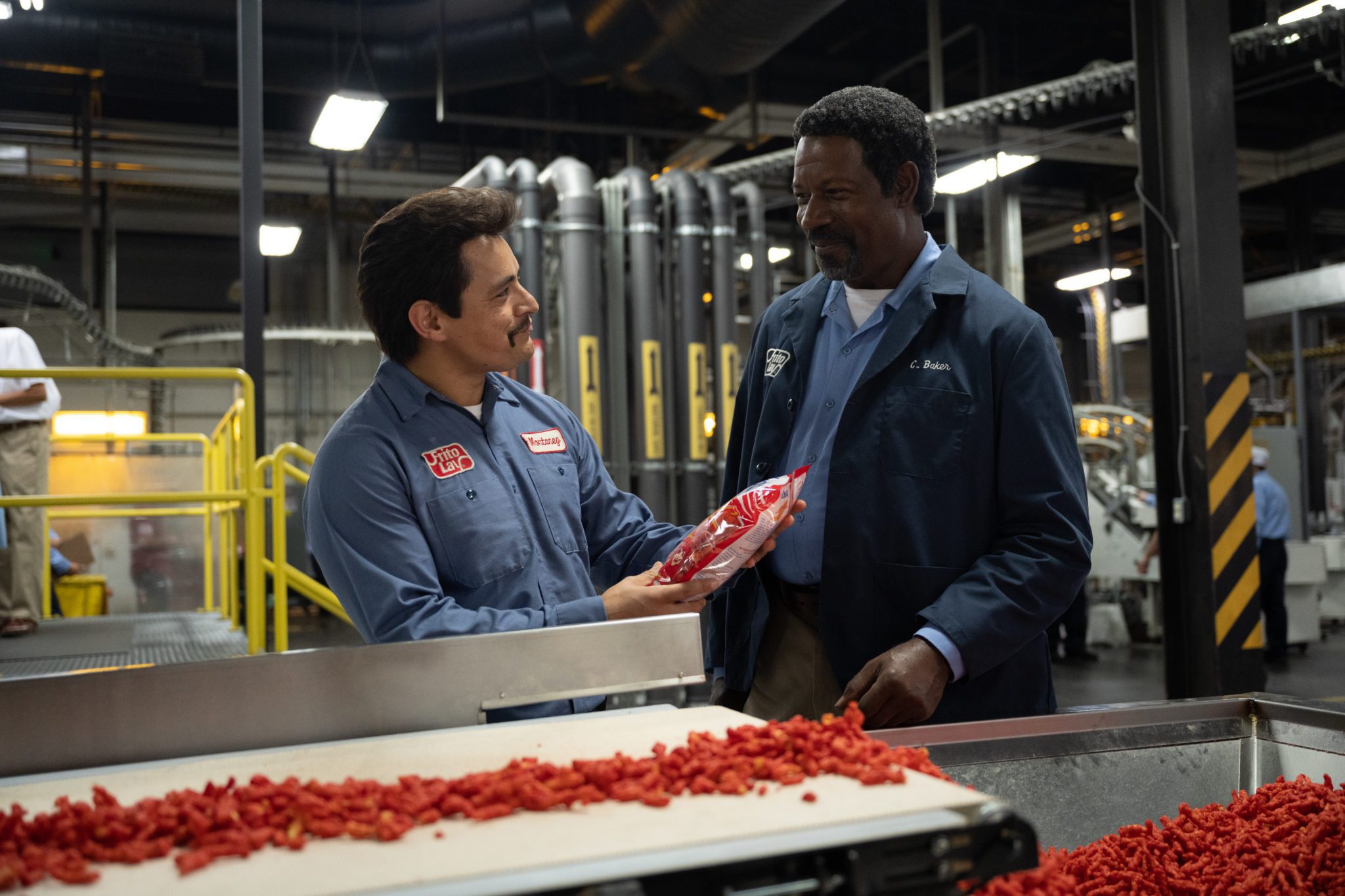 All of a sudden, we seem really interested in the story of stuff.
In the oddest of trends, Disney+'s new dramedy Flamin' Hot joins an ever-growing list of films that focus on the origin story of popular brands. Following in the footsteps of The Social Network, recent films such Air and Tetris have make the creation of some of the world's most popular titles into the heart of its story. In doing so, the films can benefit from a recognizable IP but still try tell a story with heart. Now, with Flamin' Hot, we have the tale of the origin of Flamin' Hot Cheetos, a billion-dollar innovation for Frito Lay, brought to life on-screen.
But, Flamin' Hot is more than just the story of a snack. As a matter of fact, it may actually be one of the best of the sub-genre.
Directed by Eva Longoria, Flamin' Hot tells the true story of Richard Montanez (Jesse Garcia). Having grown up in poverty and an abusive home, Montanez stepped into a life of crime but his checkered past left him struggling to feed his family. So, when the opportunity to take a cleaning job at Frito Lay opened up, he jumped at the chance to find steady work. With his foot in the doorway of the snack food empire, Montanez made the most of his opportunity, helping to create a fresh line of snack food that helped revive the industry.
Fuelled by fun and fire, Flamin' Hot is genuinely enjoyable from start to finish. In only her second feature as a director, Longoria shows genuine confidence behind the camera, creating a film that is as stylish as it is enthusiastic. Longoria ensures that the camera is almost always moving, bringing life to the story. Whether its massive machines churning out product or pop-infused edits, there's something happening onscreen, even in its quietest moments. In doing so, Longoria gives the film a flavour all its own without ever distracting from the impact of the story that's playing out before our eyes.
Anchoring the film is Garcia who seems as enthusiastic as the film itself. As Montanez, Garcia isn't just likeable; he's positively endearing. Showcasing his humour, heart and passion at every opportunity, there's an enthusiasm that he brings to the role that makes him seem genuine. We don't just want him to make it big. We need him to succeed and much of that is credited to Garcia's performance.
Even so, although it may Infused with the dreamy-eyes of the American Dream, Garcia's story may be inspiring but it isn't blind either. Despite the fact that the film has the 'dreamer-makes-it-big' tone, it also emphasizes the struggle of the immigrant experience. Embedded with a heart for the Mexican population, Flamin' Hot emphasizes the challenges of a broken system that leans into (and helps create) the cycle of poverty, racial profiling and, above all else, the 'glass ceiling'. This is a time of 'trickle-down' economics… but nothing trickles down.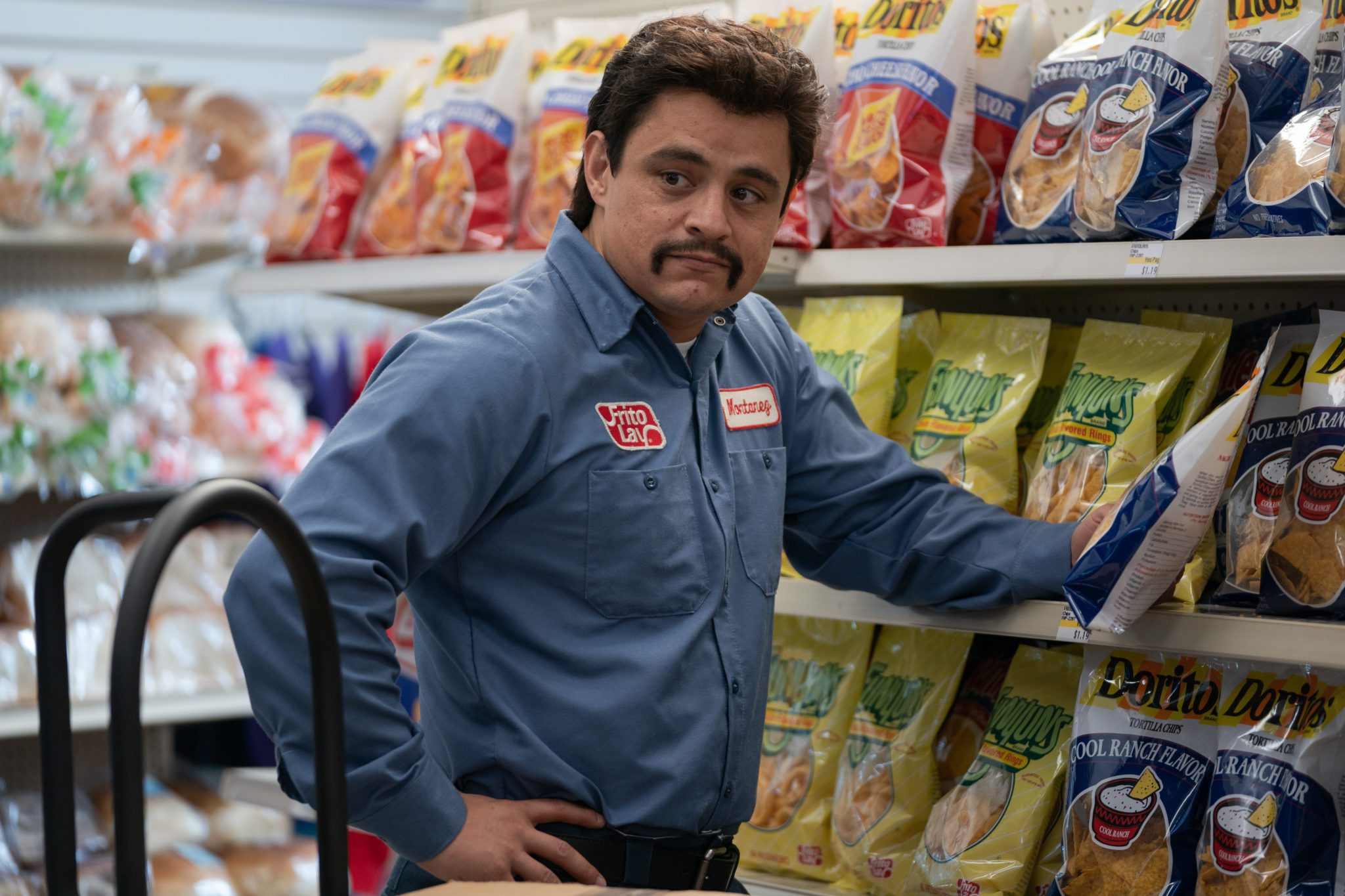 In the opening scene, the viewer is told how the story will end but it is an absolute battle to get there. At every turn, someone is informing Montanez that he needs to know his place if he wants to keep what little he's been offered. ("People don't break lines," he's told.)
In short, Flamin' Hot, the American Dream is revealed to be an American Myth.
But that's what makes the film so interesting. Flamin' Hot isn't just a story of success. Instead, it holds the American Dream accountable for holding people back. Montanez may have a criminal background but he has been sculpted into the life by profiling. What's more, he has the drive to succeed but is continuously held back by 'higher ups' as a result of their misconceptions about him, be it racial or his 'position' within the company.
So, in order to break the ceiling, he is forced to break the rules.
Without giving any spoilers, Montanez's journey to the top speaks to the power of innovation and kicking away at the systems that are designed to hold people back. (And, hey, there's even a bit of faith sprinkled into the script for good measure.) Part of the soul of the film is its argument that true innovators come from everywhere, no matter their station in life. To the corporate world, Montanez may be 'just a janitor' but Flamin' Hot never forgets the value of the minimum wage worker at the bottom.
In Flamin' Hot, everyone matters.
Almost surprisingly, there's such charm and charisma in Flamin' Hot that one can't help but be swept up in its story. Unlike many films that over-emphasizes weak dialogue to get their point across, Flamin' Hot maintains the perfect mix of inspiration and cultural celebration. Longoria has created a film that speaks to its culture but encourages everyone. Because of that, like the snack itself, once you bite into Flamin' Hot, you just can't help but love it.
Flamin' Hot is available on Disney+ on Friday, June 9th, 2023.