Set at the Mexican-American border, Culture Shock tells the story of Marisol (Martha Higareda), a young Mexican woman who is fleeing the dangers of her home in search for a new life in America. Yearning for freedom and safety for her family, Marisol fights and claws to cross the border only to discover that the world she?s dreamed of may actually be more of a nightmare.
Released as part of Blumhouse?s Into the Dark horror anthology, Culture Shock is a fun and increasingly dark sci-fi horror with a social conscience. For her first feature film, director Gigi Saul Guerrero shows an incredible amount of confidence behind the camera. There is a fire within her direction that drives the film and underscores her passion for justice. Part Get Out and part The Stepford Wives, Culture Shock has all the ingredients necessary to cook up something special and executes effectively. Fueled by an inner rage, the film is as sharp in its satire as it is brutal in its gore.
Although the film features solid performances across the board, Shock benefits most from some excellent work by Higareda. As Marisol, Higareda?s performance contains a strength that carries the film. Whether she?s fighting the perils of crossing the border or attempting to navigate a community BBQ, Higareda attacks each scene with ferocity and courage. (It?s also worth noting the most surprising performance comes from Creed Bratton. Best known for his work on The Office, Bratton?s comedic chops are rarely utilized here. Instead, there?s a snarl and grit within his performance that catches the viewer off-guard.)
Visually, Shock is an absolute treat as well. Although she begins with muted colours and heavy shadows, Guerrero eventually fills the screen with clear and crisp red, whites and blues as her vision of the American Dream takes hold. Once Marisol crosses the US border, she is met with the purest of Americana, including fireworks, barbeques and flags galore. This world is meant to represent the very best of US ideals, embedded with a sense of purity, safety and, above all else, hope.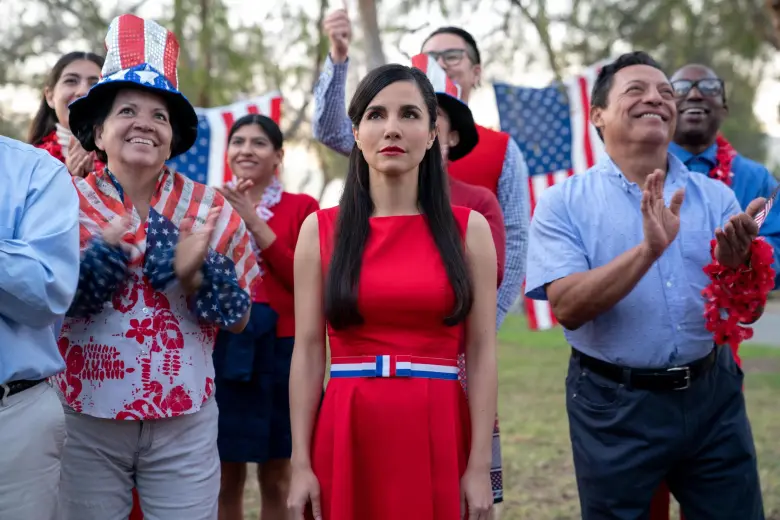 However, Shock shows that not all dreams are reality.
Leaning into the darkest edges of American immigration, Shock speaks to the dangers inherent to starting a new life. As Marisol leans into the life that she (thinks) has always wanted, so too does she begin to see her identity slip away. Pressures of language and food subtly chip away at her Mexican heritage, shaping her into a White American model. More than this, however, Shock exposes the pain and suffering it is caused by American immigration policies (especially those under the Trump era). From the separation of families to sacrificing one?s cultural identity in order to ?fit in?, Guerrero uses her horror to underscore the tragedy of recent real-life events.
But therein lies the irony.
As stories of xenophobia and racism unravel before our eyes, Guerrero highlights the fact that the greatest myth of the American Dream may be how easy it is to attain. In Shock, we see a world of open doors and opportunity? yet soon discover the deeply rooted pain that lurks underneath. While these stories become more commonplace, these systems show themselves to be designed primarily to keep people out as opposed to welcoming them inside.
In other words, it?s possible that the greatest horror in Shock is that it?s no longer shocking at all.
Culture Shock is available on Super Channel on Monday, July 4th, 2022.