Shaunak Sen?s All That Breathes, winner of the Grand Jury Prize at Sundance for World Cinema Documentary and the Golden Eye award at Cannes, is the story of two brothers trying to run a bird rescue in New Delhi. If that were all it was, it would be a run of the mill doc. It would be interesting, but not enthralling. But there is far more to this film than what is found in that simple narrative. The film has been shortlisted for Feature Documentary Oscar consideration and is nominated for a Film Independent Spirit Award.
Saud and Nadeem have had a lifelong interest in black kites, the raptors that fill the sky over their city. They have taught themselves how to care for injured birds and struggle to run a hospital for the injured kites. They are seeking funding for a better facility, but currently run the operation in their home. Part of the problem the kites face is the severe air pollution in New Delhi. Every day several of the raptors fall from the sky. Saud and Nadeem do the best they can with limited resources.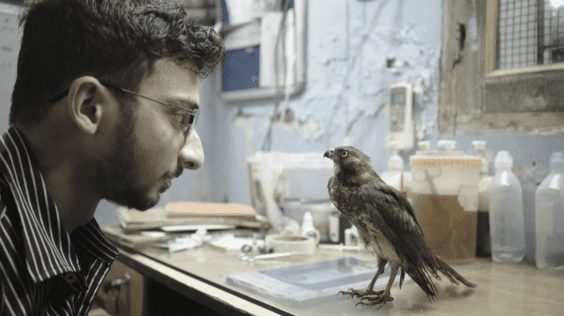 The film also shows the way much more is going on all around them. We hear news reports and distant sounds of protests over the rising religious discrimination in India. We see that even though this is a very urban area, nature is always near as we see cows, pigs, rats, ants, frogs, and monkeys that are living in the streets as well.
Sen uses his camera in such a way that when he breaks away from the narrative of the two brothers and their birds, we see nature as not something separate from the lives of people, but as a setting in which humans also live. Often the camera creates a kind of visual poetry for us to see life as it is lived by many creatures that we usually overlook.
The result is a kind of ode to life. It is not so much about the human place in the world, as it is about the broader concept of life of which we are a smaller part. And hearing the political turmoil that is certainly not part of the natural world, we may even get the idea that humans are not at the top of the evolutionary process.