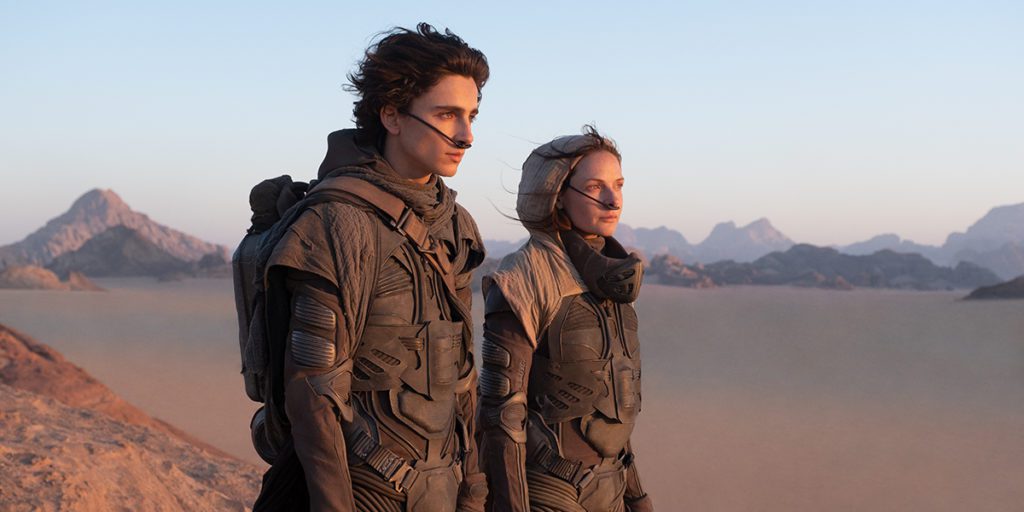 Directed by Denis Villeneuve (Blade Runner 2049,?Arrival),?Dune?tells the story of Paul Atreides (Timothee Chalamet, a gifted young man who believes his destiny is to do great things. As the heir to the House Atreides, Paul is drawn into an interstellar conflict when his father Leto (Oscar Isaac) attempts to negotiate the exclusive rights to mining a rare and essential natural resource on the planet Arrakis. As discussions move forward, tensions between Atreides are stalled when the brutal Harkkonen attempt to take the resources for themselves. As a result, Paul finds himself caught between loyalty to his father and seeking the destiny he believes lies before him.
While the cinematography may not be quite as impressive as Blade Runner 2049 [How do you compete with Roger Deakins?], there is no doubt that Dune is meant to make you feel insignificant against its landscapes. Filled with creativity and detailed history, this is the sort of sci-fi epic that seeks to honour its source material by fully immersing you within its story. Similar to Game of Thrones, Dune is not a simple ?good versus evil? battle but instead becomes a deep political thriller with multiple sides, history and theology. As such, casual fans may need to be patient in order to find their way through at first..)
With deep affection for his source material and incredible skill, Villeneuve has yet again created a film which is both stunning and smart. Bound to be divisive due to its long runtime and complex political landscapes, there will be those who feel they cannot connect with?Dune. What?s more, its always a risk to make a film with the intent of future installments, especially for science fiction epics. However, Villeneuve?s?Dune?is one which deserves to be completed.?
Dune premiered at TIFF '21 on Saturday, September 11th, 2021