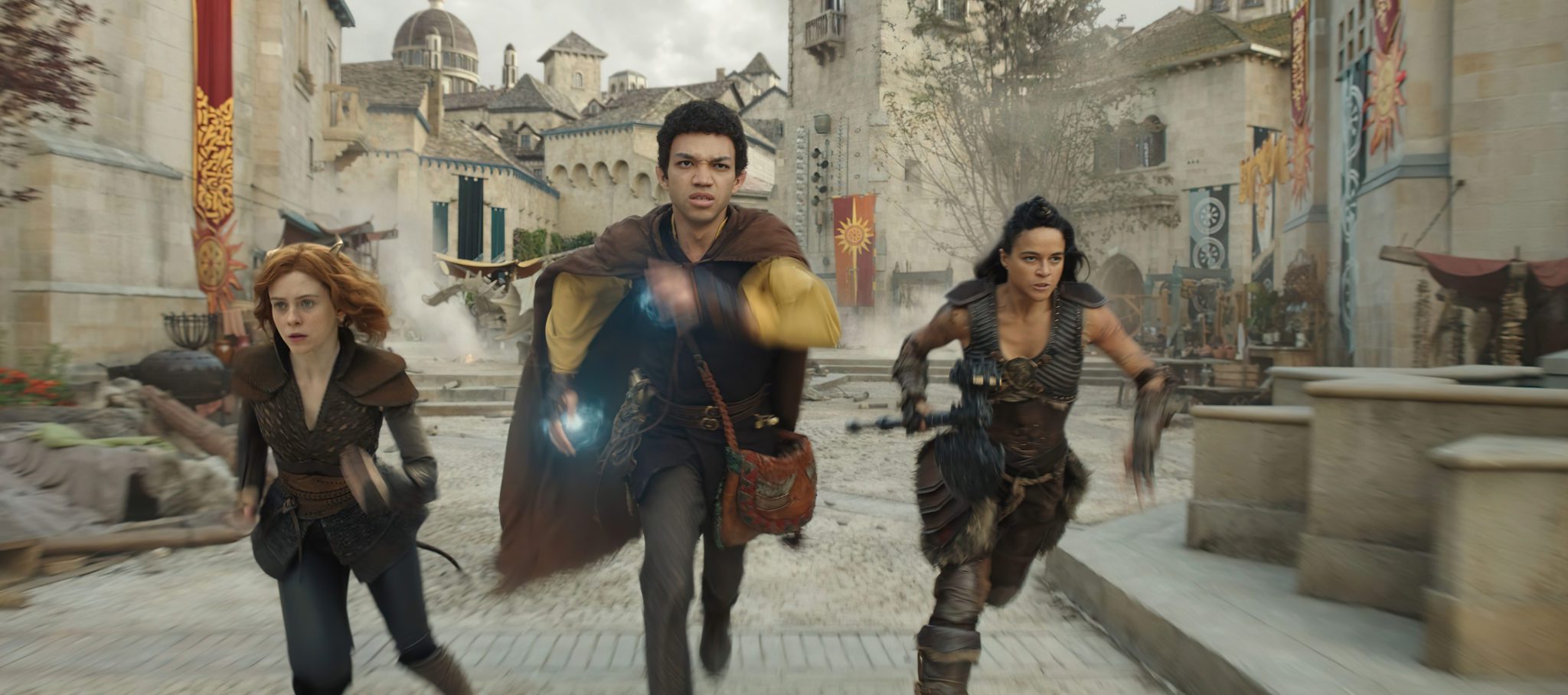 It's worth stating that I am not particularly a Dungeons & Dragons fan. 
So, in some ways, the question of truly understanding Dungeons & Dragons: Honor Among Thieves feels like a daunting quest. While I know that the game is revered by many, I don't understand its folklore or how it works. (In fact, I couldn't even tell you how to play.) As a result, it's difficult for me to say whether or not the latest film, Honor Among Thieves, truly celebrates the legacy of a game that has been beloved for decades.
But, my goodness, the movie is fun.
Directed by Jonathan Goldstein & John Francis Daley, Dungeons and Dragons: Honor Among Thieves tells the story of Edgin Darvis (Chris Pine) and his dear frined Holda Kilgore (Michelle Rodriguez), two thieves who feels as though they have been wrongly imprisoned. After escaping from prison, the two embark on a quest to steal a lost relic that could change their fortunes. However, an old foe re-emerges with every intent of preventing them from achieving their goal.
As an outsider to the Dungeons world, I can say that the film is entirely accessible. While there may be any number of references or Easter Eggs for fans of the franchise, it also leaves the door open for newcomers such as myself to enjoy the fun. One does not need to have any previous knowledge of the game or its storytelling in order to enjoy the film or its humour.
And, ironically, it's that same sense of humour that's most surprising. Traditionally, most fantasy films on the big screen have often taken themselves and their content very seriously. Stories like Lord of the Rings, The Chronicles of Narnia, or even a rebooted Willow series always include comedy but usually lean into a more somber tone. Led by a hero with gravitas, these are often tales about preventing the end of the world or some other catastrophic event.
But, Thieves is entirely the opposite. While there are some fun action set pieces within it, Honor Among Thieves is much more of a comedy than it is a heavy drama. Featuring delightfully silly performances by Pine, Rodriguez, Justice Smith, Hugh Grant and even Bridgerton's Rege-Jean Page, the film's banter borders more on the antics of Monty Python or the playful wit of the Guardians of the Galaxy franchise than it does the severity of Mordor. (In fact, it's worth noting that the film is co-written by Chris McKay, one of the co-writers of The Lego Movie.) While these characters believe their quest is of importance, they take it all in stride with a wink in their eye. Overweight dragons, 'hither and thither' wands, and even raising the dead are played are presented with a goofiness that lights up the darkness around them. 
What's more, there's also a certain sweetness to the film that makes it endearing. While our Thieves may be bad, they're not really bad. In fact, for these Thieves, there's a bit of an altruistic nature to their character that redeems them. Like Robin Hood, their motives extend beyond the big score. Saving the people or their loved ones allow these rogues to bend the rules without stepping into the dark side.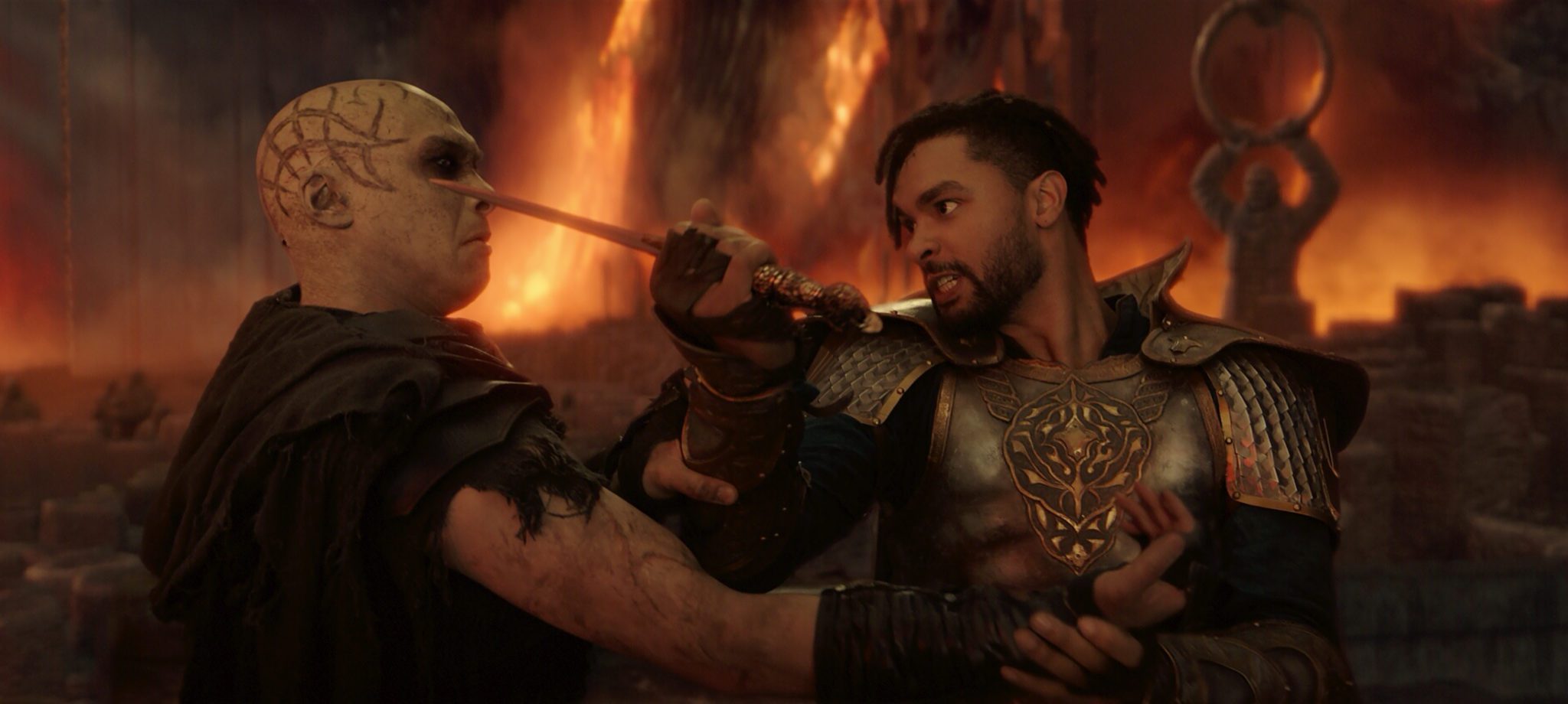 Turns out there actually is Honor Among these Thieves.
Admittedly, on a deeper level, the film wrestles with themes of letting go in order to heal and fighting for the oppressed. But Thieves' tone is so lighthearted that few of these moments are what will be discussed when the credits roll. This is not a film that challenges the viewer with complex emotional arcs but it definitely can make them laugh.
With the film's emphasis on humour, it remains to be seen if fans of this franchise are going to be excited about joining these playful rascals. Personally though, if this is the direction that Dungeons & Dragons chooses to take in the future, I will happily join them on their next quest.
Dungeons & Dragons: Honor Among Thieves is available in theatres on Friday, March 31st, 2023.