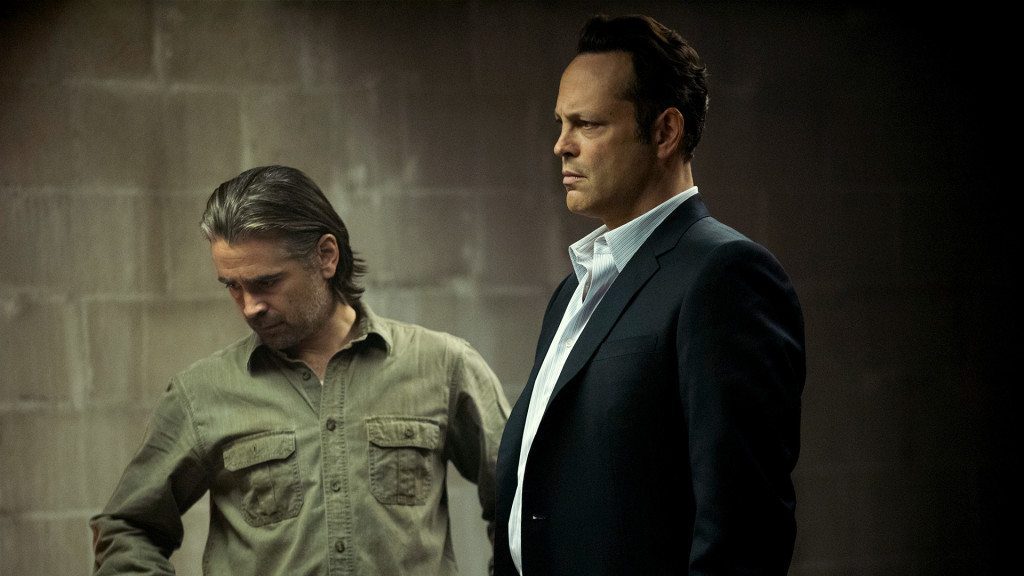 O, what a tangled web we weave when first we practise to deceive!–Sir Walter Scott
In the second season of HBO's hit television series,?True Detective, the all-new cast tackles a case full of nooks and crannies wrapped around the morale that "we get the world that we deserve." An Army veteran and current California patrolman, Paul Woodrugh (Taylor Kitsch), finds the deceased city manager of Vinci, CA, on the highway. Soon, Vinci P.D. detective Ray Velcoro (Colin Farrell) and Ventura County Sheriff Sergeant Ani Bezzerides (McAdams) are called in to investigate. But there are some dangerous ties to crime kingpin Frank Semyon (Vince Vaughn), who wants to recover the financial investment he had made in the city manager. We know Nic Pizzolatto will explore the darkness, but where is he going to take us this time?
I'll admit that I had a much harder time getting into this season than I did the first one. Matthew McConaughey and Woody Harrelson were supremely nuanced, bending the lines between good and evil, while chasing a serial killer over decades. It was intensely dark, and wildly entertaining, creating water cooler talk. The second season? Not so much. Maybe it was Vaughn's misplacement as a less-than-funny baddie. It wasn't Farrell — we know he has made a career of playing twisted antiheroes (Bullseye, anyone?) and it wasn't McAdams, who delivers as she always does. [I'm no Kitsch fan, but even he played the wounded soldier part well.]
For those who did dig it the first time through, there's plenty of commentary in the Blu-ray release that provides the Digital HD as well. I think that the comparison from one to another (the way that FX has provided with a new-cast-each-season set up for?American Horror Story?and?Fargo) allows for bolder storytelling. Pizzolatto is signed for several more years by HBO but we don't know if we're getting a third season yet. I'm pulling for Tom Hardy and Ryan Gosling, personally. But I'd be worried if they went with Amy Schumer and Whitney Cummings…
Back in the series, I'm troubled because the first season made both the detectives' private lives?and?their investigation matter. I'm not sure that the second season is quite as effective in that. [For the record, it's also a problem in Liev Schreiber's?Ray Donovan, which is also darkly entertaining.] But we are faced with several men who are put in positions where they doubt their own power, person, or masculinity, all tied up in one. Some of it has to do with secrets; some of it has to do with pain they have not dealt with. But it often points back to the violence they live by, which they are tied to, but which often works against them like a double-edged sword.
Still,?True Detective?has me hooked because it wrestles with the nuances. We are made up of our past decisions, our hopes and dreams both realized and deferred. None of these characters is who they hoped they would be, but they are all forced to wrestle with their realities. In Pizzolatto's world, some will rise and some will fall, but all will bear the scars for the rest of their lives.