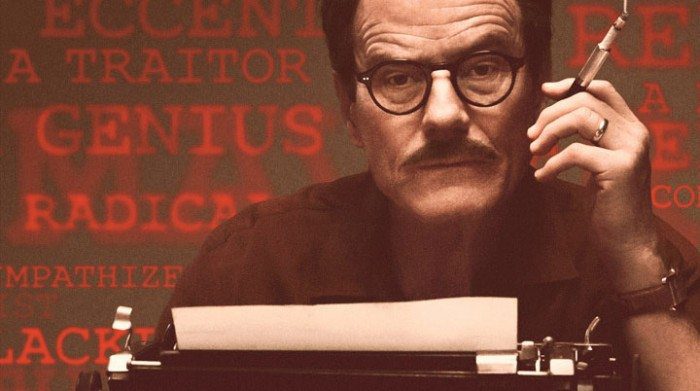 Dalton Trumbo (Bryan Cranston) wrote excellent scripts but his membership in the Communist Party made him anathema in the mid-nineteenth century. After he was sentenced to eleven months in prison, he became a persona non grata in Hollywood, but found a way to use his words to tell stories… even if he couldn't get credit for them.
Director Jay Roach may be best known for making funny movies:?Meet the Parents,?Dinner with Schmucks, and?Austin Powers. And?Trumbo?is a cleverly amusing movie thanks to the deft acting of Cranston and others (John Goodman, Helen Mirren, Alan Tudyk, Louis CK). But there is much more going on here than you?might expect…
This is a story about paranoid political behavior that resembles group think in all its stages. It's not just about Communism versus the Free World. But it is about how the "free" world sometimes gets confused about what it means to be free. This makes the film surprisingly current given some of the ways that various American presidential candidates are bantering about immigration, religion, political leanings, and more. We expect this from an election year but do we expect the fire sale on morality and social justice that's happening in some corners of the United States? Do we expect our friends and neighbors to actually?buy?some of this?
Honestly, I'm not political but I do prescribe to a certain amount of social justice as prescribed by… Jesus. Jesus said we should care for the poor, that we should welcome in the stranger, that we should honor those who were not like us more than ourselves. Trumbo is pushed before and after his prison sentence to fight others, and to lash out, but he maintains that he doesn't want to villainize anyone. While Trumbo writes for what one politician calls "the most powerful influence ever created" (movies), he refuses to lower his standards, even while he pays the price.
This?is the kind of film that should win accolades …?just so everyone sees it. If we're going to fight for the Free World, then we better make sure it's free. Or are we living in an Orwellian world that we all studied in high school and recoiled from?
Every crime against humanity makes victims of us all.