The Big Short is set in 2008 and tells the true story of Michael Burry (Christian Bale), a Wall St. guru who foresaw the downfall of the US economy due to sub-prime mortgage fallout. As a result of his discovery, he places over a billion dollars of investors money against the economy, drawing the attention of banker Jared Vennett (Ryan Gosling), hedge-fund specialist Mark Baum (Steve Carell), and other greedy investors. When these men throw their financial weight into the same endeavour, they make a fortune on the backs of millions of failed mortgages across the country.
If you?re like me, I know what you?re thinking: a movie about hedge funds, mortgages and investments? Thanks but no thanks.
But you?d be wrong.
One of the most remarkable things about Charles Randolph and Adam McKay?s screenplay is that it manages to walk the tightrope between maintaining the integrity of high financial concepts and the financial knowledge of the average moviegoer. Somehow, they make these incredibly difficult concepts (seem) accessible without ?dumbing them down?. In fact, the film?s asides are absolutely hilarious, recruiting the likes of Margo Robbie (drinking champagne in her bathtub), Chef Anthony Bourdain or even Selina Gomez to keep us up to speed with financial language. What?s more, the performances are top notch with all the players working together and no one attempting to ?one up? anyone else. In fact, one gets the distinct impression that these men joined this film because of its important message, as opposed to any particular individual Oscar glory.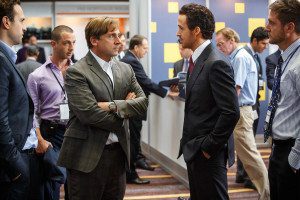 Interestingly, the film grapples with the idea of our own desire to be distracted by celebrity glamour or pop culture rather than be educated about the ways that those in power manipulate the people for their own gain. In other words, rather than seek out the truth about the greed of the banks and governments that affect us every day, too often we allow ourselves to focus on popular fluff in an effort to forget our problems. (Incidentally, this also adds an additional element of irony to those ?asides? where celebrities explain key financial concepts. Are we supposed to listen more effectively? Or are we meant to be distracted by Selina Gomez and her gambling?)
This leads the film to explore greed as an addiction in many ways as well. As each member of the ?team? discovers new ways to take advantage of the banks (who are taking advantage of the rest), we see them experience a sense of glee as they ?out-manipulate? the manipulators. However, once they realize that their success lies on destroying the backs of the average home-owner, the film completely changes its tone. No, these men aren?t the ?heroes? that they have made themselves out to be. Make no mistake: These ?Robin Hoods? are equally guilty of being ?Prince Johns? as well.
These men simply allowed themselves to be caught up in the river of sin and greed that they were in opposition to in the first place. In many ways, the film is as much a word of warning about diving in to personal sinfulness as it is about our own lack of awareness of others. All too easily, because of our sin nature, we can find ourselves serving our own needs (and that rabbit hole is awfully deep).
Is The Big Short Oscar-worthy? A resounding ?Yes!? from this corner. The film?s tightly written script is remarkable and it offers us a fresh perspective on events that recently shaped our current financial climate.
But will it take home the gold?
I wouldn?t bet on it.