Ocean's 8 steals a play from the Star Wars playbook, setting up a Sandra Bullock-driven standalone story in the world of Danny Ocean (George Clooney) of Ocean's Eleven, Twelve, and Thirteen. As Debbie Ocean, Bullock's character sets out to rob the Met Gala in New York City, with a band of enterprising female criminals (and criminals-to-be).
While Danny Ocean is a lovable loser, a crafty criminal, and a leader of men, Debbie proves to be all three … for the first ten minutes of the film. In a sequence that involves her thwarting the Parole Board's best intentions, and subsequently finds her cleverly ripping off a department store, Bullock's criminal is every bit what Clooney's was. But the film's paint-by-numbers recruitment of first Debbie's right hand woman, Lou (Cate Blanchett), a la Clooney sucking in Brad Pitt, is immediately followed by the subsequent additions to the team (Mindy Kaling, Rihanna, Sarah Paulson, Helena Bonham Carter, etc.) It's simply a question of taking a formula that worked with men in the first two movies (the third one is "meh") and trying to force-feed in these women, checking 'boxes' of categories perfunctorily, which is a shame.
Gravity (ironically co-starring Clooney) might be the last big hit Bullock had, five years ago. Eleven was smack in the middle of a run Clooney had that included The Perfect Storm, O Brother Where Art Thou?, and Confessions of a Dangerous Mind. But it's not just that Clooney was at the height of his starpower – Brad Pitt was on a run that included Fight Club, Troy, Mr. & Mrs. Smith, and Snatch; Matt Damon was in the midst of The Talented Mr. Ripley, The Departed, and the Jason Bourne films. This isn't the same thing – three actors at the top of their game – when it's Bullock, the more artsy Blanchett, and then a significant drop. (Nevermind that Gary Ross is no Steven Soderbergh, or that the original had a budget of $85 million and seventeen years later, that 8 had a budget of $70 million.)
Instead of the attempt at Ghostbusters-like remake (which at least had ghosts and looked like it belonged in the same universe), the film would have benefitted from a lack of pressure in name only. Adding in a Tina Fey, Melissa McCarthy, Amy Poehler, Amy Schumer, Kristen Wiig, Sarah Silverman – or getting the whole crew a la Bridesmaids, would have given the film the panache it needed to stand on its own … with a funnier script. Those original movies were clever and slick, and the men looked they were having fun.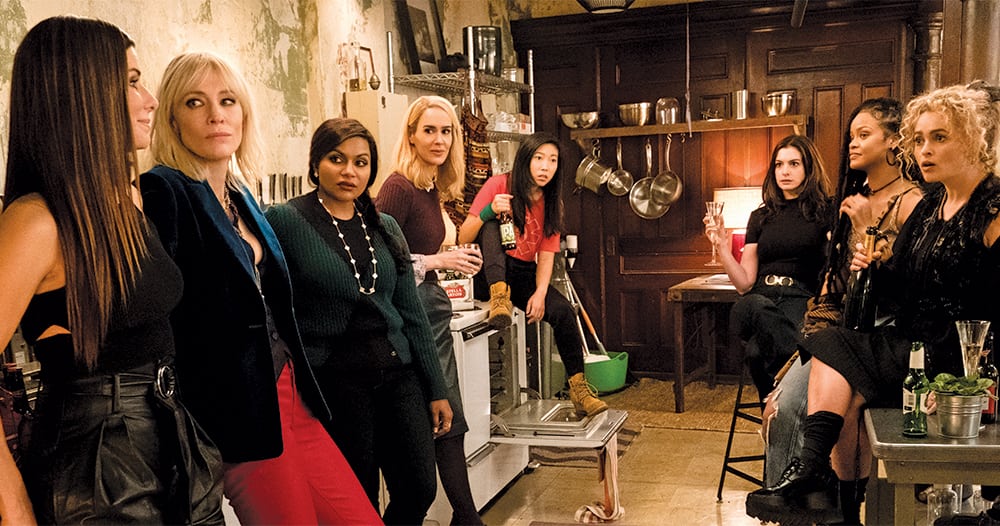 By the close, I half-expected Bullock to hide behind a yawn, when pouring the celebratory bubbly that never felt in danger. Next time, here's hoping they have more fun, we feel more tension, and it becomes more than just a very naked shot at revenge. Somehow, I doubt this was equality we are fighting for in Hollywood.
These women deserved more. But maybe they're just getting started.
Special features on the Blu-ray combo pack include "A Heist in Heels," "Ocean's Team 3.0," "Reimagining the Met Gala," and deleted scenes.