Adapted from Eden Robinson?s 2017 novel, Son of a Trickster, CBC?s new series Trickster follows Jared (Joel Oulette), an Indigenous teen who lives his life from one disaster to the next. Whether he?s dealing with his wild-child mother (Crystle Lightning) or supporting his father (Craig Lauzon), Jared struggles to get through the day, especially financially. When his part-time job selling drugs comes to an end, he feels lost within his own unstable, yet familiar, life. After he meets a mysterious stranger, Jared?s world is shaken as he begins to see talking ravens and doppelgangers. At first, Jared is able to write them off as wild, drug-induced hallucinations. However, as he explores the meaning of his visions, Jared soon discovers that the answer may lie in a tradition that he has long ignored.
Directed by Michelle Latimer (ALIAS), Trickster is a dark and mysterious ride through mythology as it collides with the modern era. While the series falls neatly into the ?supernatural sub-genre? made popular by True Blood, Netflix?s Chilling Adventures of Sabrina and, to a lesser extent, Riverdale, Trickster?s style and celebration of Indigenous culture keep the series fresh and engaging. Through her use of colour and tone, Latimer visually interweaves the mundane with the mystical, seemlessly blending the interaction between them. Featuring solid work by its entire cast, the series also crafts some truly unique characters that bring the world to life. (Crystle Lightning, in particular, is an absolute joy to watch as Jared?s free-wheeling but loving mother.)
As Jared and his family struggle through their daily lives, the spiritual underpinnings of First Nations culture simmer below the surface of the community. Lost in a sea of unpaid debts and addictions, the characters of this world are primarily focused on survival. Consumed by banality, each day blends into the next as hope for something better has long since eluded them. In essence, this is a world where people never seem to change and lives remain frozen in time and place.
As a result of this static culture, however, the impact of these new spiritual revelations becomes all the more jarring. For example, though Jared seems lost as the mystery unspools, his world also becomes larger. Having been confined by the borders of his local neighbourhood his entire life, he begins to see that what he has known is merely one piece of a larger mystical fabric and his worldview begins to shift. In other words, Jared?s journey to discover the broader spiritual realities of his world opens his eyes in such a way as to recognize that there are aspects to his world that were unknown to him. As such, Trickster not only unravels its own mystery but unlocks a much deeper spiritual heritage that alters the way its characters understand the world.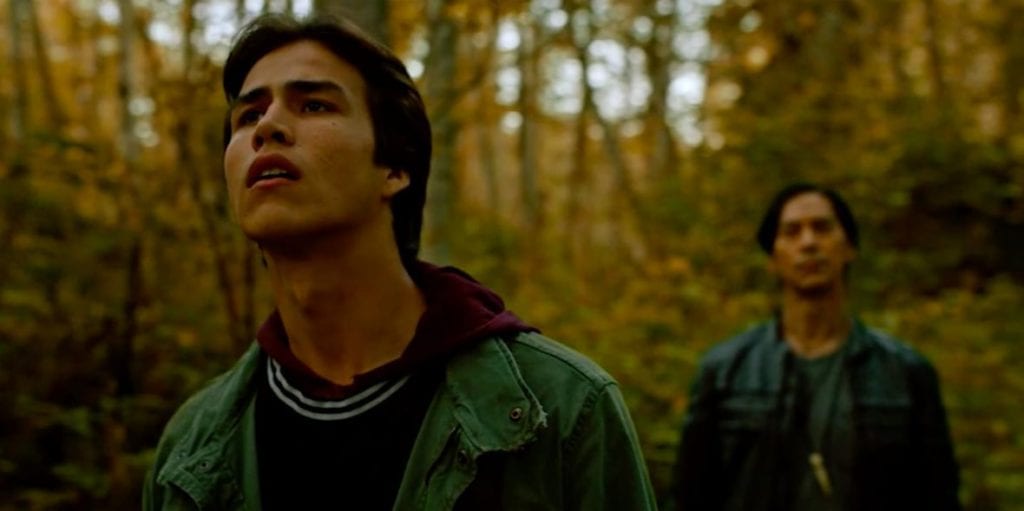 While unbelievable to many, the realities of the mythological world affect them all.
In this way, Latimer has created a world that intrigues as well as challenges. Fun and mysterious, Trickster is an entertaining ride that draws you in through its premise but entices you to stay through its strong characters and storytelling. What?s more, while it thrives in its celebration of Indigenous traditions and folklore, it also serves as a humbling reminder of what can be lost when we misjudge our own place within the universe.
Trickster premieres Wednesday, September 16, 2020 at 9:00pm.