In a year when the world has spent months locked in and socially distanced, a new thriller plays on our isolation and self-doubt. In Joe Wright's Netflix thriller The Woman in the Window, Amy Adams plays Dr. Anna Fox, a child psychologist suffering from agoraphobia. Fox's own sadness has driven her farther and farther away from others, and deeper and deeper into her own shame. When she witnesses a bloody death in the apartment building across the street, her sadness manifests into terror and hysteria.
A psychologist deep into drugs and self-doubt… that must be one of the most terrifying mental experiences. Wright's cinematography, including one scene with a close up/amplified experience of a faucet dripping, pushes the audience deeper into Fox's experience of isolation and mental space. Her drug use augments her frenzied mental state, and the cinematography often gives the audience a sense that they're seeing the world through Fox's eyes. They hear through Fox's ears, too, not least because Fox has conversations with people who aren't there, even before the death across the street.
Shot darkly, the film's lens into Fox's life and the atmospheric beats of the soundtrack make for a claustrophobic feel. The tendrils of the pandemic foster that feeling for the viewer, and remind the audience that they can remember isolation and the way it twists the corners of one's mind. While the shame Fox feels might be extreme, anxiety is something relatable – especially given the strange sci-fi world we have been living in these last months. Wright plays with the feelings that Alfred Hitchcock knew so well, a new Rear Window for the post-COVID world.
Across the street isn't any picnic either. Austere Alistair Russell (Gary Oldham) and his wife are raising a young man, Ethan (Fred Hechinger). But the woman who introduces herself as Russell's wife(Julianne Moore) and is subsequently murdered isn't the woman who Russell introduces as his wife after the death (Jennifer Jason Leigh). Fox's own flaws and guilt influence how she sees the relationships, and impact her choices and involvement, but the audience doesn't know how reliable her assessment is.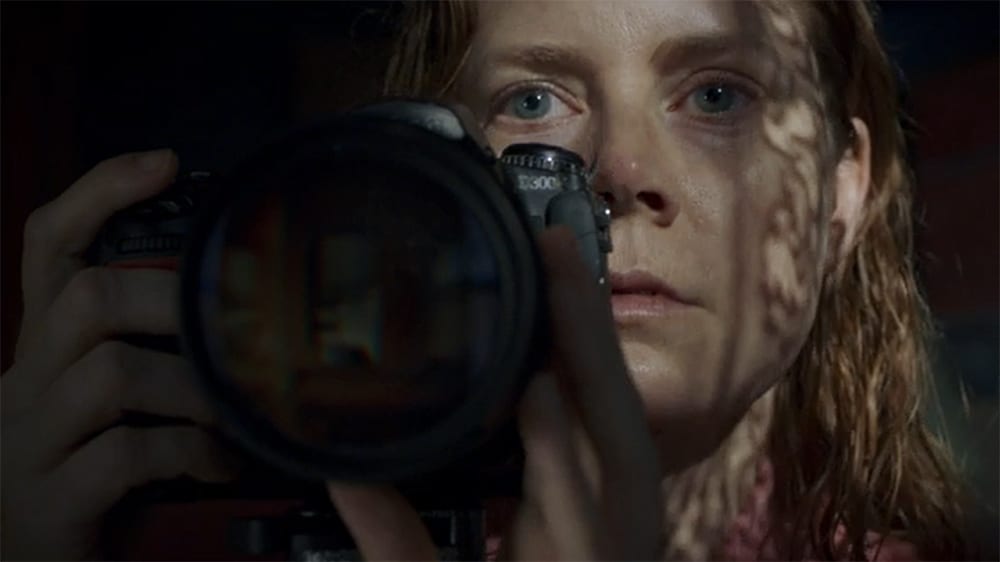 Further muddying the waters, David Winter (The Falcon & Winter Soldier's Wyatt Russell) lives downstairs as a tenant in Fox's house, and he's … dark, too. Throw in a pair of police detectives who seem skeptical of Fox's mental well-being, in line with Fox's own psychiatrist Dr. Landy (screenwriter Tracy Letts), and there's enough confusion about who the reliable narrator is. But while the ending makes sense – and may even be discernable for thriller fans, it's Fox's own heart/head space that proves most interesting.
At one point, Fox determines to record her will and testament in video form. She is broken by her previous experiences, and struggling to find any way that redeems her. In fact, she looks into the camera several times and says, "I can't be forgiven." She deems herself unforgivable, unable to be redeemed even though she's repented, unable to be reconciled with her own life and with those around her. Her shame imprisons her, and her fear becomes her penance for her sins. Her baptism of redemption forces her to make decisions that will determine her fate, when she chooses to involve herself in the world around her.
Will her decision set her free or lead to her destruction?