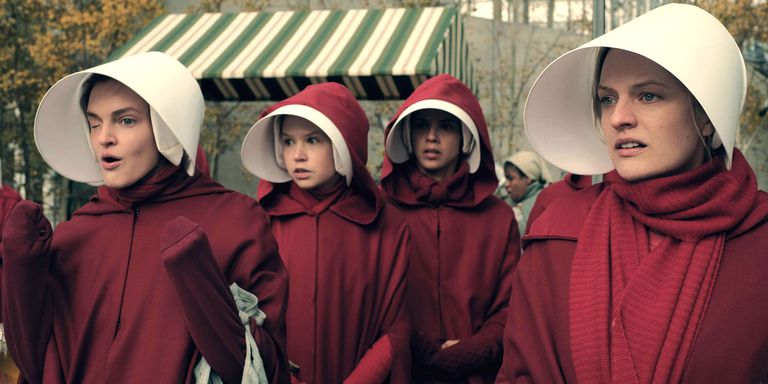 Based on Margaret Atwood's 1985 novel, The Handmaid's Tale displays a future, post-Second American Civil War, where women forced to solely bear children. With a stunning turn by Elisabeth Moss as Offred, the ten-episode series won eight Emmy Awards, including Outstanding Drama, and the Golden Globes for Best Drama and Best Actress. Now, audiences can own the Hulu series on Blu-ray or DVD.
After the war, the Gilead government asserts rule by divine law, a response to the collapse of human fertility thanks to sexually transmitted disease and environmental factors. With rules forbidding women from reading, owning land, handling money, or working, Gilead forces women into a possession of involuntary slavery. Some of those women are Handsmaids, who are raped by their masters so that the master and his wife can have children. Other women (Marthas) provide servant roles, while wives run the household and Aunts train the Handsmaids. Other women are made spies, prostitutes, and hunters (think slave hunters pursuing escaped slaves in the 1800s).
Moss' Offred becomes the property of Gilead's Commander Fred Waterford (Joseph Fiennes) and his wife, Serena Joy (Yvonne Strahovski). Offred is in the center of the Gilead action, but her memories of her life before (shown early on) include marriage, work, and more, spurring her to hope that there is a future different from Gilead's expectation where she may see family again. Heading into a second season, the show is sure to unpack more of the political, emotional, and spiritual elements that it began to examine in its first season. Audiences will certainly long for a time when this dystopian future is not all there is.
Two main special features are included on the Blu: "From Script to Screen," where the crew takes the audience behind the scenes of the "Salvaging" episode and "Hope in Gilead" that explores why the show has become a cultural phenomenon in today's political climate with its hopeful themes. Also included here are interviews with executive producer Bruce Miller, Moss, Ann Dowd, and Madeline Brewer, and a look at the way the first three episodes were developed in their complexity by Reed Morano.