?The river doesn?t speak. It only divides: the light from the dark, life and death.?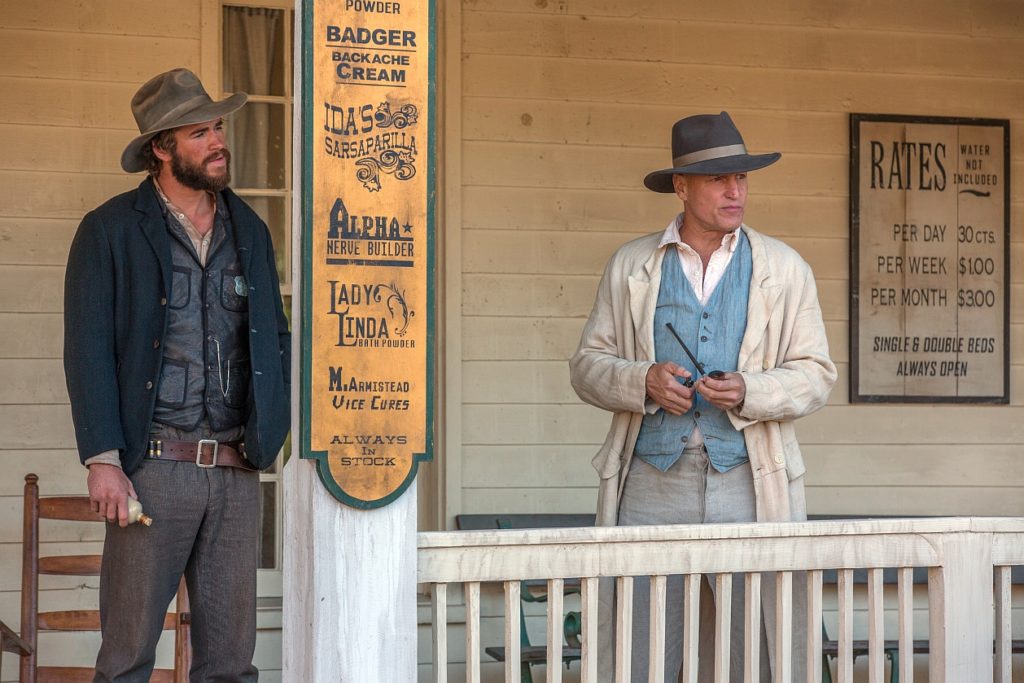 The Duel, set in the wild Texas of the late nineteenth century, boils down to a battle between darkness and light, between good and evil. David Kingston (Liam Hemsworth), a young Texas Ranger, is sent by the governor to go undercover in a town near the Rio Grande to investigate a series of disappearances and murders of Mexicans that threatens to create an international incident. He takes his wife Marisol (Alice Braga) along. The town is presided over by Abraham, aka The Preacher (Woody Harrelson), a charismatic (and Charismatic) leader who dresses in white and holds the town in thrall. He is also the man who killed David?s father twenty-two years earlier in a hand-to-hand duel.
While The Preacher has a reputation for healing, he is played by Harrelson as creepy, even when he is being friendly to David and Marisol when they arrive in town. He immediately makes David the town sheriff, perhaps as a way of keeping him in town. Soon he has set his sights on Marisol, seeking to bring her into his fold. The two men know from the start that they will eventually have to face off. But the steps they go through before their final showdown make this more of a psychological thriller than a typical Western.
Although David has the law and right on his side, the border between good and evil in this battle wanders and winds much as the river does. David may seem to have come to terms with his father?s death, but how can this possibly not become personal?especially when Abraham had designs on his wife? Yet, through it all, David manages to keep his mission in mind. When the time comes for him to put an end to the great evil being perpetrated by Abraham and the town, David seeks to set free those who are held captive in various ways.
The idea of captivity is important to the film, although it often seems to be operating in the background. There are physical captives, but there are also emotional spiritual captives. These later forms are perhaps even more dangerous that the physical imprisonment of some. It is in this that the film portrays evil. Evil is not acts of violence (although it may involve that). The true evil is the spiritual captivity The Preacher exercises over people. That evil is often manifested in racism, hatred, fear, and violence, but all of that is undergirded by the spiritual captivity. When we see many of the same troubles in the world around us, it is easy to limit the term ?evil? to those ills. It may help us to remember that those manifestations are all built on foundations that threaten to hold us all captive to the evil around us.
Photos courtesy of Lionsgate Premiere