Premiering tonight at the Whistler Film Festival, The Dancing Dogs of Dombrova?follows an estranged brother and sister, Aaron (Douglas Nyback) and Sarah (Katherine Fogler) Cotler on an expedition to Dombrova, Poland to find the remnants of their Bubbie?s childhood dog, Peter. As they trek through the frozen countryside, Aaron and Sarah?s estranged relationship is repeatedly tested. As they seek to fulfill their Bubbie?s last wish, they begin to realize that they must set aside their differences and come together in order to complete their grandmother?s mission that has them lost in Dombrova.
Featuring an engaging cast and a tightly written script, Dancing Dogs?is a dark and dramatic comedy that has moments which almost achieve a Coen Brothers level of ridiculousness (in the best of ways). Featuring criminals, a priest that needs to spend time in his own confessional, a driver who never speaks and a ?person detective?, the film creates an absurdist world that also somehow seems relatable. What?s more, the solid chemistry between leads Nyback and Fogler anchors the piece, playing siblings that seek to fulfill their mission in a strange and foreign land. Fogler?s broken but humble Sarah serves as a perfect foil to Nyback?s proud but broken Aaron, as both actors fill their characters with authenticity.
Filming in the harsh winter conditions of Transylvania (subbing for Poland), director Bernbaum uses his surroundings to the best of his abilities to show the light of lives in midst of the frozen tundra. In many ways, the region serves as a metaphor for the two leads, as the siblings search to dig up the past in an area written off by modern society. Similar to their surroundings, the relationship between Aaron and Sarah has also gone cold as they are driven apart by their pain and secrets. Driven together by ?their Bubbie?s last request?, the two are forced to work together, despite the distance that has grown between them as a result of their past. As both siblings continue to play ?the hiding game?, both Aaron and Sarah seem to be on the run from their own brokenness in a way that prevents the other from offering hope and forgiveness where it?s needed. In this manner, Dancing Dogs also examines the way that we tell stories about ourselves and our lives. In the same way that they discover more about the parts of their grandmother?s life that she had omitted from her stories, so too do they begin to understand that it will require an honest look at their own stories if they are ever going to be able to move forward. As a result, as the film progresses and the connection between them begins to thaw, we begin the see that there may still be life for these dead souls underneath their hardened surface.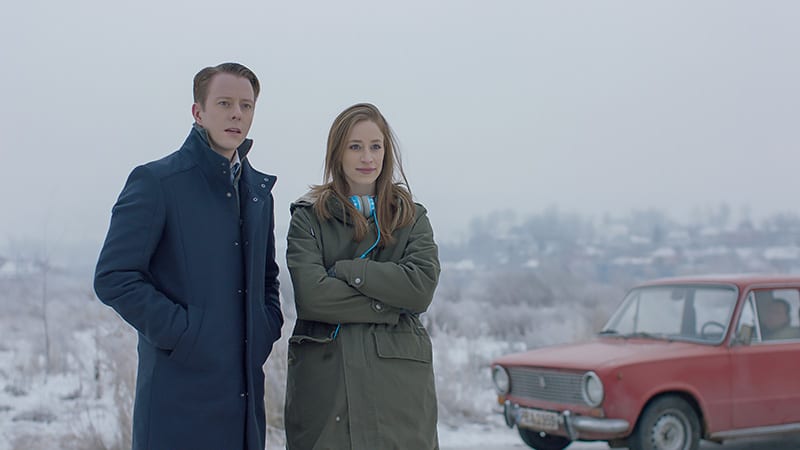 Although it takes place on the other side of the world, there is something relevant and relatable about The Dancing Dogs of Dombrova. As Aaron and Sarah seek to dig up the bones of a deceased pet, so too must they also uncover the death within their own lives. In doing so, the two reveal the life that can bloom when we are willing to face the damage in our own stories. Stuck in the midst of crazy circumstances with characters that are even more bizarre at times, Aaron and Sarah?s journey could also be our own.
For audio of our interview with director Zack Bernbaum, click here.
The Dancing Dogs of Dombrova?premieres tonight at the Whistler Film Festival, with a follow-up showing on Saturday.