Diversity is being recognized as an important goal in the film industry. Many voices and many perspectives are needed in every art form, and that is very true of film. This year?s Slamdance Film Festival has made an express effort to bring the idea of ablism and the perspective of people with disabilities (PWD). There is a special section of shorts called ?Unstoppable? that focuses on films by or about peoples with disabilities. It has a wide range of styles, tones, and content. There are documentaries, music videos, and narrative films. There are 22 films in the section, so I?ve divided my comments into two reports. This is the second report. The earlier report can be seen here. The Unstoppable section is presented by Hulu.
On the Outs. (37 minutes, directed by Jordan Melograna). This documentary follows three inmates with disabilities as they prepare for their release and reenter the world. One has mental illness, one has brain damage and has had hip replacement, one has visual impairment. Their disabilities certainly complicate the process, but even more that film shows the way the system falls far short of preparing even those without disabilities for a time after their sentence.
Safety Net. (12 minutes, directed by Anthea Williams.) A thirteen year old boy living with a disability has just entered emergency care after his mother was arrested. He is staying in a seedy motel with a guardian present. The first guardian is compassionate and encouraging. The relief guardian is stern and demanding. The boy?s future may well depend on this care and which guardian will dominate his time.
Single. (16 minutes, directed by Ashley Eakin). A young woman born with one arm faces the world with an attitude. She doesn?t want to be pitied or thought of as disabled. She responds to most people with anger when they note her missing arm. She?s been set up on a blind date, and discovers that her date only has one hand. She is irate at the person who set them up. Her date convinces hre to come to his rooftop and throw eggs at the wall to take out her anger at all those who have slighted her. A good therapy session for her.
Stilts. (7 minutes, directed by Dylan Holmes Williams) A young man who, like the rest of his family, lives with very large stilts attached to his legs. Because he?s so tall, he can?t get through an exit to the outside world. He seeks surgery to remove the stilts and be set free.
The Bin. (15 minute, directed by Jocelyn Tamayao). A father and his hearing impaired son are at odds over getting cochlear implants versus using sign language. The father wants to make his son ?normal?; the son wants to live his own kind of normal.
The Co-op. (7 minutes, directed by Cameron S. Mitchell). A thief attempts to hold up a market late at night, but his plans hit a snag when the store is filled with PWD.
Union. (19 minutes, directed by Julia Neill). During the Civil War a woman returns home for Christmas, she brings with her a Union soldier to meet her family. They met when she, a surgeon, amputated his arm. Now they come for her father?s blessing. But how does he know the man will be able to take care of her? Perhaps it is his own insecurities that cause him to hesitate.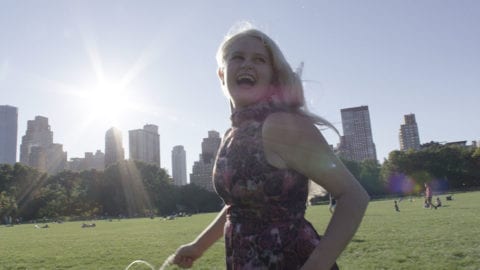 Unspoken. (27 minutes, directed by Emma Zurcher-Long, Julia Ngeow, and Geneva Peschka). Emma Zurcher-Long is a fourteen year old girl with autism. After years of not being able to communicate, it was discovered she could write using a keyboard. She shares information about her world and how it differs from ours. She breaks down the stereotypes and prejudices that surround her.
Verisimilitude. (14 minutes, directed by David Proud). An actress who can?t get roles because she is in a wheelchair is hired for a movie to teach an abled actor how to act disabled. There are also several abled extras in wheelchairs. This film serves as a bit of judgment on an industry that often fails to see beyond a first appearance.
Road to Zion. (16 Minutes, directed by Andrew Reid). A undocumented Jamaican young man and his family (which includes a brother with a intellectual disability) struggle to make ends meet. Without a green card it is hard to get the kind of job that will bring the money his family needs. A local drug dealer makes it know he can work for him. What will he do to take care of his family?
A truly appreciate Slamdance and Hulu for making this special section possible. Of course, not everything suited my taste, but the voice that comes through from many of these shorts is important. It also shows how valuable it is to have diversity in filmmaking.
My top favorite from the section is Feeling Through. Others that I deeply appreciate are How Much Am I Worth?, On the Outs, and Unspoken.